Could Today See DJIA at 25,000? Major Milestone Draws Near For Index
A new market milestone looms as trading begins Thursday, with the Dow Jones Industrial Average ($DJI) on the cusp of 25,000.
Major U.S. indices sit at record levels, and European and Asian markets are on the climb. The S&P 500 (SPX) crossed 2,700 on Wednesday, one day after the Nasdaq (COMP) reached 7,000. The DJIA, meanwhile, is eyeing 25,000 just about a year after first hitting 20,000.
The hits just keep on coming so far in 2018, though only two trading days are in the books. Energy and info tech lead the sector race, while so-called "defensive" sectors like utilities and telecom that sometimes draw investors in more troubled times have fallen behind. In addition, volatility continues to sink, with the VIX falling to a low of 8.94 during the stock market session Tuesday. That wasn't too far above the 52-week low of 8.56, and marks one of the few times in history that VIX has slipped under the 9 level.That said, there's a blizzard on the East Coast today, so we'll see if volume suffers. Sometimes lower volume can raise volatility.
The low volatility — also a hallmark of the market in 2017 — came despite some geopolitical tension as rhetoric grew more heated between the U.S. and North Korea. While you never want to write off the possibility of tension potentially hurting the market, the sense on Wall Street seems to be that this sounds like more of the same stuff seen and heard last year. That could be why the market didn't seem to show much concern.
Overseas, everything looked green Thursday morning, especially Japan's Nikkei. The Nikkei hit 26-year highs and jumped 3.26% on its first trading day of 2018. There's growing optimism about Japan's economy, which is getting powered by growing demand for the country's exports. Generally, economic data so far this year looks pretty positive from a global perspective, and that appears to be one reason for global market strength this first week.
Back home, economic data looked positive on Wednesday, led by December's ISM manufacturing index rising at its fastest pace in three months. The data helped lift the dollar, snapping a five-day losing streak for the Dollar Index as the greenback bounced off of three-month lows. The dollar is still down around 10% over the last year, and that could conceivably play into earnings results that we'll start seeing in a week or two. A weak dollar is often good news for U.S. companies that sell goods abroad.
Treasuries advanced just a little on Wednesday despite strong U.S. data, but retreated slightly on Thursday morning. Ten-year yields are trading at around 2.47%, not far from where they were two weeks ago, though the yield curve has ticked up a little. Treasuries came under more pressure early Thursday after a private forecaster issued a bullish reading on December jobs growth. The official number comes tomorrow morning, and Wall Street analysts expect to see about 185,000 jobs created in December.
Speaking of higher, oil prices jumped to three-year highs above $61 a barrel and we'll see if they can break $62 today. It seems like this is a demand-driven rally, and it's been a strong one. Oil was in the $40 a barrel range just last summer. The weak dollar might also be playing a role, since oil is priced in dollars and a sagging dollar tends to send oil prices higher. Keep an eye out today for weekly U.S. oil stockpile and production figures, which were delayed by the holiday on Monday.
Surprise stories on Wednesday came from Oracle Corporation (NASDAQ: ORCL) and International Business Machine Corp (NYSE: IBM) as these two "Old School" tech stocks received analyst upgrades. Following Tuesday's leadership from the Transportation Index, these upgrades might provide further reinforcement for those bullish on the broader market. That's especially so for IBM, which has been under a lot of pressure in recent years.
Other individual company news came from Tesla Inc (NASDAQ: TSLA), which saw its shares fall in pre-market futures trading after warning that deliveries of its Model 3 will come up shy of estimates. Also, Macy's Inc (NYSE: M) reported what it called a "strong" holiday shopping season but forecast falling sales in 2018. That came after J C Penney Company Inc (NYSE: JCP) reported 3% gains in holiday sales. Meanwhile, shares of Snap Inc (NYSE: SNAP) fell after the stock received an analyst downgrade, and shares of Roku Inc (NASDAQ: ROKU) also took a tumble after a bearish analyst report. Earnings from Walgreens Boots Alliance (WBA) looked good, but margins were down. The company raised guidance.
The Fed is back in the news, with St. Louis Fed President James Bullard set to deliver a speech this morning. Fed officials in December debated the risks to the U.S. economic outlook, with some concerned about low inflation and others pointing to robust growth that was about to get a further boost from tax cuts, according to minutes of last month's Federal Open Market Committee (FOMC) meeting released late Wednesday. Fed officials discussed several risks that could result in a faster pace of increases.
"These risks included the possibility that inflation pressures could build unduly if output expanded well beyond its maximum sustainable level," owing to fiscal stimulus or "accommodative" financial conditions, the minutes said. Odds of a Fed rate hike by March rose to as high as 71% in the CME futures market after the slightly hawkish tone from the December minutes.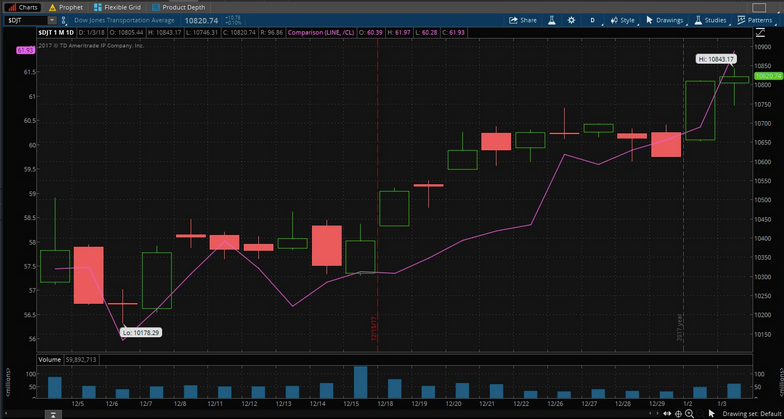 FIGURE 1: CAN THIS DOUBLE RALLY CONTINUE? The Dow Jones Transportation Average (candlestick chart above) keeps flying to new all-time highs. Meanwhile, crude oil (purple line), reached its highest level in three years on Tuesday. The question is whether advancing oil prices might start to choke off the energy price-sensitive transport sector, and at what oil price level this might start to happen. Chart source: The thinkorswim® platform from TD Ameritrade. For illustrative purposes only. Past performance does not guarantee future results.
U.S. Government Steps on Ant
If you missed it yesterday, an interesting news item was the U.S. government's decision to reject Ant Financial's $1.2 billion plan to acquire U.S. money transfer company MoneyGram International Inc (NASDAQ: MGI). The government cited "national security concerns," Reuters reported. Ant is a company owned by Jack Ma, the executive chairman of Chinese Internet conglomerate Alibaba Group Holding Ltd (NYSE: BABA). Now the question seems to be whether Ant goes after another company or calls things off from a deal-making perspective for the moment.
There's a broader context to this, too, because the U.S. government rejection came as a bit of a surprise, considering the administration's public calls for less regulation. There might be no way to know for sure, but perhaps the fact that Ant was a Chinese company might have had something to do with that. This wasn't the first time in recent months that the U.S. has rejected a Chinese company buying a U.S. firm. Few people realize how big Ant is, so keep an eye out for any next moves it might make.
Other Things to Watch in Jobs Report
While the wage and job growth numbers tend to grab most of the headlines when there's a monthly employment report, remember to dig a little deeper into tomorrow's non-farm payrolls data for some other indicators of economic performance. For instance, November's report showed that so-called "discouraged" workers who aren't looking for work because they think no jobs are available fell by 122,000 from a year earlier. Additionally, the number of long-term unemployed is down significantly year-over-year. Investors might want to consider watching those categories in Friday's report to see if those trends continued in December.
Did Storm Impact Carry Into December?
Three of the last four monthly employment reports have shown gains of 200,000 or more, interrupted only by a weak September reading that reflected the impact of summer hurricanes. Tomorrow's report could show gains of less than 200,000 in December, according to Wall Street analysts, and if this is the case, it could be worth considering how much the big gains of November and December might have been influenced by post-storm re-building. Generally, jobs growth has averaged around 180,000 a month over the last year, and that's around where many analysts see it in December.
View Comments and Join the Discussion!
Posted-In: JJ Kinahan TD Ameritrade The Ticker TapeNews Federal Reserve Markets General