Exclusive: Adidas President Mark King Discusses Being At The Intersection Of Performance And Fashion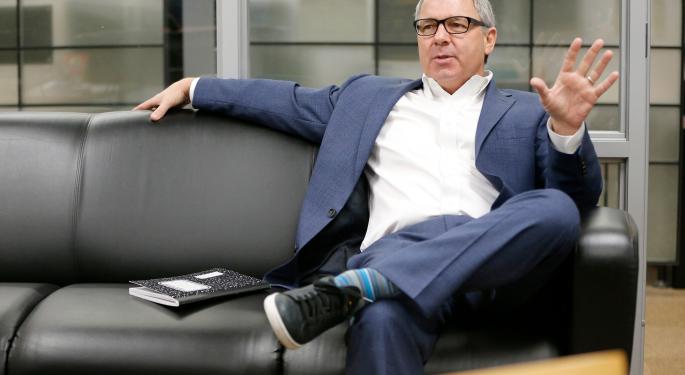 In one of the most tumultuous years in athleticwear in recent memory, adidas AG (ADR) (OTC: ADDYY) has emerged as an industry leader.
It's a time when competitors Nike Inc (NYSE: NKE) and Under Armour Inc (NYSE: UAA) are busy explaining poor performance and adjusting their strategy to adapt to a changing consumer.
Adidas continues to grow market share through a consumer-led approach driven by innovation and a marketing strategy aimed at on-style trends, Mark King, president of adidas North America, told Benzinga, ahead of the company's earnings on Nov. 9.
"At the intersection of performance and fashion is where we are today — and that is why we are winning," King said.
Three years ago, adidas had a performance category and a fashion category, but kept them separate.
"We had two silos and we tipped them toward each other. The magic has happened ever since."
Related Link: Analysis: Under Armour And Nike's Dedication To Heritage Could Hurt Them
Athletic Is Fashion
With the rise of the athleisure trend, adidas has successfully recognized that it's an influential fashion powerhouse just as much as an athletic performance brand and has successfully merged its image into one, King said.
Just 23 percent of people who buy an athletic shoe intend to use the shoe for its intended purpose, according to a survey by the market research firm NPD Group.
In other words, the shoes that sportswear companies are making are for fashion just as much if not more than they are for sport, NPD Group's Matt Powell told Benzinga.
"Fashion is three times the size of performance," Powell said. "It's great to have a muse, but it's also great to understand where the business is coming from. Today's athlete is different than five to 10 years ago. It is less focused on competition and more focused on fitness and health. It's a more lighthearted approach."
With the competition still focused on athletic performance, adidas appears more adept at recognizing where business is actually coming from.
"I don't think there is a place in the fashion business for a sports brand if you are not a sports brand first. You need to have your roots in sports performance, but you need to cross over to the fashion world," King said.
The Speed To Market Battle
A key element of consumer fashion as a whole is the need to constantly change. Consumer styles and preferences are changing quicker than ever before, meaning that brands need to adapt to the market at an unparalleled rate.
The speed of change means the life cycle of a shoe franchise simply doesn't last as long as it used to and must be updated to be kept alive, King said.
"The Nike Free franchise was around for 10 years. I don't think you are going to see franchises around for 10 years anymore," King said.
"We understand as a starting point that the life cycles of franchises are not what they used to be. They are not going to be five, six, seven years anymore. We need to refresh franchises and manage them on a more frequent basis than before."
All the major players in the industry are working to bring product to the market faster. Many major footwear brands are doing this through a manufacturing shift to 3D printing shoes.
Related Link: Adidas Jumps Over Jordan Brand To Take The No. 2 Spot In Sports Footwear
Through adidas' Speedfactory, Nike's ManRev initiative and Under Armour's ArchiTech, 3D printing is creating more unique styles, the potential for mass customization and shorter lead times.
"The trend is rapid change. Consumers want something different, new and exciting. The companies that are able to build their organizations to be able to react to that market change — those are the ones that are going to win," King said.
Creating Change
Three years ago, adidas launched the campaign "Creating The New," designed to impact the global market by focusing on six influential fashion cities: London, Paris, Shanghai, Tokyo, New York and Los Angeles.
Adidas is preparing to expand in Los Angeles in a much bigger way in 2018, announcing a new 31,000-square foot building in the ROW DTLA. The company says it's customizing the space to encourage creativity and be an open source collaboration hub that invites consumers and athletes into the brand.
"We are expanding in Los Angeles with the sole purpose of understanding the marketplace," King said. "Influential cities drive trends not only across the U.S., but around the world. We're bringing the best of adidas to Los Angeles. It's a hub for entertainment, sport and fashion. It's home to some of the best teams and athletes in the world. It's right where we want to be."
Nike has mirrored Adidas' Creating The New campaign, launching its own initiative, the Consumer Direct Offense, that focuses on 12 major cities.
Adidas' will use its new home in LA to work with entertainment and athletic influencers and launch new products, King said.
King remains confident despite a struggling industry and said he likes the company's trajectory.
"We like where we are going as a brand. It is consumer-led that is key. We are not a stubborn stuck-in-the-past brand; we are very progressive and we are engaging with consumers to help us in creating the future."
View Comments and Join the Discussion!
Posted-In: Adidas Mark King Matt PowellSports Top Stories Exclusives Interview General Best of Benzinga