Analysis: Under Armour And Nike's Dedication To Heritage Could Hurt Them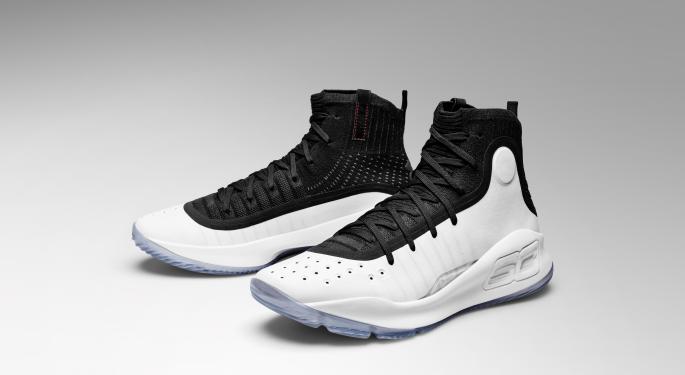 Coming off one of the most depressing quarters in the company's history, Under Armour Inc (NYSE: UAA) is now in the precarious position of trying to resuscitate a onetime Cinderella story in the sportswear world before it becomes a cautionary tale.
ESPN's Darren Rovell tweeted: "Been covering Under Armour for 15+ years. Never heard the disappointment in Kevin Plank's voice like I did today" after Under Armour's Halloween earnings call.
Under Armour and its competitor Nike Inc (NYSE: NKE) are both in a similar position, underperforming in a record-breaking market and having to explain the poor results to investors. Conversely, Adidas AG (ADR) (OTC: ADDYY) continues to lead the market.
"Adidas is not having to explain poor results. The brand is hot right now because they are making a lot of great looking shoes," Matt Powell, the vice president of sports industry analysis at NPD Group, told Benzinga.
See Also: Under Armour Drops The Ball Again In Q3 Earnings
Performance Vs. Sportswear
Nike and Under Armour are at a vital turning point in their respective histories. Many of the plans they've laid out for the future echo each other, such as a focus on speed to market, commitment to athletic performance, shortening lead times, innovation and an emphasis on direct-to-consumer.
Both companies are bound to a strong heritage. That may ultimately hurt Under Armour and Nike if they aren't flexible enough to adapt to a changing market and consumer preferences.
The two companies are dedicated to performance styles that are off-trend at the moment. The athlete is changing, and brands must acknowledge that they are in the fashion business just as much as the performance business.
"Under Armor is a performance brand," Under Armour CEO Plank said on the third-quarter earnings call.
"You'll see us accelerate our purpose as a performance brand by doubling down on innovation and creating even deeper connections with our consumers, underscoring how Under Armour makes you better," Plank said.
'They Are Losing'
According to a NPD consumer panel, just 23 percent of people who buy an athletic shoe use it for its intended purpose. Put another way: the shoes that sportswear companies are making are for fashion just as much — if not more than — they are for sport.
"Fashion is three times the size of performance. It's great to have a muse, but it's also great to understand where the business is coming from. Today's athlete is different than five to 10 years ago. It is less focused on competition and more focused on fitness and health. It's a more light hearted approach," said NPD Group's Powell.
Sportswear fashion remains the key element to grow an athletic apparel business and inspire the market. The major brands have invested heavily in athletic endorsements, particularly in basketball, where sales are down despite high-dollar deals. But these athletes have considerable recognition and cultural influence beyond their respective sport.
"The brands need to find a way to monetize what they got out there. I do think Under Armour's biggest issue is they have to figure out how to be a player in the sportswear business. Under Armour had an opportunity when the brand was in an upswing to focus on sportswear, but failed to capitalize. Now that the market switched over to the category, they are losing," Powell said.
See Also: Air Force 1: The Shoe That Defined Sneaker Culture Celebrates Its 35th Anniversary
Finding The Right Mix
All may not be lost for Under Armour. Powell highlighted the addition of Patrick Frisk, former CEO of the Aldo Group, as a key element in bringing a new approach to the company's sportswear.
Under Armour has also enlisted fashion icon A$AP Rocky to lead a sportswear push, but the rapper has apparently failed to fully embrace the brand.
"If I feel like designing some s--- with Under Armour, I will," the rapper told GQ in an October interview.
Nike is more established in the sportswear world, but their products aren't resonating with consumers today as they once did. Nike does appear to addressing its issues more appropriately by trying to blend sportswear with performance.
"We tend to make this sharp distinction between performance and style. And our point of view is that there isn't, from a consumer standpoint, that sharp a difference," Nike CEO Mark Parker said at the company's investor day in October.
"We're actually bringing performance into style. And that's a big part of our innovation agenda."
Posted-In: A$AP Rocky Adidas Darren RovellSports Opinion Exclusives Interview General Best of Benzinga
View Comments and Join the Discussion!