The Big 3 Are In: Adidas Launches The Latest 3D-Printed Shoe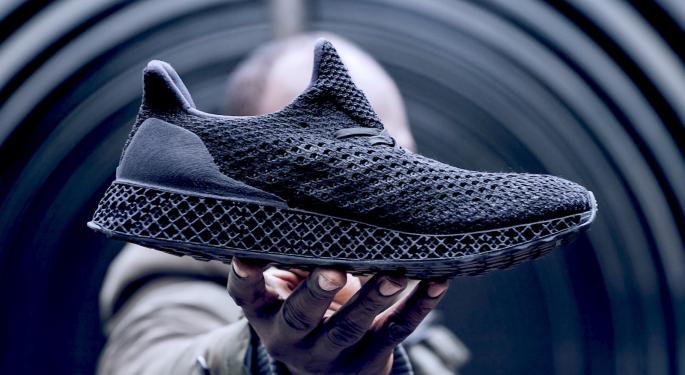 The 3D-printed shoe industry just took a major step forward with adidas AG (ADR) (OTC: ADDYY)'s announcement of its first 3D-printed running shoe this week.
The shoe is called the 3D Runner and will retail for $333 in limited quantities. The three major athletic shoe manufacturers — Nike Inc (NYSE: NKE), adidas and Under Armour Inc (NYSE: UAA) — have now all released their own 3D shoe in 2016.
This is likely only the beginning of a shift within the industry. Several of the major shoe manufacturers have showed a clear commitment to this new technology.
Nike's ManRev
Nike announced its ManRev initiative this year, a 3D printed initiative to shape the future of the industry by increasing the speed to market, improve design, reduce waste and customize consumer experience.
"Through our acceleration of ManRev," Nike CEO Mark Parker said during a recent earnings call, "we're currently seeing the benefit to product cost optimization."
Under Armour's Architech
Under Armour made news when it outfitted Michael Phelps with its own 3D printed shoe during the Rio Summer Olympics, called the UA Architech.
Adidas' Speedfactory Initiatives
Along with adidas' 3D Runner, the company has showed it is investing heavily into this new technology after announcing the opening of its second Speedfactory, the first in the United States. The Speedfactory is a manufacturing facility staffed by robots, giving insight into what the future of the shoe industry may look like.
Not only does the Speedfactory provide "endless opportunities for customization in America," according to adidas, it shifts companies away from utilizing unethical labor practices in Asia, an issue that has plagued the industry for decades.
The Industry
"Major shoe companies today are working to provide custom footwear to each customer's foot dimensions, as well as 3D printed shoes to your ideal weight and sport," said Michael Mazzotta, founder of 3Dshoes.com. "Meaning heavier 3D-printed insoles if you are into Crossfit, lighter 3D-printed shoes if you are a long distance runner," he added.
As 3D printing is poised to transition to manufacturing, the shoe industry is ripe for some drastic disruption in the future.
At Last Check
Adidas shares were up 1.16 percent at $77.45.
Nike shares were up 2.97 percent at $53.07.
Under Armour shares were up 1.89 percent at $32.87.
Image Credit: @femsta adidas
Posted-In: 3D Printing 3D RunnerNews Sports Movers Tech Interview General Best of Benzinga
View Comments and Join the Discussion!