Adidas Jumps Over Jordan Brand To Take The No. 2 Spot In Sports Footwear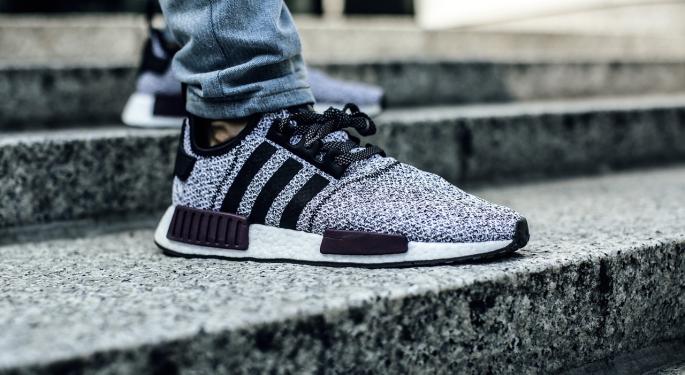 Given the way Adidas AG (ADR) (OTC: ADDYY) and Nike Inc (NYSE: NKE) are heading in oppposite directions, it was a matter of when, not if, Adidas would overtake the Jordan brand as the No. 2 sports footwear brand in the United States.
It just happened a little quicker than anticipated.
"It came faster than I expected. I thought it wouldn't happen until next year," NPD Sports Industry analyst Matt Powell told Benzinga.
Just don't tell Powell that Yeezy was the reason Adidas jumped over Jumpman. This move has a lot to do with Adidas' leadership, innovation and product lineup over the past few years.
"They are really customer centric. They are making products that the kids want to buy," said Powell.
The Nike brand itself holds steady at the No 1. spot, which Powell said has been the case for more than 30 years.
Related Link: Panic May Be Setting In Among Nike Investors
Indeed, Adidas surpassing Jordan was also due to a veritable decline in Jordan's business. Jordan has lost a considerable amount of luster over the years, as the brand has made its once elusive releases more widespread.
"Nike let the Jordan business get overheated, which slowed down the liquidations," said Powell. "The sentiment on Twitter is that Jordan is not cool anymore, which is overblown. But there is no question that retro Jordans [are] not selling out immediately like they used to."
Retro Jordan demand and appeal used to spill over into Jordan's performance offerings. Not so much anymore.
"Now that retro has slowed up, the performance business is really slow," said Powell. "The key is to get retro back. The key is to get Retro back to the aura of coolness. Right now it is not there."
Just two years ago, with Nike's stock at all-time highs, the company was talking about expanding the Jordan brand into other categories, like training. Given the trajectory of the business, it might be best for Nike to rethink that strategy and go back to the basics.
Adidas has overtaken Jordan as the #2 brand in U.S. sport footwear. This is an achievement I never thought I would see in my lifetime.

— Matt Powell (@NPDMattPowell) September 18, 2017
View Comments and Join the Discussion!
Posted-In: Adidas Jordan brandAnalyst Color News Retail Sales Sports Exclusives General Best of Benzinga