Meet The Colombian Startup Disrupting Marketing And Digital Advertising With Artificial Intelligence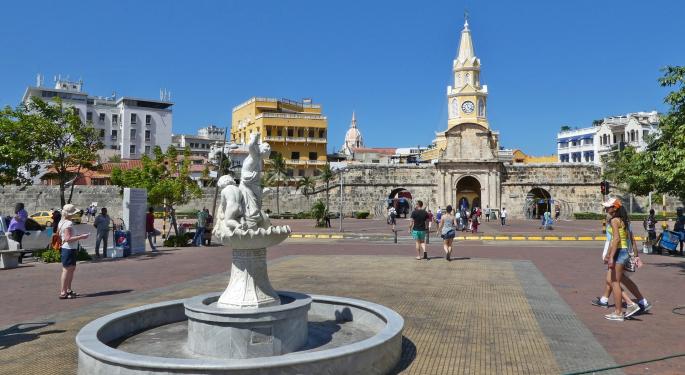 People know the startup world is not limited to the U.S., Israel, the U.K. and Germany.
However, many are still quite surprised when they hear about highly successful startups based out of a country like Colombia, which might make them think about Netflix, Inc. (NASDAQ: NFLX)'s "Narcos," rather than a vivid tech scene — even though Latin American tech companies like Mercadolibre Inc (NASDAQ: MELI) and Despegar Com Inc (NYSE: DESP) have been receiving a lot of attention recently.
Enter Data Gran, a Colombia-based company offering an artificial intelligence toolkit aimed at developing marketing strategies and optimizing digital advertising spend across Facebook Inc (NASDAQ: FB), Instagram and Alphabet Inc (NASDAQ: GOOGL) (NASDAQ: GOOG)'s Google Display Network and Google AdWords.
This Latin American tech startup began beta tests/pilots this year (and will remain in its beta phase until the end of the month) is generating hundreds of thousands of dollars in revenue and is servicing huge clients like Bic and Subway.
Interested in the business, its potential and its venture capital backing, Benzinga reached out to CEO and founder Carlos Mendez.
Big Data, Big Savings
Just in case it wasn't clear, Data Gran helps its customers reduce their expenditures in digital advertising by at least 20 percent. Large, corporate clients like Molson Coors Brewing Co (NYSE: TAP)'s Coors Light and Miller, provide their own imagery and campaigns, and Data Gran works as a media central, having its AI system and its team optimize distribution across platforms. Smaller clients can manage their own campaigns and optimize them in-house using Data Gran's portal, thus needing to allocate a smaller budget to this service.
Related Link: Millennials Are Smoking Less Weed, But Still Consuming Marijuana: The Rise Of Cannabis Concentrates
Year to date, Data Gran has been generating monthly sales of approximately $120,000, Mendez said, although the company is still in its beta phase and will formally debut its product in October. Mendez expects this launch to drive monthly recurring revenues to $300,000, pushing the total annual revenue for the company's first year of operations to roughly $2 million.
For 2018, assuming a few big clients like Telefonica S.A. (ADR) (NYSE: TEF), one of its VC-backers, will sign up, Data Gran expects revenues of at least $1 million per month.
Talking about backing, there are two interesting aspects to Data Gran's support.
On the venture capital side, the company counts on the support of two very large and successful startup accelerators: Quake Capital and Telefonica's Wayra, which invested a total of $250,000 into the business. On the endorsements side, the company was selected by JPMorgan Chase & Co. (NYSE: JPM) and Endeavor as a high potential startup, thus gaining access to their acceleration program.
Data Gran is now conducting a Series B capital raise of $350,000 that should be completed around mid-October. It has received a valuation of $5 million. Yet another round of $1.5 million will be conducted in November, at a valuation of at least $15 million — although some industry insiders have suggested the valuation could reach $50 million by that time.
View Comments and Join the Discussion!
Posted-In: advertising artificial intelligence Carlos MendezEntrepreneurship Startups Tech Interview General Best of Benzinga