Roku's Monthly Active Users Have Risen 243% In 3 Years, But Can The Stock Keep Its Momentum?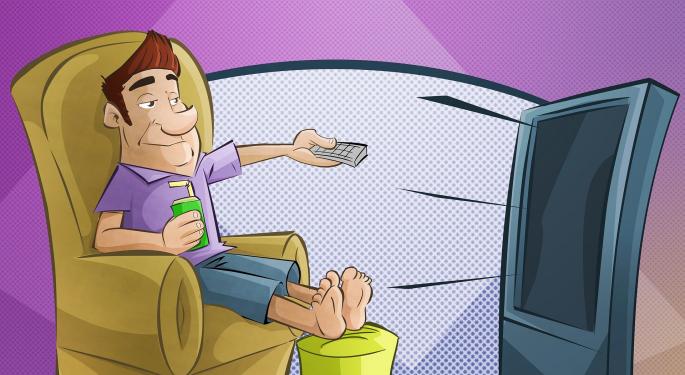 Roku Inc (NASDAQ: ROKU) shares rocketed more than 60 percent in their inaugural trading day, inciting some traders to wonder if this would herald the return of the high flying IPO market. Shares closed at $23.50 after the IPO was priced at $14.
Other market commentators were left stupefied by what exactly investors see in the company, a platform that enables users to stream content directly to their televisions. After all, more and more of the third party providers Roku has been dependent on, like Netflix, Inc (NASDAQ: NFLX), have inked partnerships with cable companies like Wide Open West, Inc (NYSE: WOW) to incorporate access to their content right into their cable boxes.
Add that to intense competition from Amazon.com, Inc (NASDAQ: AMZN)'s Fire TV Stick and Alphabet Inc (NASDAQ: GOOGL)'s Chromecast, and it's easy to see why some wonder how the $2 billion company will hold its own amongst such heavyweights.
Standing Its Ground
But according to recent data, that's precisely what Roku's done. Statista reported earlier in September that Roku's household penetration in the U.S. is nearly three times that of some competitors like Apple Inc (NASDAQ: AAPL)'s Apple TV and 2 percent higher than Amazon's streaming stick.
When measured by total number of hours streamed, Statista reports that Roku's monthly active users, or MAUs, have grown by 243 percent since 2014, and 42 percent year-over-year in the second quarter. Compare that to a company like Twitter (NYSE: TWTR), which actually saw its MAUs decline in Q2.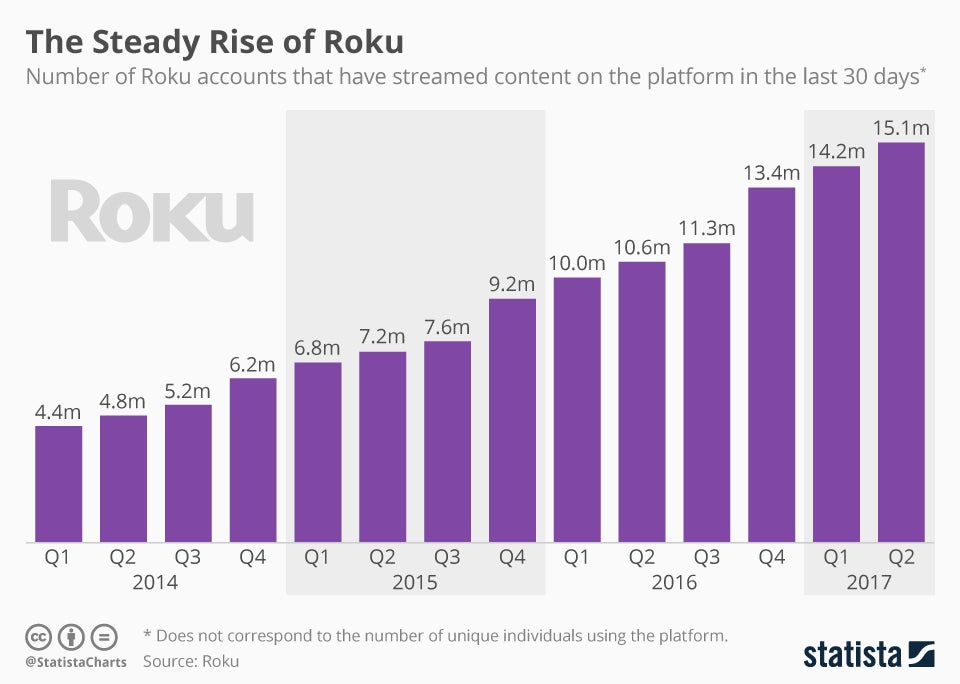 IPOs Have Been Hit And Miss
Beware the allure of the IPO's price action. Recent IPOs from other tech companies have seen, shall we say, meager staying power.
Much fanfare accompanied the IPO of Snapchat parent company Snap Inc (NYSE: SNAP), when the IPO was priced at $17 but the stock opened at $24. In the second day of trading, Snap shares hit a high of $29.44, but now rest at nearly half that. The stock has struggled to stay above $15 ever since mid-summer.
Roku shares were up 26 percent just after the bell Friday at $29.60.
Related Links:
Roku On Wall Street: Did The Stock Fare Better Than Other Recent IPOs?
View Comments and Join the Discussion!
Posted-In: Alphabet Amazon AppleNews IPOs Tech Media Trading Ideas Best of Benzinga