Roku IPO Watch: Things To Know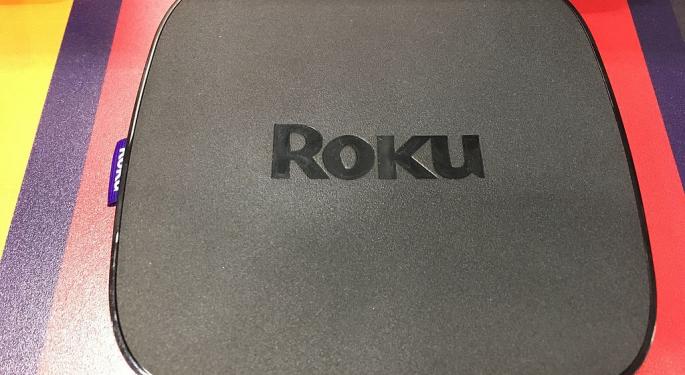 Roku is set to go public this week in one of the most highly anticipated IPOs of 2017. However, before investors dive in head first, memories of disastrous 2017 IPOs Snap Inc (NYSE: SNAP) and Blue Apron Holdings Inc (NYSE: APRN) have them taking a closer look at Roku and exactly what they will be getting themselves into.
Roku's S1 filing reveals that the video and audio streaming device company currently has 15.1 million active accounts, up 43 percent from a year ago. Roku is averaging $11.22 in annual revenue per user, which is also up 35 percent year-over-year. Roku has delivered 11.9 billion total streaming hours in the past 12 months, more than double its 5.5 billion streaming hours in 2015.
Roku is expecting to price its IPO in the $12 to $14 range and raise roughly $220 million. The Wall Street Journal estimates an IPO price in that range would value the company at roughly $1 billion.
According to eMarketer, Roku beat out Alphabet Inc (NASDAQ: GOOG) (NASDAQ: GOOGL)'s Chromecast, Amazon.com, Inc. (NASDAQ: AMZN)'s Fire TV and Apple Inc. (NASDAQ: AAPL)'s Apple TV in terms of total users in the month of July. Roughly 39 million people used a Roku device at least once during the month compared to 37 million who used Chromecast, 36 million who used Fire TV and 21 million who used Apple TV.
U.S. household penetration data reveals similar market share numbers. According to Statista, Roku's U.S. penetration rate is 16 percent of households, better than Fire TV (14 percent), Chromecast (8 percent) and Apple TV (6 percent).
One thing long-term investors will want to watch closely is Roku's transition from hardware-generated revenue to subscription revenue. The company has said that the majority of its current revenue comes from streaming player sales.
Related Link: Considering High-Profile IPOs: How Do These Stocks Trade The Day After Their First Earnings Report?
_________
Image Credit: By FASTILY - Own work, CC BY-SA 4.0, via Wikimedia Commons
View Comments and Join the Discussion!
Posted-In: Apple TV Chromecast eMarketer Fire TVNews IPOs Tech Media Best of Benzinga