6 Months In, Trump Has Filled Only 27 Out Of More Than 200 Envoy Posts, Mostly With Cronies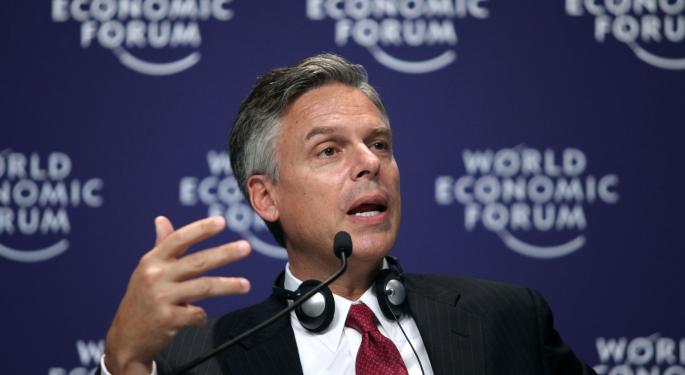 President Donald Trump fired some 200 top envoys upon his inauguration and has only filled 27 posts so far, mostly with political cronies who contributed to his campaign.
Trump's appointment of Jon Huntsman, former governor of Utah and a former ambassador to China and to Singapore, fits neatly into both categories that usually determine a president's patronage: experienced diplomat and political operator.
President Barack Obama nominated the Republican to the key post in China in part because of his proficiency speaking Mandarin Chinese. As the chief liaison to the Kremlin, he will have his hands full.
The United States is among the nations that issued sanctions against Russia for its 2014 invasion of the Ukraine. And Huntsman's new boss is under investigation by a special prosecutor looking into allegations that the Trump team conspired with the Russian government to sabotage the campaign of then-presidential-candidate Democrat Hillary Clinton.
Related Link: Trump Troubles Mean More Delays For GOP Agenda
He's likely to be grilled by Democrats about the issue during his confirmation hearing.
The fact that so many diplomatic posts are unfilled — not just to nations, but to a variety of international organizations — is a testament to how much the Russian scandal has gummed up the gears on the Trump administration's agenda.
Patronage Appointments
According to the "ambassador tracker" by the American Foreign Service Association, Trump has only made 26 appointments (not counting Huntsman, whose status has not been classified by the association).
Career diplomats comprised 30.8 percent, and they were named mainly to rough, Third World countries. The AFSA classifies the rest of Trump's appointments, 69.2 percent, as political.
Here are some of the latter, who all snagged the choicest diplomatic jobs:
United Kingdom: Robert Wood Johnson IV, owner of the New York Jets, heir to the Johnson & Johnson (NYSE: JNJ) fortune and a top Trump fundraiser.
The Bahamas: San Diego hotel magnate Doug Manchester, a big Trump donor.
Canada: Kelly Knight Craft, wife of billionaire coal magnate Joe Craft and a major Republican party donor.
Italy: Former Goldman Sachs Group Inc (NYSE: GS) financier Lewis Eisenberg, a former finance chairman of the Republican National Committee.
The Vatican: Callista Gingrich, wife of Trump ally and former House Speaker Newt Gingrich.
Belgium: Jamie McCourt, former co-owner of the Los Angeles Dodgers and an early Trump supporter and donor.
China: Former Iowa Gov. Terry Branstad, another early Trump backer.
Costa Rica: Former RNC co-chairwoman Sharon Day, a seasoned GOP fundraiser who helped deliver her home state, Florida, to Trump.
New Zealand: Former Massachusetts Sen. Scott Brown, a Republican.
Czech Republic: Former RNC member Stephen B. King, a GOP insider from Wisconsin, another state that tipped the election toward Trump.
Israel: Lawyer David Friedman, who handled Trump's various bankruptcies and was a campaign advisor. He opposes a two-state solution to the Palestinian-Israeli conflict and supports Jewish settlements on disputed lands.
Japan: Lawyer and financier William Francis Hagerty IV of Tennessee, who encouraged Japanese investment in that state.
NATO: Former Republican Sen. Kay Bailey Hutchison of Texas.
Portugal: Retired investment banker George E. Glass, a GOP donor.
Singapore: K. T. McFarland, a former Fox News (Twenty-First Century Fox Inc (NASDAQ: FOXA) commentator briefly appointed by President Trump as deputy national security adviser.
United Nations: Former South Carolina Gov. Nikki Haley, a Republican.
Meanwhile, career diplomats were appointed to somewhat more daunting ambassadorships in Sierra Leone, Cameroon, Republic of the Congo, Algeria, Senegal, Peru and Guatemala.
_______ Image Credit: By World Economic Forum [CC BY-SA 2.0 (http://creativecommons.org/licenses/by-sa/2.0)], via Wikimedia Commons
View Comments and Join the Discussion!
Posted-In: News Emerging Markets Eurozone Futures Politics Global Markets General Best of Benzinga