News Media Alliance: Publishers Are Fed Up Playing By Google And Facebook's Rules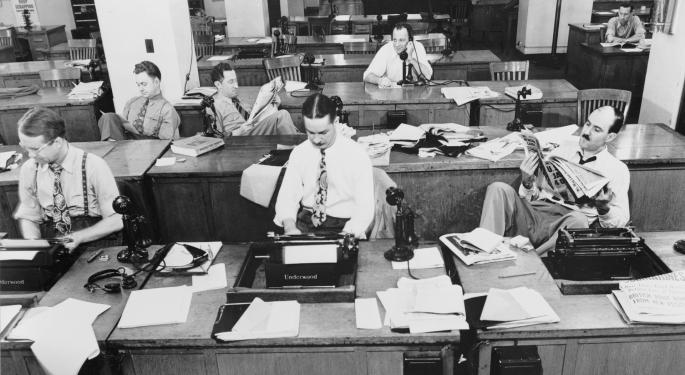 Despite rising subscriber levels, newspapers across the country continue to see their revenues dropping, lost to the internet behemoths that control digital advertising.
In the face of this pressure, thousands of national and local news outlets under the banner of News Media Alliance are urging Congress to allow publishers to negotiate collectively with dominant online platforms, namely Alphabet Inc (NASDAQ: GOOG) (NASDAQ: GOOGL) and Facebook Inc (NASDAQ: FB).
The two accounted for over 70 percent of digital ad revenues in the first quarter this year, according to Pivotal Research.
"Legislation that enables news organizations to negotiate collectively will address pervasive problems that today are diminishing the overall health and quality of the news media industry," said David Chavern, president and CEO of the News Media Alliance in a press release.
Related Link: A Look Into The Antitrust Environment Surrounding Internet Giants
Why Now?
The News Media Alliance started discussing the collective bargaining strategy in January, and began speaking with others in the space and antitrust counsel in March.
Discussions "stemmed from publisher frustrations over the [digital advertising] duopoly and having to play by the rules of Facebook and Google," Paul Boyle, senior vice president of public policy at News Media Alliance, told Benzinga.
But why have frustrations only heightened enough to take legal action now, when revenues have been declining drastically for over decade?
Total revenue for U.S. newspapers peaked in 2005. By 2010, they had fallen by nearly 50 percent, down from $49.4 billion to $25.8 billion, according to the Pew Research Center.
It may be because the reason behind falling revenues wasn't apparent early on.
Back in the mid-2000s, "publishers thought that if they put their content online, then the digital advertising would follow," said Boyle.
"There were a lot of factors in [the] decline," said Boyle. "You had sites that ate away at our classified advertising ... and the emergence of search and social media platforms."
At one point, there was concern over the Huffington Post and news aggregators stealing traffic.
What it comes down to now, though, is the sheer scale Google and Facebook has over newspapers. In addition, thanks to acquisitions of companies like DoubleClick by Google, they are now on both the buy and sell sides of digital advertising.
Consolidation and scale may also have just finally provided clear targets for publishers to push back on. "To some extent that might be true" said Boyle.
Next Steps
Publishers have two main paths to boosting revenues: claiming a greater share of digital ad sales or implementing subscription models consumers will get behind.
"Under these current platforms [Facebook and Google] we don't have good deals right now on either of those things," said Boyle.
Related Link: Could Alphabet's New Ad Rules Bruise Its Own Bottom Line?
For example, when publishers provide the first few paragraphs for free but block the rest from those without a subscription, Google bumps their articles way down on its search results.
For its part, a Google spokesperson told Benzinga: "We've built numerous specialized products and technologies, developed specifically to help distribute, fund, and support newspapers. This is a priority and we remain deeply committed to helping publishers with both their challenges, and their opportunities."
Facebook currently has no system in place for publishers to solicit subscriptions from its users, although it claims to be working on the issue, according to Boyle.
"They basically benefit from our content on their platforms but they don't hire any journalists. We need to talk about better business terms that will bring back revenue to support original journalism," said Boyle.
"I think for a long time people who have been concerned about the future of journalism have looked for that kind of silver bullet [to fight revenue declines]. There is no silver bullet," said Boyle.
If given approval by Congress, the News Media Alliance will work to see several programs initiated. They include a greater share of ad revenue going to newspapers, support for subscription models on the various platforms and the sharing of consumer demographics data.
"We recognize that it's a high hurdle given that fact that not much gets done in Congress, it's even hard to get a post office changed," said Doyle. "Hopefully there will be some hearings fairly quickly and we can go from there."
Related Links:
Amazon Shouldn't Worry About Antitrust Law, For Now
Google And Facebook Have A Literal Duopoly Over The Digital Ad Market
View Comments and Join the Discussion!
Posted-In: David Chavern Doubleclick News Media AllianceNews Exclusives Tech Media Interview Best of Benzinga