Amazon Shouldn't Worry About Antitrust Law, For Now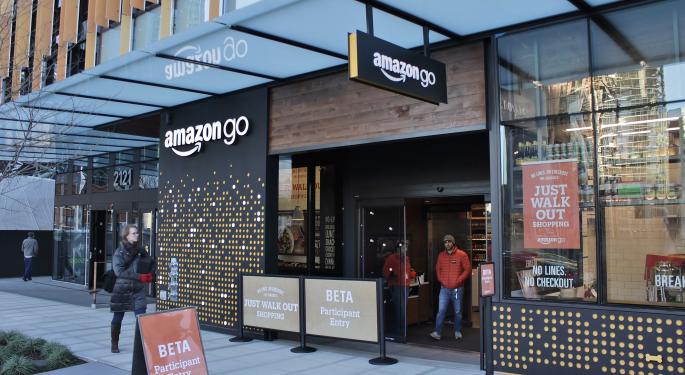 Amazon.com, Inc. (NASDAQ: AMZN) announced Friday it will acquire Whole Foods Market, Inc. (NASDAQ: WFM) for $13.7 billion dollars, but while both stocks shot up on the news, other major grocers dropped like a stone.
It's just the latest move in Amazon's seemingly unstoppable growth — which stretches to entertainment, cloud services, artificial intelligence, pharmacy, bookstores and publishing — a trend which is causing analysts to rethink how to even properly evaluate the company.
Its massive reach begs the question as to whether the Federal Trade Commission will consider subjecting the nearly $500 billion market-cap company to antitrust investigations.
When The FTC Gets Involved
The FTC will act in response to any action by businesses that "could hurt consumers by resulting in higher prices, lower quality, or fewer goods or services."
Investigations are guided by three laws, which have been revised over time: the Sherman Antitrust Act, the Federal Trade Commission Act and the Clayton Antitrust Act.
While the Sherman Act originally made illegal "every" contract, combination or conspiracy that would restrain trade, U.S. courts later interpreted the law to only apply to unreasonable acts — as some business actions that restrain trade actually benefit consumers.
The Federal Trade Commission Act bans unfair or deceptive practices and created the FTC to enforce these laws.
The Clayton Act fills gaps in the Sherman Act, making illegal specific practices such as price discrimination and mergers that would substantially lessen competition.
Is Amazon In Violation?
U.S. antitrust laws are geared toward ensuring consumers benefit from business activities — primarily considered in terms of price level and access to products, not level of competition.
It seems unlikely that this will be the case. Amazon's logistics capabilities could bring down the cost of products sold at Whole Foods by allowing for greater purchase orders and efficient delivery. Listing Whole Foods products on Amazon would also increase access for more people.
Furthermore, the deal is unlikely to decrease competition in a significant way. Whole Foods will continue to operate under its own name and Amazon's expansion into groceries is not especially large, yet.
"I would say right now the retail in the grocery space is remarkably competitive," Bankrate's Washington Bureau Chief Mark Hamrick told Benzinga.
Also, despite Amazon's existing interest in grocery, the Amazon–Whole Foods deal could be considered a vertical integration rather than horizontal, with e-commerce supply chain logistics serving as a middle step between food producers and Whole Foods, the seller.
Related Link: Comparing Walmart And Amazon's Recent Acquisitions
The FTC's website states, "In general, the law views most vertical arrangements as beneficial overall because they reduce costs and promote efficient distribution of products."
"Amazon is going to want to mindful that the antitrust risk is always going to be looming on the horizon," said Hamrick. "But to the extent that it really does not have an extended brick-and-mortar space, you cannot say that that is an imminent threat."
Future Risk
The diversity of Amazon's ventures suggests that despite its growth, the company is far from a monopoly in any sector but perhaps e-commerce, and consumers are left better off.
That could become a moot point though, if government regulators were to become concerned Amazon plays too vital a role in businesses overall.
Amazon serves as a key infrastructure to many businesses and many consumers have come to depend on it for their day-to-day shopping. As such, it wields enormous power.
In a Fox News interview last year, then-presidential candidate Donald Trump said "[Jeff Bezos has] got a huge antitrust problem because he's controlling so much. Amazon is controlling so much of what they are doing."
As president, Trump could steer the FTC to investigate the company for severely reducing competition rather than the consumer impact, although he has said nothing on the matter since.
Amazon Could Change The Antitrust Landscape
Amazon is very strategic in showing how its deal-making and growth benefits consumers in the short-term, so if consumer well-being is the only framework, it would be difficult to imagine seeing any serious antitrust actions taken against the company.
"We've been living for 30 years under this one, consumer welfare approach [to antitrust laws] and we are living in a political economy that is highly concentrated and consolidated across sectors seeing competition diminished, and so there is a real conversation going on within the antitrust community about what is the right framework," said Lina Khan, a fellow with the Open Markets Project at New America.
Khan proposed that the U.S. may need to move beyond the short-term well-being of consumers and look at market dominance in a more sophisticated way.
"I think there's real reason to think that we could see a shift in antitrust philosophy, and under this new legal environment I think that Amazon would immediately raise a lot of red flags," Khan added
Wedbush Analyst Michael Pachter isn't concerned though, telling Benzinga, "They [Amazon] can do as much M&A as they wish."
Related Links:
Speculating Grocer Consolidation Amid Amazon–Whole Foods Deal
What's Next For Amazon? Maybe Lululemon
_______ Image Credit: By SounderBruce - Own work, CC BY-SA 4.0, via Wikimedia Commons
View Comments and Join the Discussion!
Posted-In: M&A News Futures Politics Legal Exclusives Markets Movers Best of Benzinga