Riding The Crest Of Ride Sharing – Uber Vs. Lyft Vs. Didi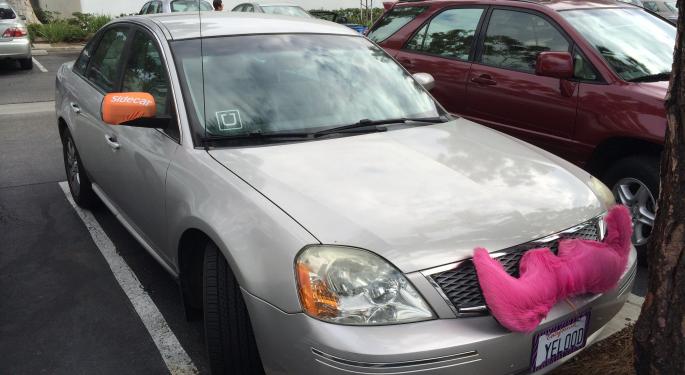 Ride sharing services are among the disruptive technologies the automotive sector has come to adopt. This service is pitched as a replacement for car ownership and at the same time offer personalized transportation service. The potential, the opportunity flaunts, is there for everybody to see and this explains the frenzied investment activity and competitive pressure we see in the space.
What Ride Sharing Means?
Ride sharing companies provide taxi-like services by connecting passengers to drivers via a smartphone app. Here, the drivers use their own vehicles to share rides with others.
Manufacturers, Tech Companies Vie For Piece of Market
Realizing the potential and the radical way in which the trend is going to affect the way cars are built, marketed and purchased, automakers have struck partnership with ride sharing companies. General Motors Company (NYSE: GM) and Ford Motor Company (NYSE: F) have already separately made investments in Lyft. GM's $500 million investment in Lyft provides for it leasing vehicles to Lyft drivers in Chicago. Toyota Motor Corp (ADR) (NYSE: TM) has struck a deal with Uber and has made a substantial investment in Lyft.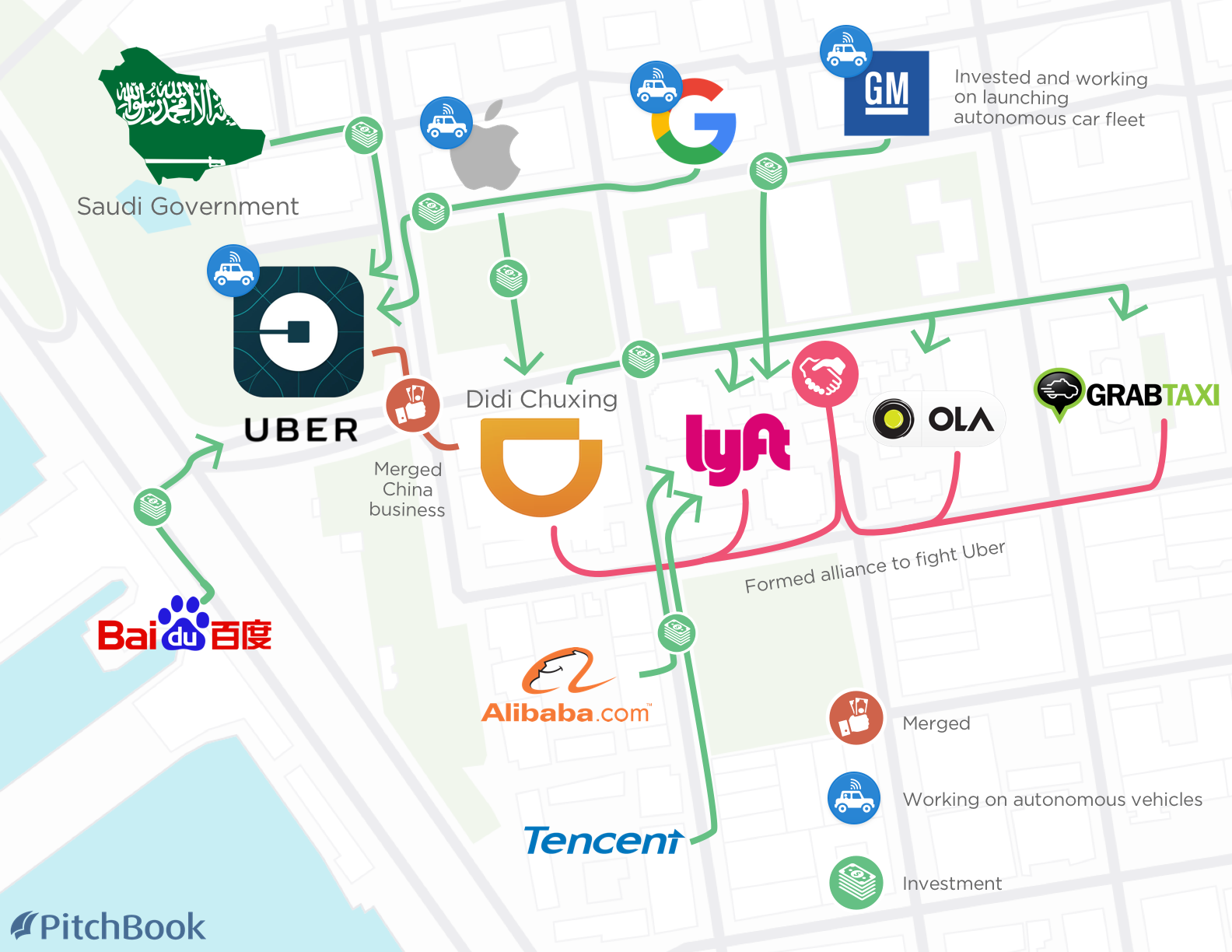 Source: Pitchbook
European automakers aren't far behind. Volkswagen AG (ADR) (OTC: VLKAY) invested $300 million in Gett, while BAYER MOTOREN WERK ADR EACH REPR 0.33333 SHS (OTC: BMWYY) has invested in San Francisco-based Scoop, which provides an app connecting people in the city living in the same neighborhoods and work near one another to arrange carpools.
Meanwhile, tech companies have also made a beeline to invest in ride sharing companies. Apple Inc. (NASDAQ: AAPL) announced a $1 billion investment in Chinese ride hailing company called Didi Chuxing, which vanquished Uber in China.
Uber's Chinese Dream Going Kaput
In August last year, Uber gave up on its Chinese ambitions, selling its Chinese business to Didi. In exchange, Uber acquired a 17.5 percent stake in the combined company and got $1 billion in cash. The deal also provided for Didi taking a small stake in Uber's global business.
Uber's exit from China stemmed from the fact that its Chinese business was bleeding, with Uber's CEO Travis Kalanick estimating the loss at $1 billion per year. The freeing up of resource also meant it could focus on profitable opportunities elsewhere. Added to that, Uber was readying itself for an IPO and the exit from China would make the company more palatable to potential investors.
As recently as this week, Uber was accorded regulatory permission to test its self-driving cars in its home state of California. Earlier, the company had moved its self-driving cars to Arizona, which has fewer regulations, following a standoff with the Californian regulators. However, the company is yet a long way from commercializing the service, having only two vehicles as of now under testing.
Didi: The Chinese Juggernaut Rolls On
Didi recently opened an R&D center called Didi Labs in Mountain View, California. The company has deep pockets and clout, as is evidenced by a plethora of investments and purchases it had made across the globe. It had made a strategic investment in Ola Cabs in India, Grab in Southeast Asia and Lyft in the United States. The Chinese company has also made a $100 million investment in Brazil-based on-demand taxi service called 99.
Didi Labs is supposed to work on how AI can be used for applications in its products and cybersecurity for autonomous vehicles.
Run-Ins With Regulators
Late last year, Uber and Lyft were locked in a battle with the Seattle City Council, which had permitted the drivers of the ride sharing services to join a union. Meanwhile, Uber and Lyft were also opposed to the city's move to get them share information to the public about things such as where passengers are picked up and dropped, just as how taxi operators are required to do. The city's contention is that these services are offering services similar to taxi cabs, while ride sharing services contend that it would mean sharing sensitive trade secrets. They tout themselves a technology companies.
Earlier, both Uber and Lyft withdrew from Austin, Texas, after regulators required drivers to go through fingerprint background checks. The companies reasoned that the move would prove unjust to those drivers who had arrests long time back.
Uber Accused Of Hoodwinking Regulators
A New York Times report recently highlighted practices engaged in by Uber to deceive regulators, who were opposed to its UberX, its low cost ride hailing service. The company reportedly uses a tool called Greyball, which helps collect data from Uber app and uses other techniques to zero in on enforcement officials involved in largescale sting operations.
If a person was identified to be linked to enforcement, he was tagged with a small piece of code reading "Greyball" following by a string of numbers. When such a person calls a car, the company populates a fake version of the app with ghost cars or show that no car is available.
Uber Vs. Lyft
Quoting data from TXN Solutions, which tracks debit and credit card data, USA Today said, in late January, Uber's share of the ride hailing market was 83.5 percent compared to 16.5 percent for Lyft. Lyft, which is eventually seeking to edge out Uber from the U.S. market, is slowly gaining traction. The steps in the direction have ironically come from Uber itself.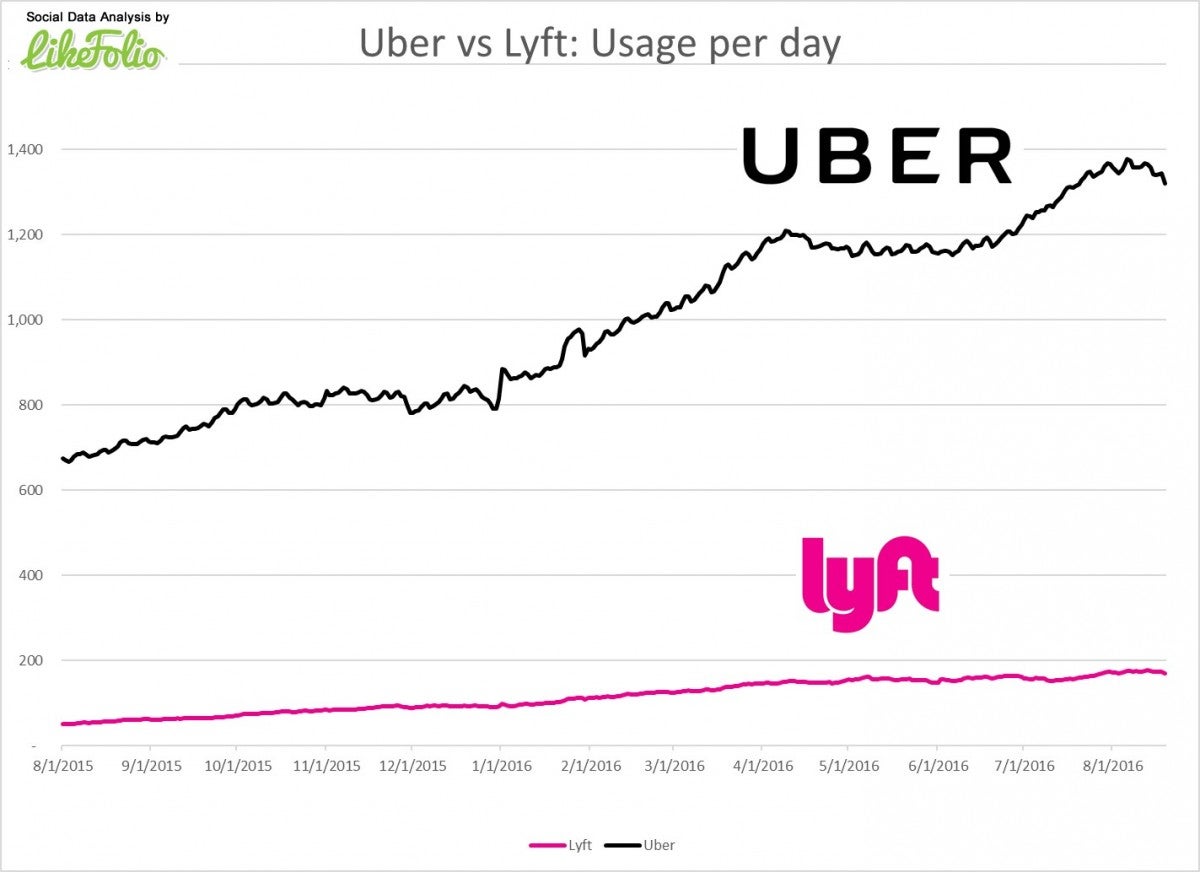 Source: Likefolio
Uber has courted a lot of controversies recently. The company faced rough weather, with the #DeleteUber campaign trending in response to the company's initial reaction to the infamous travel ban. Then, there were controversies surrounding misbehavior by its CEO, claims of sexist supervisors, the reports of the company cheating on regulators and a lawsuit alleging stealing of intellectual property.
The report stated Lyft's market share rose to 20.9 percent immediately after the #DeleteUber campaign and picked up further to 21.3 percent in February in the aftermath of allegations of blatant sexism by its ex-engineer Susan Fowler.
Competitive heat is soaring, as the two rivals sweat it out. And they also have other smaller players such as Sidecar to contend with. However, this could all turn positive for other stakeholders in the fray — drivers, who can look forward to bigger bonuses, and customers, who can avail huge discounts.
Can the Big 2 target share at the expense of bleeding margins? These companies can afford to have a healthy, profitable survival if their share is big enough to give them economies of scale.
Related Links:
Automakers Shift Lanes As Disruptive Technologies Take Over
Tech Companies Most Exposed To Trump's Immigration Ban
Automakers Eye The Finish Line in Sprint To Rollout Driverless Vehicle
_______
Image Credit: By Colin@TheTruthAbout - https://www.flickr.com/photos/thetruthabout/15172340596/, CC BY-SA 2.0, via Wikimedia Commons
View Comments and Join the Discussion!
Posted-In: Didi Didi LabsNews Travel Global Tech Trading Ideas General Best of Benzinga