Local TV Broadcasters Face FCC 'Sophie's Choice'
Spoiler alert: There are two groups of winners, or perhaps three… if one counts better quality of reception on consumer wireless devices as a win.
One-Time Windfall
A recent New York Times article sheds light on how the Federal Communications Commission airwave auction could be a bonanza for public television stations like KCET in Los Angeles, looking to cash in to the tune of $500 million dollars "for something we don't even own," according to Senior VP Gordon Bell.
The federal government owns the spectrum that local TV broadcasters have been using since Dwight Eisenhower was president.
A Dark Side
In some ways, this is the equivalent of a one-time severance package.
The NYT piece ended on an unsettling quote shared by former FCC staff member Blair Levin, who worked on the initial proposal to auction off this spectrum. A broadcaster had shared with Levin a few years back, "This is the equivalent for broadcasters of the Bataan Death March." However, Levin pointed out, "But at the end of the Bataan Death March, the Japanese did not give the soldiers multimillion-dollar checks."
If a local station goes dark or is not able to broadcast a high-definition signal, it could force consumers to accept a higher priced offering from cable or satellite TV operators.
Wireless Carriers To Bid On TV Spectrum
According to the NYT, "In the wireless industry, nearly three-quarters of this kind of spectrum — which delivers more reliable phone service, particularly in rural areas — is owned by AT&T (NYSE: T) and Verizon (NYSE: VZ), the two dominant wireless carriers. T-Mobile (NYSE: TMUS) and Sprint (NYSE: S), the next largest wireless carriers, have a tiny portion of those airwaves, and a major motivation for the auction is to keep competition among those four players alive.
"In selling the spectrum, the agency has said it plans to set aside some of it for smaller carriers like T-Mobile and Sprint. But just how much of this prized resource is earmarked for them, and how deeply it is discounted, is a major point of contention."
Based upon total return to shareholders of ~8.57 percent, Verizon has been the best performer during the past 12 months. Verizon has traded in a 52-week range of $43.84 and $52.86, and closed on April 16 at $49.27.
Biggest Winners?
Moving forward, the biggest winners from this spectrum auction may be the big three U.S. communication tower companies:
American Tower Corp (NYSE: AMT) - $41 billion cap; REIT, yielding 1.75 percent.
Crown Castle International Corp (NYSE: CCI) - $28.7 billion cap; REIT, yielding 3.8 percent.
SBA Communications Corporation (NASDAQ: SBAC) - $15.6 billion; C-Corp. no dividend.
Related Link: Why These Analysts Still Love American Tower
These three companies own most of the communications towers in the U.S. and lease them back to the four wireless carriers on long-term leases. The sale of towers frees up cash for the wireless carriers to buy spectrum.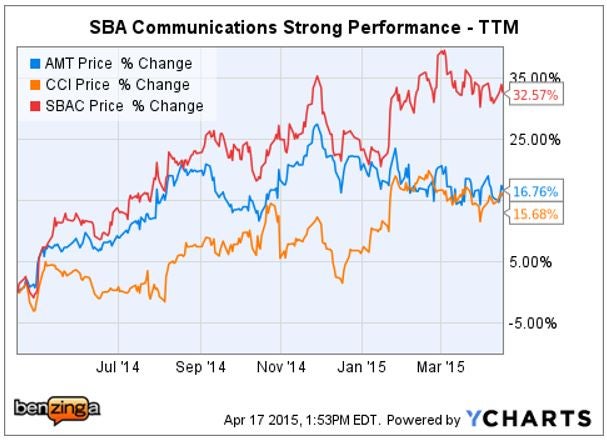 Three of the big four U.S. carriers: AT&T, Verizon and T-Mobile, were recently awarded $18.3 billion, $10.4 billion, and $1.8 billion, respectively for AWS-3 (Advanced Wireless Spectrum) rights. Sprint was not a bidder.
It is likely that the pending 600 MHz (TV Spectrum) auction will occur sometime at the beginning of 2016. A key point is that the only way the carriers are going to get a return on their investment is by monetizing the spectrum.
SBA Communications CEO Jeffrey Stoops, discussed at a recent Deutsche Bank conference that this pending 600 MHz auction, "will generate a 4 to 5 year runway of spectrum driven capital deployment by SBAC's major U.S. tenants beginning in 2017."
View Comments and Join the Discussion!
Posted-In: FCC New York Times Spectrum Auction wirelessREIT Asset Sales General Real Estate Best of Benzinga