Markets Close Higher Following Strong November Auto Sales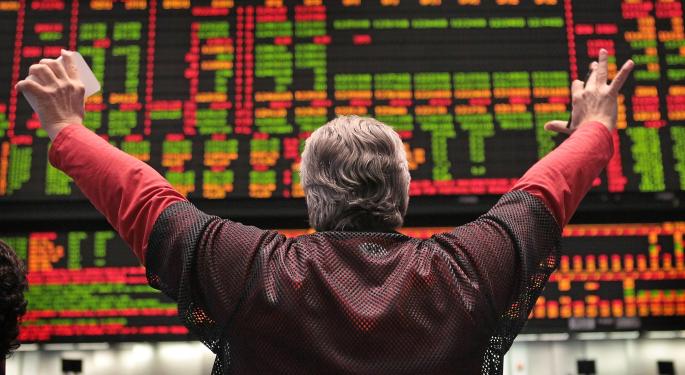 U.S. stocks were mostly higher as investors and traders focused on U.S. November automobile sales, rather than Cyber Monday sales.
U.S. automobile sales rose 4.6 percent in November to 1.3 million, higher than the 1.27 million analysts were expecting.
Cyber Monday sales were expected to grow 13 percent to 15 percent underperformed and only rose 8 percent from a year ago, according to data from IBM.
The CBOE Volatility index fell 9.5 percent to 12.93 as the Dow index reached new all-time highs of 17,897.05, while the S&P 500 traded within seven points of its all-time highs.
Looking forward to Wednesday, the Federal Reserve will release its Beige Book at 2:00 p.m. ET.
The Dow gained 0.58 percent, closing at 17,879.55.
The S&P 500 gained 0.64 percent, closing at 2,066.55.
The Nasdaq gained 0.60 percent, closing at 4,755.81.
Gold lost 1.67 percent, trading at $1,197.70 an ounce.
Oil lost 2.64 percent, trading at $67.18 a barrel.
News Of Note
ICSC Retail Store Sales rose 2.8 percent year over year after rising 1.7 percent last week.
Redbook Chain Store Sales rose 4.8 percent year over year after rising 4.2 percent last week.
Recommended: IDC's Top 10 Predictions For 2015: China, Cloud, Security And More
October Construction Spending rose 1.1 percent (versus expectations of 0.6 percent) month over month to $970.9 billion after declining 0.1 percent in September.
Equities News Of Note
Analysts at Canaccord Genuity maintained a Buy rating on Apple (NASDAQ: AAPL) with a price target raised to $135 from a previous $120. Shares lost 0.39 percent, closing at $114.62.
General Motors (NYSE: GM) reported its total November unit sales rose 6.5 percent from a year ago to 225,818 vehicles. Shares gained 1.00 percent, closing at $33.27.
Ford (NYSE: F) reported its total November unit sales fell 1.8 percent from a year ago to 187,000 vehicles. Shares gained 0.82 percent, closing at $15.90.
Biogen (NASDAQ: BIIB) reported that an early-stage study of BIIB037 (designed to clear amyloid plaques from the brain) demonstrated encouraging results. Shares gained 6.19 percent, closing at $327.53.
Aviva (NYSE: AV) and U.K.-based Friends Life confirmed a $8.8 billion merger, creating the nation's largest insurance, savings and asset-management firm. Friends Life shareholders will receive 0.74 Aviva shares under the deal. Shares of Aviva lost 0.70 percent, closing at $15.62.
RadioShack (NYSE: RSH) received a notice of covenant breach from Salus Capital under the terms of a $250 million term loan facility. The company stated that the claims are incorrect and will defend itself against the allegations. Shares lost 8.05 percent, closing at $0.72.
Shares of Digital Ally (NASDAQ: DGLY) surged after the White House said it will provide $75 million in funding for police departments to buy body cameras for its officers. Shares surged 46.57 percent, closing at $18.86.
Re/code reported that Amazon.com's (NASDAQ: AMZN) CEO Jeff Bezos acknowledged he has selected a successor to take over the top ranks when he retires. Shares gained 0.09 percent, closing at $326.29.
Recommended: Sterne Agee Answers: Who Was More Promotional During Cyber Monday?
Mastercard (NYSE: MA) announced a $3.75 billion share repurchase program to replace the current $3.5 billion plan (which has around $275 million left) when it completes. Shares gained 0.26 percent, closing at $87.69.
Reuters reported on a rumor surrounding an acquisition of BP (NYSE: BP) by Royal Dutch Shell (NYSE: RDS-A). Shares of BP gained 2.23 percent, closing at $40.72 while shares of Royal Dutch Shell gained 2.76 percent, closing at $69.35.
Quote Of The Day
"In 1996, there were 5,000 people on the floor. Now? There's 500. You can thank electronics for that. Back then you had to trade on the floor, but today you can trade electronically. So people say to me, 'Why are you still here? It's not that exciting.' But it is. Every single day someone rings the opening bell. I have met everyone I ever wanted to meet: celebrities, CEOs, everyone. I once spent 30 minutes with Walter Cronkite. He was my hero. What's it worth to meet everyone you ever looked up to? To me, a lot." [As told by CNBC's Bob Pisani.]
Posted-In: Amazon Apple Aviva Biogen bp construction spendingNews After-Hours Center Best of Benzinga
View Comments and Join the Discussion!