Tobacco Reemerges As Hollywood Star, But Does The Screen Time Help?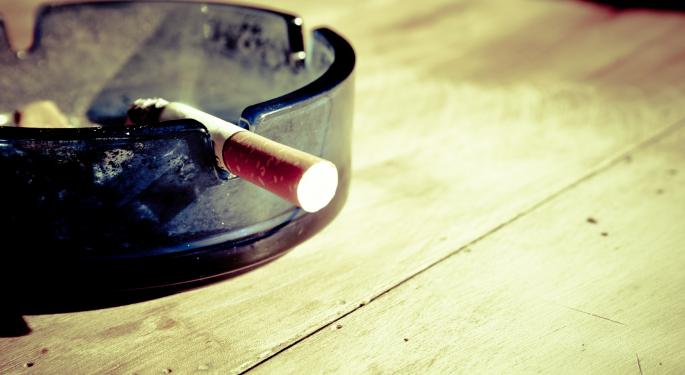 If Hollywood still mandates what's cool and what's not, a challenge may be looming for tobacco adversaries. Studies reveal the reemergence of cigarettes as a common prop, sagging from the mouths of America's cultural icons.
Tobacco incidents in top-grossing movies increased 72 percent from 1,824 to 3,145 between 2010 and 2016, according to a July report by the Centers for Disease Control and Prevention. The latest rate, which represents an 80-percent annual rise, is nearing the industry's 2005 peak of 3,962 incidents.
In the seven-year span studied, R-rated films saw a 90-percent increase, PG-13 a 43-percent increase and G or PG a, 87-percent decrease.
The CDC considers the occurrence rate notable, acknowledging a causal relationship between smoking incidents in the movies and initiation of tobacco use among American youth. Those heavily exposed to smoking images are two to three times more likely to pick up the habit.
Considering the correlation, the CDC suggested that "enhanced measures to address tobacco incidents in movies are warranted," with interventions including R-rating assignments for movies with smoking scenes and certification of studios not receiving payments from tobacco companies pushing screen time.
Industry Endurance
Tobacco survived an onslaught of attacks from the late 20th century on. Manufacturers were prohibited from advertising on TV or radio. States banned smoking in public spaces. The film industry voluntarily cut down on tobacco references.
In many communities, the gray haze largely disappeared from view.
Still, industry players have, for the most part, thrived, undeterred by regulations and campaigns pushing for their demise.
Tobacco Performance
Related Links:
A Look At How Well Sin Stocks Trade In Light Of Jose Cuervo IPO
2017's Largest Movie Flicks Weren't Cheap To Make
Posted-In: film film industry HollywoodTopics Top Stories Media Trading Ideas General Best of Benzinga
View Comments and Join the Discussion!