A Look At How Well Sin Stocks Trade In Light Of José Cuervo IPO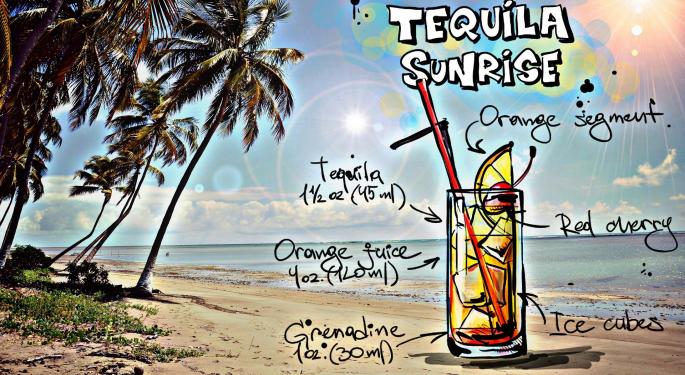 The world's largest tequila producer, José Cuervo (NYSE: JOSE), successfully launched its long-awaited IPO Wednesday to join the ranks of public companies capitalizing on vice. On day one, the affectionately termed "sin stock" raised more than $900 million with an IPO around $1.68 per share.
The Mexican company beat its goal by $200 million, but its capacity for growth is yet indiscernible.
It's speculated that American trade policies may limit performance in the coming year, especially since the U.S. and Canada consume 64 percent of sales. But investors allege that tequila demand is relatively unaffected by price changes, and José Cuervo can withstand heightened tariffs.
History offers no hint of the company's immediate stock potential. Other publicly traded liquor companies had divergent early paths and demonstrated no consistent trends throughout the years.
The Business Of Potent Potables
Following an IPO launch at $9, Castle Brands Inc (NYSE: ROX) dropped 18 percent in its first quarter, plummeted over the next two years and stabilized at a five-year value between 20 and 30 cents. It's presently valued around 77 cents.
Competitor Brown-Forman Corporation (NYSE: BF.A) (NYSE: BF.B) saw a similar fate. The company made its debut around $12, and shares fell about 20 percent over the first three months before finishing up 42 percent five years later.
After launching an IPO of $39 in 1998, Diageo plc (ADR) (NYSE: DEO) finished its first quarter just above $47. Shares then suffered a two-year decline and rebounded to a five-year value around $42. The stock now rests at $114.
Brown-Forman far outperformed the S&P in its early years, while Diageo underperformed until its fifth year of trading.
How Did Other Vice Stocks Do?
The wine and beer market proved equally inconsistent in companies' post-IPO achievement.
While Vina Concha y Toro SA (ADR) (NYSE: VCO) dropped $1 one quarter after the launch of its $7.55 IPO, shares were up 83 percent five years in.
Truett-Hurst Inc (NASDAQ: THST) saw an opposite effect. Its shares have faded 66 percent since their mid-2013 market debut.
Willamette Valley Vineyards, Inc. (NASDAQ: WVVI) shares remained constant at $5 during the first quarter but, five years later, dropped to $2.
Constellation Brands, Inc. (NYSE: STZ) shares fell from about $2 off the start to below $1 over the first five years. After a steady run thereafter, the stock spiked 700 percent between 2012 and 2016 to a rate of $155.
The Boston Beer Company Inc (NYSE: SAM) saw a similar trend. Over the first quarter, shares dropped $10 from an initial rate of $32.50 and sunk to $7.50 five years later. Values then rose exponentially to a 2015 peak around $320.
Meanwhile, Anheuser-Busch Inbev NV (ADR) (NYSE: BUD) remained relatively unchanged in its first quarter, rose 215 percent in the first five years — and kept rising for nearly 40 years. The original penny stock now trades at $106.
Molson Coors Brewing Co (NYSE: TAP) saw first-quarter and five-year values comparable to its IPO rate. Nearly 40 years later, shares rest up 1,400 percent.
The relatively nascent Craft Brew Alliance Inc (NASDAQ: BREW) shares plunged 55.5 percent over the company's first quarter but maintained a five-year run to rest up 472 percent.
The inconsistent performance of sin stocks provides few clues to predict José Cuervo's achievement in the coming terms, so investors may turn to public policy and social sentiment to make their bets.
View Comments and Join the Discussion!
Posted-In: alcohol BeerNews Topics IPOs Movers Trading Ideas General Best of Benzinga