From The Dashing To The Dastardly, Here Are The 7 Best Hollywood Presidents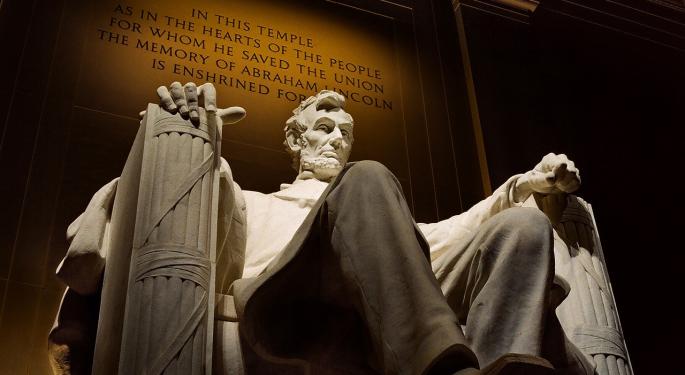 In honor of Donald Trump being sworn in as 45th president of the United States, here is a look at some of Benzinga's favorite movie presidents.
Clear Winner: President Thomas Whitmore
Bill Pullman's character President Thomas Whitmore ("Independence Day"), unlike any other fictional president, truly led by example.
Whitmore served as a fight pilot in the Air Force during the Gulf War prior to serving in the highest office. When aliens invaded Earth and threatened the planet, he rallied the troops through an epic speech and then personally led the counterattack that brought the downfall of the alien invaders.
No. 2: President James Marshall
When Russian terrorists hijacked Air Force One, Harrison Ford's character President James Marshall ("Air Force One") fought back.
Marshall, a Vietnam War veteran and Medal of Honor recipient, refused to leave his family behind. Most notably, he ordered the U.S. Air Force to fire a missile on Air Force One knowing that the plane's defense mechanisms would give him a surprise advantage in a fight with one of the terrorists.
And who can forget his one-liner, "Get off my plane!"?
No. 3: President Josiah 'Jed' Bartlet
Martin Sheen's portrayal of President Josiah "Jed" Bartlet ("The West Wing") earned him a Golden Globe Award and two SAG Awards.
Bartlet, a two-term president, was shown to be a highly intelligent and strong president that battled through personal problems including multiple sclerosis and the kidnapping of his own daughter, in addition to national security crisis including the threats of terrorism and solving the Middle East conflict.
No. 4: President Dwayne Elizondo Mountain Dew Herbert Camacho
Terry Crew's character president President Dwayne Elizondo Mountain Dew Herbert Camacho ("Idiocracy") was a former wrestler turned president in a dystopian society — in the Year of Our Lord 11 A.K. (After Kardashian) to be a bit more precise.
Haven't seen the movie? Most people haven't, although Rolling Stone described it as the "smartest stupid movie ever made."
No. 5: President David Palmer
Dennis Haysbert's character President David Palmer was targeted for assassination during the presidential race, but his life was ultimately saved by superhero Jack Bauer in the TV series "24."
Hasybert's strong leadership qualities helped him navigate the country through various existential threats. After leaving office his character was assassinated and was survived by brother Wayne who himself was elected as president later on in the series.
No. 6: Un-Named President
Michael Moore's "Canadian Bacon" featured Alan Alda as an un-named president of the United States. The president's poor ratings and popularity prompted him to start a war against neighboring Canada because there was not much else to be done to boost his appeal.
"It's not fair, every other president had the Russians to blame for everything," the president said. "What do I got?"
No. 7: President Andrew Shepherd
Michael Douglas starred as President Andrew Shepherd in "The American President."
Shepherd, a widower, pursued a relationship with Sydney Ellen (Annette Bening), an environmental lobbyist who was tasked with convincing the administration to reduce carbon emissions.
Posted-In: Donald Trump Presidents US PresidentPolitics Media General Best of Benzinga
View Comments and Join the Discussion!