The Rise Of An Empire: All The Ways Amazon Grew Even Bigger Under Trump's Nose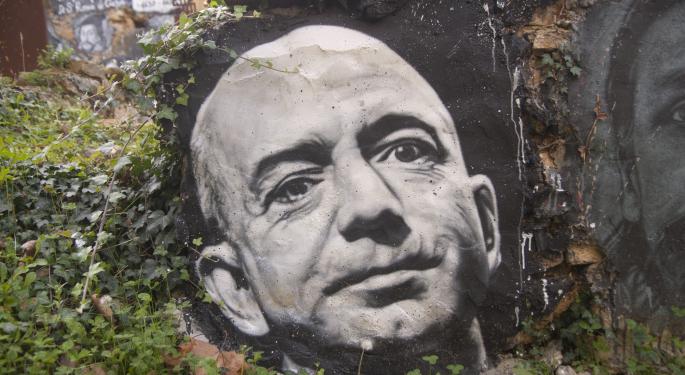 President Donald Trump thinks Amazon.com, Inc. (NASDAQ: AMZN) has too much power.
Since Trump took office, the company and its affiliates have expanded in market cap, influence, geographic reach, breadth and depth of expertise.
Amazon has diversified through acquisitions, partnerships and brick-and-mortar projects; it's taken on health care, groceries, technology and books; and it's penetrated intimate spaces with home assistants and smart technology.
Here are just a few of the achievements and experiments recorded by what Mark Cuban's called the "best startup in the world" since Trump's inauguration in 2017:
Feb. 26: Amazon Studios wins two Academy Awards off seven nominations;
May 25: Amazon opens its first bookstore in New York;
June 2: Amazon's stock breaks $1,000;
July 20: Amazon partners with Sears Holdings Corp (NASDAQ: SHLD);
July 21: Amazon buys fintech startup Graphiq;
Aug. 28: Amazon buys Whole Foods Market;
Sept. 7: Amazon rallies civic and business leaders in a nationwide frenzy for its second headquarters;
Oct. 5: Amazon is reported to be experimenting with a new delivery system;
Dec. 22: Amazon buys smart camera startup Blink;
Dec. 26: Amazon reports a record holiday season;
Jan. 5: Amazon invests in Indian insurtech firm Acko;
Jan. 25: Amazon opens its first Go warehouse store;
Jan. 30: Amazon teams with Berkshire Hathaway Inc. (NYSE: BRK.A) (NYSE: BRK.B) and JPMorgan Chase & Co. (NYSE: JPM) on health care solutions;
Feb. 27: Amazon buys smart doorbell maker Ring.
A South Park episode exposed the company's in-home influence with Amazon Alexa; the company is amassing assets that could build out an Amazon-branded smart house.
An outage in Amazon Web Services revealed the services' importance to the business sector, and state leaders fell to their knees just to be in the brand's presence. The mayor of an Atlanta suburb even offered 345 acres to establish a new city called "Amazon," with CEO Jeff Bezos serving as lifetime mayor.
It's seized the fear and respect of disparate industries, with varying reports shaking retail stocks, grocery stocks, video distribution stocks and supply chain logistics stocks.
Prime has proven a consumer magnet, with membership almost doubling since 2015.
A portfolio manager calculated a total addressable market of "trillions of dollars" for the firm's AWS service.
Amazon still has air warehouses in the works to support drone deliveries and expand its dominion into an untapped market.
Amazon is an empire, and Bezos is its king. The CEO, who also influences public discourse with The Washington Post and is breaking physical boundaries with Blue Origin, briefly became the richest person in the world last year.
All the while, the philanthropic and business mogul has all but ensured enduring likability for the brand and himself by donating headquarters space to a homeless shelter and aiding low-income consumers with discounts.
Amazon's stock, meanwhile, has moved from $800 a share in January 2017 to north of $1,400 today.
Amazon's supreme ruler is a critical asset to the rapidly expanding kingdom. With a leader undaunted by failure and unhindered by spatial, financial or skill-related restrictions, the sky is the limit.
Related Links:
Amazon Investors Trust Their Management Like No Other Company
Trump Blasts Amazon, Washington Post On 'Internet Tax' Evasion: Is That Even A Thing?
DA Davidson Recommends Buying Amazon Weakness, Says Retail Giant Has 'Low Likelihood' Of Antitrust Headwinds
Photo by Thierry Ehrmann/Wikimedia.
Posted-In: Donald Trump Jeff BezosEducation Top Stories Tech General Best of Benzinga
View Comments and Join the Discussion!