Report: Amazon Is Toying With A New Delivery Service That Could Replace UPS And FedEx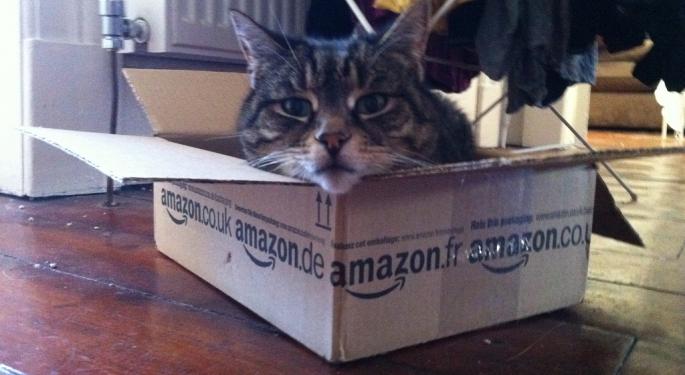 Amazon.com, Inc. (NASDAQ: AMZN)'s reliance on shipping partners including FedEx Corporation (NYSE: FDX) and United Parcel Service, Inc. (NYSE: UPS) could be drastically reduced, Bloomberg reported.
Amazon is exploring the concept of a new delivery system dubbed "project Seller Flex," in which the e-commerce giant will assume a bigger role in functions provided by FedEx and UPS, two people familiar with the plan told Bloomberg. Specifically, Amazon will take a role in overseeing pickup of packages from third-party merchants who sell their products on Amazon.com along with the actual delivery of the products to customers.
Shares of FedEx and UPS were each trading lower by more than 2 percent early Thursday morning.
For the time being at least Amazon will still use FedEx and UPS and other couriers for delivery services, but the company will now decide a how a package is handled instead of leaving the decision up to the seller, the Bloomberg report added.
Amazon reportedly began experimenting with the idea two years ago in India and has been slowly pitching the concept to U.S. merchants. By controlling the "last mile" of delivery, the company could save money through volume discounts and better control the inventory of its own warehouses that can solve supply chain problems especially around the holidays.
The decision to more actively manage its inventory could stem from a surge of last-minute holiday orders in 2013 when Amazon was unable to fulfill its two-day shipping guarantee, Bloomberg also noted. The company issued refunds to many shoppers and may have signaled that it is too dependent on shipping partners during its busiest times.
Related Links:
Drones, Distribution And The State Of Shipping
Is Amazon Running A Secret Shipping Business With Major Disruptive Potential?
_________
Image Credit: By alisdair (Delivery Uploaded by MaybeMaybeMaybe) [CC BY 2.0 (http://creativecommons.org/licenses/by/2.0)], via Wikimedia Commons
Posted-In: Amazon Shipping ecommerce shippingTop Stories Media Best of Benzinga
View Comments and Join the Discussion!