Which Cities Are Potential Contenders For Amazon's New HQ?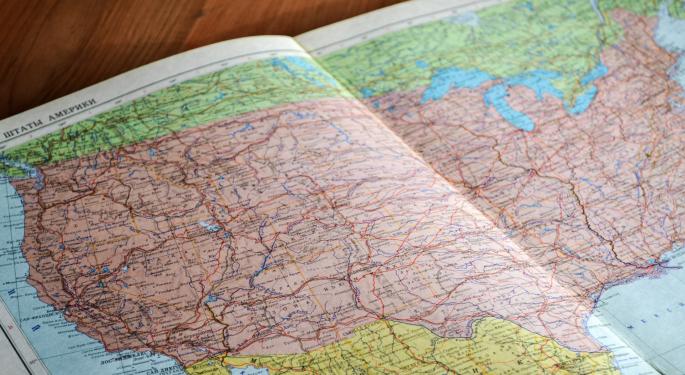 With up to 50,000 jobs, a $5 billion campus and the appeal of a $466 billion company at stake, city governments are surely scrambling to file their bids for Amazon.com, Inc. (NASDAQ: AMZN)'s new corporate site.
"We expect HQ2 to be a full equal to our Seattle headquarters," Amazon CEO Jeff Bezos said in a Thursday press release, noting that the original campus and its 40,000-plus employees contributed $38 billion to Seattle's economy between 2010 and 2016. Public transit earned $43 billion in Amazon dough, and the firm lured attractive friends, prompting a surge in Fortune 500 companies from seven to 31.
Amazon's second home could be a similar regional boon. The company expects the construction project, alone, to pump tens of billions of dollars into the host community and create tens of thousands of jobs.
Who's Eligible?
Amazon hasn't specified locales of interest but instead outlined standards for ideal applicants.
"We are looking for a location with strong local and regional talent — particularly in software development and related fields — as well as a stable and business-friendly environment to continue hiring and innovating on behalf of our customers," according to Amazon's website.
Ideally, it seeks a city or suburb with a population beyond 1 million, and bonus points are awarded for readiness to host an urban campus with a layout similar to that of Seattle's site.
So a populous, tech-oriented metropolitan area with space for expansive development. Residents are already making pitches.
Austin?
Austin has all of that...and the timing on this might be perfect here...a technology innovation district is in works with land in CBD avail.

— MeowTX (@muelleratx) September 7, 2017
Austin is also home to the headquarters of Amazon's grocery store chain.

— Brendon Riggs (@cbrendonriggs) September 7, 2017
Detroit?
Detroit, MI. Cheap downtown land, strategic location, large airport, great Interstate connections, 2 large universities, lower wages vs. CHI

— Amrit (@AmSangh888) September 7, 2017
Detroit? Good airport, available land, interest from young people, close to large public university, easy access to east coast and Midwest

— Ben Levine (@Ben__Levine) September 7, 2017
Philadelphia?
Does your old home of Pittsburgh have any shot? They've got an Amazon presence already, skilled labor, cheap housing, far from other HQ

— Modeled Behavior (@ModeledBehavior) September 7, 2017
Convenient to two top Logistics schools (Penn State and Rutgers) - central to the I-95 corridor - could be

— grantwhunter (@grantwhunter) September 7, 2017
Washington, D.C.?
I always figured that Bezos didn't recently buy a home in DC because he wanted to be near the ~Trumps~ . He's got a long game here.

— Michael Rodríguez (@TranspoPlanner) September 7, 2017
Tysons in Virginia already has a number of Amazon offices, lots of tech talent, Dulles is close, plus the Washington Post headquarters.

— Matt Garza (@gramzam) September 7, 2017
Boston?
BOS has the labor pool and airport… but I almost wonder if RI would be of interest. RI's incentives would be much more generous vs MA.

— John Rosevear (@john__rosevear) September 7, 2017
Vancouver?
Canada is a good bet, because less visa issues, and Vancouver is beautiful and close to Seattle.

— Anna Warwick Sears (@AnnaWSears) September 7, 2017
Toronto?
It has to be Toronto. Best experts on AI and machine learning in the world. Gotta think that would come in handy.

— Jennifer Riel (@JenniferRiel) September 7, 2017
Given the policy direction in US on trade, immigration etc. and its emerging tech prowess it has to be Toronto right?

— Scott Butler (@SRdotButler) September 7, 2017
Atlanta? Houston? Pittsburgh?
Amazon will accept proposals through Oct. 18 and will announce its new home in 2018.
Posted-In: Jeff BezosNews Previews Events Trading Ideas Best of Benzinga
View Comments and Join the Discussion!