7 Unusual Partnerships And How They Worked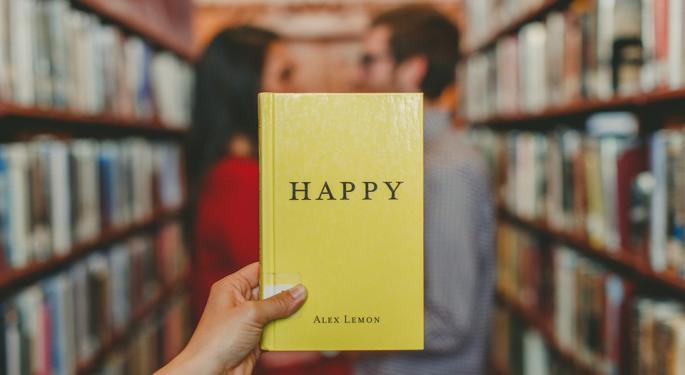 Odd couples often receive odd looks. Gawking and speculating onlookers nosily turn their heads trying to understand how two parties with such contrasting chemistry can come together to form successful partnerships and functioning relationships.
Despite the gawk factor, and perhaps against all odds, unusual partnerships have prevailed in the past.
While the success stories continue to confound and fascinate, in other cases, odd couples have possessed fatal attractions in its truest sense, taking both parties nowhere.
Earlier this summer, news of Ford Motor Company (NYSE: F) and Domino's Pizza, Inc. (NYSE: DPZ) striking a partnership caught the market by surprise.
The companies said they will begin testing a service to deliver pizzas in the Ann Arbor area in a Ford Fusion vehicle armed with self-driving technology. Customers who have ordered pizzas can track the delivery process through GPS. The delivery, though, is unlikely to be door-to-door, with the companies still befuddled by the last 50 feet of delivery from driveway to doorstep.
Even as the companies involved work out the nitty-gritties, here are a few other partnerships that turned heads when they were announced.
1. Uber And Spotify: Music On The Move
In late 2014, Uber and Spotify unveiled a partnership that gave Spotify premium account holders the ability to DJ their rides. By syncing their Spotify accounts while hailing a ride and selecting a playlist, Uber customers would be greeted by their favorite jams as soon as they opened the car door.
While this was an attempt make a personalized ride experience for customers, with the scandals surrounding Uber, there are whispers that Spotify is rethinking on having the association, according to a report in The Verge.
2. Google And Luxottica: A Cool Connection
Luxottica Group SpA (ADR) (OTC: LUXTY), a maker of premium, luxury and sports eyewear, forged a partnership with Alphabet Inc (NASDAQ: GOOGL) (NASDAQ: GOOG) in 2015 to create iconic wearable devices.
The companies agreed to develop the Italian company's Ray-Ban and Oakley sunglasses using Google Glass technology, which uses a small screen attached to a pair of eyeglass frames and has the functionalities of recording videos, accessing emails and retrieving information from the Web by connecting wirelessly to a cell phone.
See also: Google's Amazing Worldwide Ad Revenue
3. Macy's And Google: Visibility Into The Stores
How could anyone have imagined a brick-and-mortar retailer tying up with an internet technology behemoth?
Macy's Inc (NYSE: M) and Google teamed up in October 2014 to help with local inventory search. Customers can do a Google search to find out what a Macy's location nearby stores and retrieve details about the pricing, size, color and directions to the store.
4. BMW And Louis Vuitton: A Marriage Of Convenience
Bayerische Motoren Werke AG (FRA: BMW) and LVMH Moet Hennessy Louis Vuitton SE(ADR) (OTC: LVMUY) announced in 2014 that the latter will make available a premium priced luggage set. The set that originally cost $20,000 was designed to fit in and around BMW i8's limited luggage compartment and storage space.
Early this year, there was news that this luggage set will be available on eBay Inc (NASDAQ: EBAY) and would be priced at $26,000.
5. Starbucks And Square: A Union That Turned Sour
Merchant services aggregator and mobile payment company Square Inc (NYSE: SQ) struck a partnership with coffee chain retailer Starbucks Corporation (NASDAQ: SBUX) way back in 2012 when the former was still a private company.
The agreement provided for Square processing Starbuck's credit and debit card transactions, which was thought to be a win-win situation. While Starbucks was expected to cut down its payment processing costs, Square was supposed to see an expansion in its scale.
However, subsequently, Square felt the relationship has started hurting it, especially on the cost front. And the result. Square snapped the tie-up in late 2015.
6. Hyundai And Prada: Luxury Redefined
In 2011, HYUNDAI MOTOR CO KRW5000 (OTC: HYMLF), which is known primarily as a budget vehicle maker, announced a tie-up with luxury brand Prada SPA (OTC: PRDSY).
Prada provided design inputs to make Hyundai Genesis Prada, a luxury car, with initial plans pointing toward small volume production of 1,200 units. However, it doesn't look like the companies have a success story out of the union.
7. NASA And Lego: Exploratory Tie-Up
NASA and the Danish toymaker partnered in 2010 to encourage and reward creative talent in aerospace designing through its "Design and Build" competitions, especially for students. The association was considered as unconventional, as NASA was into the habit of striking relationships with universities and non-profit and research organizations.
View Comments and Join the Discussion!
Posted-In: BMW Google Glass Hyundai Hyundai Genesis Prada Lego LuxotticaEducation General Best of Benzinga