Will Ag Stocks Flourish Now That California's 5-Year Drought Is Officially Over?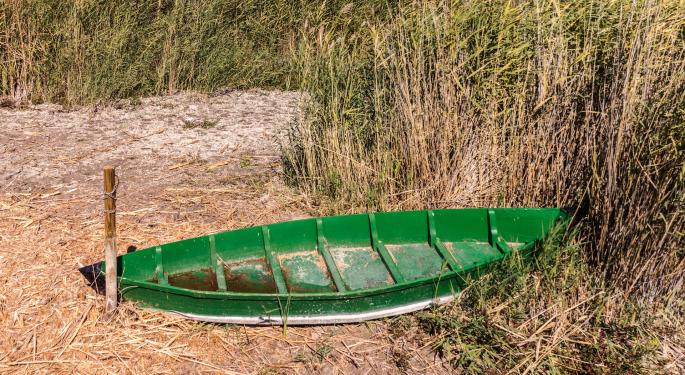 The West Coast/California drought has finally ended, with Gov. Jerry Brown lifting the drought emergency in most parts of California, barring a few San Joaquin Valley counties. Does this mark the all clear for investors in the agriculture sector?
Not necessarily.
Let's take a look at performance of agriculture-related stocks over cycles of drought.
Driest Ever Drought In California
The most recent drought in California spanned from December 2011 to April 2017 and has the distinction of being the driest in the history of the state. The state has ordered a 25 percent cut in urban water use in June 2015, as a countermeasure to tackle the drought. The worst affected of all are the farmers, as they use about 80 percent of all water consumed.
California is the pivot in the nation's agricultural fabric, as it has been topping the states in agricultural production since 1948, producing almost all of domestic fruits, nuts and vegetables, according to a report in Kapitallwire.
Droughts would have a telling impact on industries exposed to agriculture and allied activities. Agri-input companies such as seed companies and manufacturers of fertilizers and pesticides and farm machinery and equipment makers are among the worst hit.
However, comparing droughts is a tough assignment, given that a drought can be defined in terms of a host of metrics such as rainfall, condition of vegetation, agricultural productivity, soil moisture, levels of reservoir and stream flow, economic impact etc., a Forbes article said quoting scientists at National Oceanic and Atmospheric Administration, or NOAA.
The Forbes article delved on some of the worst droughts in the history of the United States:
Dust Bowl of 1930s.
Great Plains/Southwest Drought: 1950–1957.
Californian Drought: 1977–1978.
Californian Drought: 1987–1989.
Turn-of-the-century Drought: 1999–2008.
Californian Drought of 2011–2016.
How Agricultural Stocks Fared Through Recent Californian Drought
PowerShares DB Agriculture Fund (NYSE: DBA), the iPath Bloomberg Grains Total Return Sub-Index ETN (NYSE: JJG) and the ELEMENTS Rogers Intl Cmdty Agri TR ETN (NYSE: RJA) all fared badly during this six year period.
The DBA has lost 39 percent since 2011; the JJG, 46.9 percent; and the RJA, 41.2 percent.

Source: Y Charts
The Market Vectors Agribusiness (ETF) (NYSE: MOO), which has companies deriving at least 50 percent of their revenues from agricultural business, including fertilizer, seed and food companies, was largely on a consolidation mode, in a broad range, for most part of the drought.
After declining steeply in late 2015, the index has staged a nice recovery, advancing about 16.41 percent since 2016.
The index is down about 0.9 percent over the period between 2011 and 2016.
Looking at individual stocks:
Agricultural Produce Companies
Limoneira Company (NASDAQ: LMNR): -32.1 percent since 2011.
Calavo Growers, Inc. (NASDAQ: CVGW): +168.2 percent since 2011.
Agri-Input Companies — Seeds/ Fertilizers/Pesticides Manufacturers
Agri-Finance Companies
Federal Agricultural Mortgage Corp. (NYSE: AGM): +233 percent since 2011.
Notwithstanding the drought, seed companies and agri-produce companies have fared well. The performance of pesticide and fertilizer companies were mixed during the period.
There is an argument that droughts serve to support stocks of companies that supply drought-resistant seeds.
Monsanto, Syngenta and E I Du Pont De Nemours And Co (NYSE: DD) are all said to have genetically modified seeds that can withstand drought.
There is another class of companies that boom during droughts, the ones that sell technology related to water efficiency and moisture monitoring systems.
Agri Stocks And Previous Droughts
During the Turn-of-the-century Drought of 1999–2008, these stocks turned in a lackluster showing only to launch into a strong rally toward the end of the drought.

Source: Y Charts
Agricultural stocks could get a psychological boost from the news that the drought has abated, returning agricultural activity to their historic norms. Droughts, like an economic cycle, keep repeating, especially amid the global warning triggered by climate change. Therefore, one might be well advised to tread with caution when investing in agricultural stocks. As seen earlier, there are some sub-classes among this sector, which are relatively less immune to adverse weather conditions such as droughts and floods.
Related Links:
Specter Of Trump's Agriculture Policies Prompt JPMorgan To Downgrade Archer Daniels
View Comments and Join the Discussion!
Posted-In: California droughtEducation Commodities Top Stories Economics Markets Media General Best of Benzinga