The Week Ahead In Biotech: Earnings, PDUFA Dates And More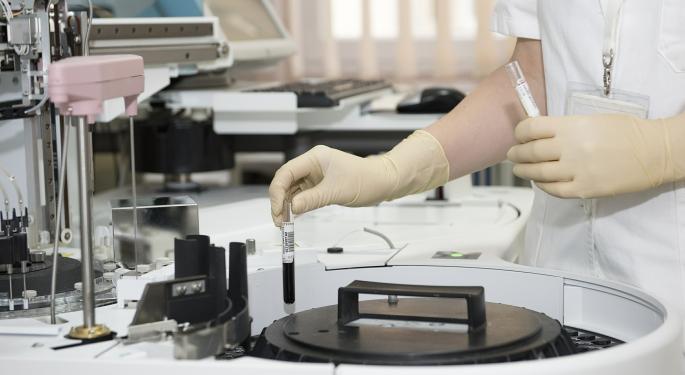 Last week saw some dramatic moves in the biotech space. The FDA vetted quite a number of approvals pending before it last week, with one being a new molecular entity, or NME, approval.
Here's what biotech investors need to focus on in the upcoming week.
PDUFA Dates
Thursday, March 29
Amgen, Inc. (NASDAQ: AMGN)'s acute lymphoblastic leukemia, or ALL treatment candidate Blincyto will come before the FDA, with the regulatory agency set to announce its verdict on the supplemental biologic license application, or sBLA on March 29.
Blincyto was approved by the FDA in 2014 for treating relapsed or refractory B- cell precursor ALL in adults and children.
FDA's Oncology Drugs Advisory Committee, or ODAC, which met on March 7, voted 8-4 in Amgen's favor on the question whether current research demonstrated a potential benefit for the new indication, although it didn't vote on whether it should be approved.
Clinical Trial Results
TESARO Inc (NASDAQ: TSRO) is due to release Phase 1/2 data on its Niraparib in combination with Merck's (NYSE: MRK) Keytruda for treating triple-negative breast cancer or ovarian cancer at the Society of Gynecologic Oncology Annual Meeting. The company is also scheduled to release Phase 2 top-line data on Niraparib, based on the QUADRA trial, in the first quarter.
Alnylam Pharmaceuticals, Inc. (NASDAQ: ALNY) is set to release additional Phase 3 (study dubbed APOLLO) data on its Patisiran on March 28. Patisiran is being tested for transthyretin-mediated amyloidosis. Top-line data released in September 2017 showed that the study met all endpoints. The company will also present new data from the Phase 1 trial of ALN-TTRsc02, an investigational, subcutaneously administered RNAi therapeutic for the treatment of ATTR amyloidosis.
Companies with A March Release Schedule
Esperion Therapeutics Inc (NASDAQ: ESPR) is due to release top-line results from the Phase 2 study on Bempedoic Acid – 1002-039 for treating hypercholesterolemia. The company will also release pivotal Phase 3 Study 4 data for Bempedoic Acid - 1002-047 in atherosclerotic cardiovascular disease patients on ezetimibe and low dose statin background therapy.
ImmunoGen, Inc. (NASDAQ: IMGN) is scheduled to report updated dose-escalation findings from the FORWARD II trial evaluating mirvetuximab plus Keytruda combination cohort at the Society of Gynecologic Oncology annual meeting.
See Also: Mesoblast's Delayed Launches, Teva Split Turn Credit Suisse Bearish
Earnings
Monday, March 26
Tuesday, March 27
Edap Tms SA (ADR) (NASDAQ: EDAP)
Wednesday, March 28
Biocept Inc (NASDAQ: BIOC)
Thursday, March 29
IPO
Two biotech/health care IPOs are scheduled for the upcoming week.
Homology Medicines, a developer of gene therapy delivery platform for rare diseases, is set to offer 6.67 million shares in an IPO, with the shares estimated to be priced between $14 and $16. The shares are to be listed on the Nasdaq under the ticker symbol FIXX.
Unum Therapeutics, a cancer immunotherapy company, plans an IPO of 5.77 million shares, with an estimated price range of $12-$14. The company plans to list its shares on the Nasdaq under the ticker symbol UNUM.
Related Link: Insmed Has $700M Opportunity With Lung Disease Treatment, Says Morgan Stanley
Conferences
Society of Gynecologic Oncology annual meeting - March 24-27, in New Orleans, Louisiana
16th International Symposium on Amyloidosis - March 26-29, in Kumamoto, Japan
Needham & Company 17th Annual Healthcare Conference – March 27-28, in New York City
The Guggenheim Conference on Disruptive Technologies in Immuno-Oncology – March 27, in New York
Posted-In: Biotech News Previews FDA IPOs Top Stories Trading Ideas General Best of Benzinga
View Comments and Join the Discussion!