Battling Billionaires: Elon Musk Says Mark Zuckerberg's Knowledge Of AI Threat Is 'Limited'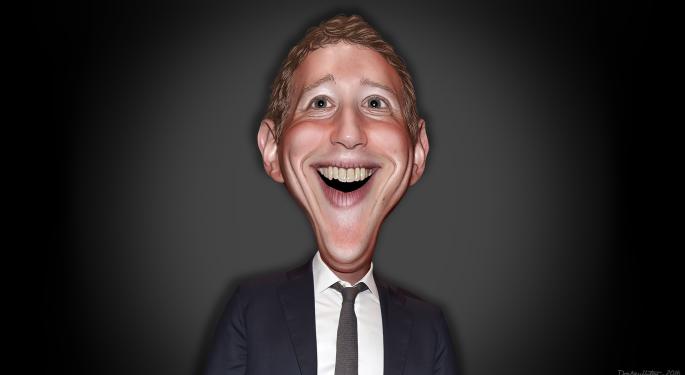 Gentlemen, start your egos.
Elon Musk believes the greatest threat to humanity is artificial intelligence, while Mark Zuckerberg thinks the CEO of Tesla Inc (NASDAQ: TSLA) is being irresponsible for hammering away at "doomsday scenarios."
So, what are two dueling tech billionaires to do? Hash it out on social media, naturally.
The unusual public quarrel kicked off on Sunday, when Facebook Inc (NASDAQ: FB) CEO Zuckerberg took questions on Facebook Live while barbecuing beef brisket in his backyard in Palo Alto, California.
Zuckerberg read aloud one user's question: "I watched a recent interview with Elon Musk and his largest fear for future was AI. What are your thoughts on AI and how it could affect the world?"
Them's Fighting Words
"I have pretty strong opinions on this. I am optimistic," Zuckerberg said. "I think you can build things and the world gets better. But with AI especially, I am really optimistic."
"And I think people who are naysayers and try to drum up these doomsday scenarios — I just, I don't understand it. It's really negative, and in some ways, I actually think it is pretty irresponsible," he said.
"In the next five to 10 years, AI is going to deliver so many improvements in the quality of our lives," added Zuckerberg.
Musk, who has been warning about intelligent robots causing massive job losses and potentially gaining uncontrollable autonomy, responded to Zuckerberg after a user at Twitter Inc (NYSE: TWTR) posted the Facebook co-founder's comments.
"I've talked to Mark about this. His understanding of the subject is limited," Musk responded.
Musk And The Future Of Life
Musk, along with other brainiacs such as Stephen Hawking, sits on the scientific advisory board of the Future Of Life Institute, a nonprofit group that seeks to protect humanity from the machines it's building.
Both Zuckerberg and Musk support the concept of a guaranteed universal wage to protect people from the inevitable job losses caused by the coming AI revolution.
Former Microsoft Corporation (NASDAQ: MSFT) CEO Bill Gates and Dallas Mavericks owner Mark Cuban also have warned that society has to prep now for a fundamentally altered future.
"We're going through a transition right now with artificial intelligence, machine learning, neural networks, deep learning, where companies are going to have to adjust, to learn how to acquire data and use that data in ways they never have before," Cuban said Sunday. "We're going through a transitional period where we'll see more disruption driven by artificial intelligence than we've seen in the last 30 years.
But Musk, who is also CEO of SpaceX, says humans have to consider colonizing other worlds and even merging with machines to maintain the upper hand over robots that "will be able to do everything better than us."
Related links:
Robot Rising: Experts Try To Quantify Fear Of Human Replicants
The Sexbot You Have To Seduce To Sleep With
Part Human: Why A Charming Synthezoid Is Coming Your Way
Cornell's Eccentric Robot Genius Gets Ideas From Infant Daughter
Pro Chides Google Chief's Rosy View Of Automation
________
Image Credit: By DonkeyHotey (Mark Zuckerberg - Caricature) [CC BY 2.0 (http://creativecommons.org/licenses/by/2.0)], via Wikimedia Commons
View Comments and Join the Discussion!
Posted-In: Bill GatesNews Psychology Topics Events Tech Media General Best of Benzinga