So What If Robots Replace Puny Humans? Pro Chides Google Chief's Rosy View Of Automation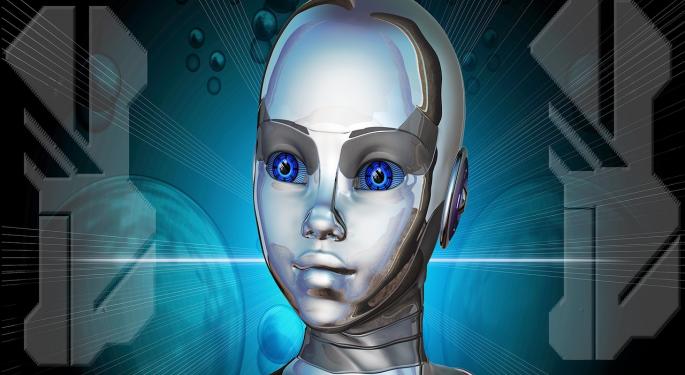 Doug Clinton of Loup Ventures says Alphabet Inc (NASDAQ: GOOG) (NASDAQ: GOOGL) Chairman Eric Schmidt is wrong when he says automation won't wipe out the majority of jobs now performed by inferior humans.
"The five-year picture of automation isn't going to result in mass job loss, but the transition will start," Clinton wrote in an note Monday. "Low-skill blue collar jobs will see continued automation. We should start to see autonomous vehicles and continued industrial automation."
Long term, he said, job losses are inevitable.
"We already have machines that can see and hear. We have machines that can roughly manipulate objects in the real world," he wrote. "Robots don't get tired, they don't need breaks, and they don't get distracted."
He said robots will eventually be the most competitive option "for the majority of jobs."
Schmidt Has An Agenda, Clinton Says
Schmidt cited a report released last week at the Viva Tech conference in Paris, which suggested 90 percent of jobs are not fully automatable. He said that while some parts of a job could be replaced, much of what a human does just cannot.
"So what that tells me is that your future is you with a computer, not you replaced by a computer," Schmidt told an audience during a talk at Viva Tech.
Clinton called Schmidt "a savvy politician."
"He doesn't want the world associating Google with job loss because it could negatively impact their business," he said. "He may also have other desires to serve in public office and is setting the stage for those ambitions. Either way, he's incentivized to be an automation unemployment denier."
Work as we know it will be done with robotic hands, Clinton says.
"In the future, computers are going to be better accountants, financial advisors, actuaries, claims adjusters, etc. than humans," he said.
Let Human Work Go Extinct
Clinton said people have to set aside the "modern dogma" that humans have to have jobs at all.
"We should consider what a world would look like where humans don't have to work. A world where all humans don't need to worry about basic needs because of automation, freeing them to explore what it means to be human. Free to provide value through empathy, community, and creativity — the things robots cannot do."
Related Links:
Munster Says Amazon Is Building The Future Of Retail By Rebuilding The Past
What An Artist Learned By Writing Poetry For Google Programmers
Posted-In: Doug ClintonAnalyst Color Entrepreneurship Psychology Top Stories Analyst Ratings Tech General Best of Benzinga
View Comments and Join the Discussion!