Robot Rising: Experts Try To Quantify Human Fear Of Smart Replicants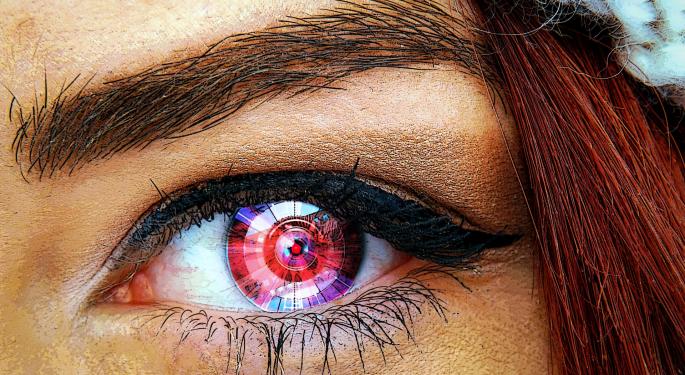 The machines moved in so quickly, people were caught off guard. Once they saw the scope of the threat, they rioted and smashed the devices in nightly raids. But the machines proved too powerful, and a turbulent transition to a new world soon ensued.
This was Britain in the early 19th century when technology changed the factories and farms. Textile workers who raged against the mechanical knitting machines were called Luddites, named after a possibly mythical figure named Ned Ludd, a weaver's apprentice who supposedly destroyed two robo-knitters himself.
In the countryside, farm workers went on rampages to wreck new mechanical threshers, which separated wheat husks from the grain, in the name of Captain Swing, a mythical avenger whose name was given to the "Swing Riots" of 1830.
Except for the riots, burned barns, maimed farm animals and nasty letters to land barons signed by a snide "Captain Swing," that historic backlash to mechanization has potential parallels to today's head-spinning advancements in robotics and artificial intelligence.
The authors of a new study of the Swing Riots say those days offer valuable lessons in how the workforce will respond as dexterous robots with evolving brains continue to replace humans.
"Machine-breaking is kind of futile almost by definition, but I would not be surprised to see social upheaval and new politics trying to reign in — plus tax — the new, labor-replacing technologies," University of Zurich economic historian Hans-Joachim Voth, a co-author, told Benzinga.
Actually, it's already happening. Most people are oblivious, but robophobia is out there, sinking its teeth into the economy and creating fear and paranoia in some surprising forms:
Struggle For The Soul Of The New Machine
A brief tour of today's rough draft of tomorrow:
Bill Gates, co-founder of Microsoft Corporation (NASDAQ: MSFT), disrupted human brains when he recently suggested that robots be taxed at the same rates and the same salaries as their human counterparts.
In China, production rose 162.5 percent and product defect rate fell from 25 percent to 5 percent after 90 percent of the humans were swapped for robots at the Changying Precision Technology Company factory in Dongguan province.
In India, engineers at the country's top tech firms drafted a letter to state labor officials complaining about layoff plans at Cognizant Technology Solutions Corp (NASDAQ: CTSH), which is allegedly forcing workers replaced by automatons to sign voluntary resignation letters.
North American manufacturing companies bought a total of 9,773 industrial robots, valued at approximately $516 million, in the first quarter of 2017, up 32 percent from the same period last year, the Robotic Industries Association said.
In San Francisco last month, Sam Altman, president of startup Y Combinator, told an audience that no job is safe. "I think that we are about to see a change in the economy on the order of the Industrial Revolution or the Agricultural Revolution, where you see a huge amount of human jobs change in a very short period of time," he said.
In nearby Mountain View, California, also last month, a self-described engineer attacked and toppled a security robot designed to observe and report in the parking lot of the tech firm that created it. Cops said he seemed drunk and wanted to test the robot's, er, mettle. Metal?
Both physicist Stephen Hawking and entrepreneur Elon Musk have warned that artificial intelligence could someday kick humankind's behind if not kept in check. Both are on the board of the Future Of Life Institute, a think tank set up to keep the robopocolypse from happening.
In defense circles around the world, the concern isn't necessarily with how to control AI and robotics, but how exploit it. In every militarized country, including within rebel guerilla groups, there's an arms race in unmanned weapons-delivery systems for the land, sea and air.
How Paranoid Are The People?
"We're probably nearing a fever pitch of these concerns," Paul McClure, a sociologist at Baylor University who studies technophobia, told Benzinga. "The fear is surprisingly higher than a lot of other things."
In a recent study, McClure crunched numbers from the Chapman University Survey on American Fears to break out survey respondents whom he classed as "technophobes."
He found that 37 percent of the 1,541 sampled were either "afraid" or "very afraid" of one of five things: 1) decision-making robots, 2) robots in the workforce, 3) AI, 4) people trusting AI to do work and (5) technology that the respondent doesn't understand.
To that group, he said, losing a job to a robot is statistically scarier than romantic heartbreak, getting brutalized by a cop, speaking before large crowds and death.
He calls civil unrest a distinct possibility.
Less fear shows up in the Robot Fear Index by Loup Ventures of Minneapolis, which invests in AI, robotics, virtual reality and augmented reality. It pegs consumer fear of robots at 31.5, pretty low on a scale of 100, so far. It was based on interviews with 500 people.
"Like many in the tech space, we believe robotics is changing the nature of work; however, public perception of robots is still a question mark," Loup said.
History: Doomed If You Do, Doomed If You Don't
Lots of roboticists try to humanize their machines — an actual face on a robot interface is considered a great ice-breaker — with an artificial eyeball toward a future when human acceptance might be an obstacle, said Maria Gini, an internationally known roboticist and specialist in AI.
She, personally, is driven by the development of the truly autonomous machine brain that keeps on learning. "What is real intelligence and can we make it good enough to fool anybody?"
To a robophobe, her work might be scariest of all. She is working on collaborative AI, what is called distributed intelligence among several machines working together.
If you see a clutch of robots in a corner, glancing over at you and muttering to themselves, they might have been inspired by her breakthrough "Scout" collaborative program.
"I designed Scout to make decisions but collaborate at the same time," she said, describing what sounds like a band of conspiring robot revolutionaries.
Human War Against Machines Is Usually A Draw
Though the uprisings against machines during the great industrial and agricultural mechanization of the 19th Century caused wrenching change, it ultimately also created new opportunities and brought worker protections by unions and federal regulations.
Bruno Caprettini, an economic historian at Zurich University who co-authored the Swing Riots study with Voth, said society needs "mechanisms" — his word! — to help displaced workers adjust to new tech.
"While it is hard to stop the advance of new, more-efficient machines, it should not be impossible to use some of the new wealth created by these machines to help displaced workers to move on, re-train and adjust to the new situation," he told Benzinga.
But the workforce angst of the current climate isn't fixated on the reign of robots. In the rush by populists to crack down on immigration on the assumption that foreigners are stealing jobs, some lonely, distant voices warn that the real replacement workers are being built in laboratories.
"The next wave of economic dislocations won't come from overseas. It will come from the relentless pace of automation that makes a lot of good, middle-class jobs obsolete," President Barack Obama said in his farewell address.
Related links:
The Sexbot You Have To Seduce To Sleep With
Part Human: Why A Charming Synthezoid Is Coming Your Way
Posted-In: Entrepreneurship Futures Politics Psychology Topics Top Stories Startups Exclusives Best of Benzinga
View Comments and Join the Discussion!