Meet Samantha: The Sexbot You Have To Seduce To Sleep With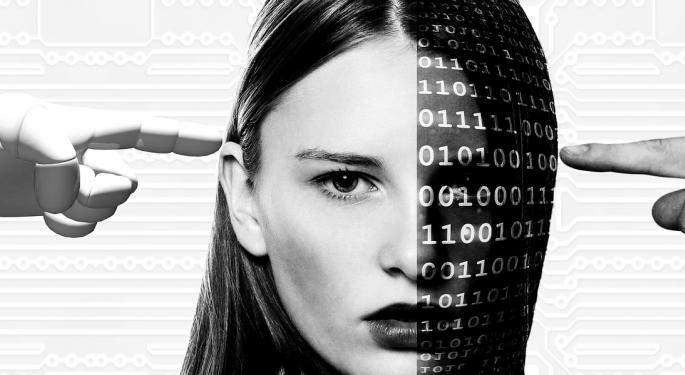 Artificial intelligence and augmented reality are some of the hottest emerging trends in tech. So it was only a matter of time before robotics would collide with rudimentary artificial intelligence and come up with this: A sexbot that becomes increasingly aroused by even the clumsiest of seduction moves.
Meet Samantha, a robotic, life-sized doll that responds to being touched and held and ultimately, well, you know. Graze her hand and she says, "I love this." Keep going at just the right pace and your date for the night will ultimately deliver an explosive orgasm. She even has a virtual G-spot.
If you want to take Samantha home to meet the folks, no problem. Barcelona engineer Sergi Santos, who designed the sexbot with the wavy brown hair and emerald-green eyes, said she can easily be switched on to "family mode." Kids, meet your new aunt.
What (Robot) Women Want
"Basically, she likes to be touched," said Santos. "She likes to be kissed."
Put your arms around her shoulders and her sensors have her respond with "What comes next?" Sometimes, she'll request songs from Pandora Media Inc (NYSE: P) to set the right mood. But Samantha doesn't come cheap; she costs $5,374.
"Tools like [Amazon.com, Inc. (NASDAQ: AMZN)'s] Alexa are interesting, but the ultimate goal of everybody is to build something with a body and a brain, right?" Santos told Digital Trends. "I wanted to do something that would make my mother say 'wow' when she sees it. My mother never said that about any of the other things that I showed her. She'd always say they were funny and then go off and do something else. This project was different."
Sex Robots: More Than Meets The Eye
What about a male version of Samantha? It's covered. One woman praised her particular partner — a male robot called Gabriel — as a real sex machine.
Sex robots — mainly silicone dolls with voice functions and varying degrees of physical responses — are a growing business if the Internet is to be believed. Realbotix founder Matt McMullen plans to introduce a line of sexbots in April that's designed to express emotions.
"Emotional connections are the foundations of relationships and that's what we are simulating," he told the UK's Daily Star. "And its emotions which add the X Factor to sex."
Sex robots are essentially life imitating science fiction, as usual. Whether it's the critically acclaimed movies "Bladerunner" and "Ex Machina" or the HBO series "Westworld," android intimacy is part of the cultural landscape.
It's gotten to the point where people are wondering whether robots, which eventually will perform to some sort of pre-programmed perfection, will ruin sex for regular people. So, naturally, there is a backlash. The "Campaign Against Sex Robots" is firmly against a trend that, regardless, seems destined to only grow larger.
Related Links:
Strip Club Owner RCI Hospitality's 'Extremely Attractive' Business Model
10 Years Of Pornhub: VP Talks New Markets, Traffic Trends And Creating More Original Content
Posted-In: Amazon Alexa Bladerunner Daily Star digital trendsEntrepreneurship Psychology Tech General Best of Benzinga
View Comments and Join the Discussion!