Cornell's Eccentric Robot Genius Gets New Ideas From Infant Daughter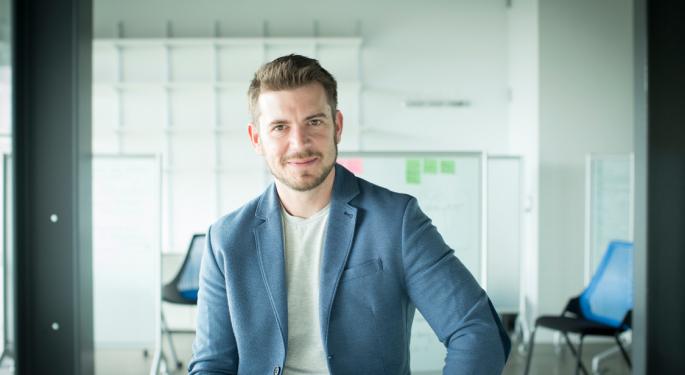 Synthetic skin that automatically heals when punctured. External skeletons that add strength and sensation to damaged human limbs. An artificial heart that beats to the cardio rhythm of the human or humanoid who has it plugged into his or her chest.
Go further: Build a synthetic, octopus-like organism designed to explore deep space or the deep blue sea, which is why both NASA and the U.S. Navy are equally interested, and invested, in this sort of robotics.
Welcome to the strange-but-true world of robot scientist Robert Shepherd, who runs one of the most exotic robotics labs on the planet at Cornell University. Organic beings, animals in particular, form the basis of his robot dreams. Robots that walk, undulate, feel the density of the objects they touch.
"I'm not smart enough to think in a non-biological way," said Shepherd, who is already getting new robotics ideas by watching his four — or is it five? — month-old infant grapple with the human equivalent of machine learning.
"It is really fascinating watching her learning," said Shepherd, 36. "My work is also my hobby."
Shepherd is principal investigator at the Organic Robotics Lab at Cornell's Mechanical & Aerospace Engineering School. He and his team, along with a phalanx of influences in the esoteric field of soft robotics, are on the cutting edge of synthetics that mimic the tissue and muscle movement of actual creatures.
Liquid metals, sensors that allow robots to discern objects by touch and relative density, rugged robots who can self-repair a rip and keep on working — are all part of elaborate equations.
See Also: Robot Rising: Experts Try to Quantify Human Fear Of Replicants
Navy Brat And Lab Rat
Shepherd is a typical military brat — in this case, the Navy — somebody who can't quite place where exactly he grew up because he moved around the world so much. As a child, he was a sci-fi fan, like lots of inventive scientists, though he tilts more toward the hard pseudo-science of "Star Trek" than the spiritual, embrace-the-Force fluff of "Star Wars."
Cornell has created a somewhat eerie website world around what it calls alternatively "the Shepherd lab" and "organic robotics" and "soft robotics," which means robots that can touch and feel because the technology does not yet let them see and understand.
In turn, that means Shepherd, who has to name-check his influences relentlessly and shies away from the wunderkind rep, is featured front and center.
The Benzinga interview was put off a couple times until he finally got on the phone to talk about the elegance of his pursuit of organic robotics.
Liquid metal, adaptable grippers, robo-hands that can detect objects by their density — these are the essential elements of his work. Animals are an inspiration.
Practical applications include space exploration, deep-sea adventures and, perhaps most importantly, shoring up the human body as the aging population finds its organic limbs and organs failing long before death occurs.
It isn't always easy to keep up when he talks about the advantages of crystalline structures and liquid metals, which sound like something out of future "Terminator" sequels. Bicontinuous liquid metal foams and soft locomotive robots populate a future that seems well within reach.
DARPA Delivery Systems Among Many Influences
Among his bio-inspired machines are so-called "soft locomotive robots," which can:
Let large robots easily switch between gaits: walking or undulating.
Make tough materials to create robots capable of sustaining large-impact forces without damage.
Allow robots the ability to be scaled for a mission simply by increasing the size of the mold used to cast the rubber and choosing an appropriate elastic modulus for the material.
Soft robotics and organic robots came to fruition in the United States via DARPA, the U.S. Defense Advanced Research Projects Agency.
The realm of organic robotics also encompasses an artificial heart that beats depending on the cardio action of the human who has it sewn into his or her chest. The field embraces robots inspired by complex animal movements. It gets stranger.
"We're working exclusively on the sense of touch," Shepherd says. "It's important to feel when you're damaged, if you want your robot to survive."
See Also: Part Human: Why A Charming Synthezoid Is Coming Your Way
NASA's Next-Generation Rovers
"We have been funded by NASA to work on new concepts for rovers. One of the ways is underwater applications. You can make really large robots. We look at the existing animals in the oceans and see how we can mimic their physiology."
If it sounds as if Shepherd is creating synthetic humanoids, wait — they essentially make no sense, to a degree.
"My thought is if we were starting from zero, given our synthetic abilities today, a humanoid robot would be a very poor choice," he said. "We really don't need the bipedal system we have now. But we are in a system where we make the world compatible with our physiology."
The word "robot" is thrown around too cavalierly, he said. There are robots, and there are machines.
"It's a sensory feedback," he said. "If your machine is not responding automatically to the environment, it is not a robot."
Photo credit Cornell University
View Comments and Join the Discussion!
Posted-In: Biotech Movers & Shakers Psychology Top Stories Exclusives Tech Interview General Best of Benzinga