Scientists Store Film Clip In DNA, Pave The Way For AR Experience Sharing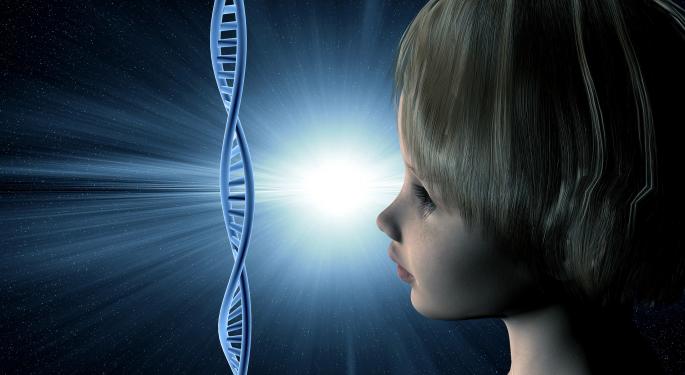 From VHS to DVD to Blu-ray ━ to skin cells?
The holding device of motion pictures has evolved to machinery less and less cumbersome, and last week, researchers from Harvard Medical School revealed a new method of video transfer: DNA encoding.
The scientists embedded a film clip of a galloping horse within the DNA of a living bacterial cell and, upon extraction, replayed the image with only slight damages. According to their report published in Nature, the image proliferates as the host cell divides and multiplies.
Future Of VR
The breakthrough heralds great opportunity in the realm of virtual reality.
Doug Clinton, managing partner at Loup Ventures, theorizes that DNA technology could eventually be used to record emotions and experiences, which could then be screened outside the cell or between individuals through an implant or other external storage device.
The concept opens the door for augmented reality and the experiential learning that comes with it. It might also inform empathy instruction.
"One thing that could be interesting is if in some way you could use the digital DNA to track a human's life, and then, if you apply that to VR, you can almost relive a person's life and their experiences as they might have felt them," Clinton said. "So it might be an interesting mechanism to track neurology behind human stimulation and then transfer that to other people and sort of recreate sensations."
Notably, the technology enabling DNA encoding isn't necessarily positioned to revolutionize the video streaming industry. People won't likely be storing or viewing Netflix, Inc. (NASDAQ: NFLX) clips in their macular cells.
"I think it's possible, [but] I don't know that this is the technology to do it," Clinton said.
Corporate Opportunity
For now, commercial application of the technology is distant ━ beyond the immediate preoccupations and capabilities of industry leaders.
Apple Inc. (NASDAQ: AAPL) and Facebook Inc (NASDAQ: FB) have made initial investments in AR, VR and brain control interfaces, but they're still in the early stages.
"[The research] feels more academic at this point than it is sort of a business opportunity," Clinton said. "I imagine they'll keep an eye on it, and then maybe it's a couple years down the line where people start to use it for very specific research applications. Then we'll start to see what a real business process could be behind it that they could adapt and sort of apply to how they're seeing the future in VR and AR."
Related Links:
Robot Rising: Experts Try To Quantify Human Fear Of Smart Replicants
Meet Samantha: The Sexbot You Have To Seduce To Sleep With
MIT Researchers Make Strides In Robotic Limbs
So What If Robots Replace Puny Humans? Pro Chides Google Chief's Rosy View Of Automation
Part Human: Why A Charming Synthezoid Is Coming Your Way
Posted-In: AR Augmented RealityBiotech Top Stories Exclusives Tech Interview General Best of Benzinga
View Comments and Join the Discussion!