A Q2 Cheat Sheet For Large-Cap Tech Earnings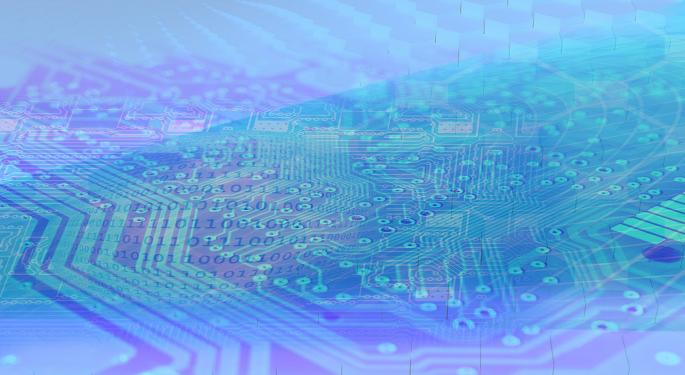 Technology stocks have outperformed the broader markets year-to-date period even in the face of equity market volatility. The Technology Select Sector SPDR Fund (NYSE: XLK) has gained over 5 percent since the start of the year compared to the S&P 500's 0.73-percent advance.
With bank earnings news flow ebbing, a number of tech stocks are set to report in the upcoming week.
The quarter marks a return to fundamentals, Morgan Stanley's Brian Nowak and three other analysts said in a preview note focusing on large-cap tech companies primarily in the internet space.
The analyst grouped the equities into three categories:
Narrative changers: TAKE-TWO INTERACTIVE SOFTWARE, INC Common Stock (NASDAQ: TTWO) and Activision Blizzard, Inc. (NASDAQ: ATVI).
Facebook, Inc. Common Stock (NASDAQ: FB), Amazon.com, Inc. (NASDAQ: AMZN) and eBay Inc (NASDAQ: EBAY).
Expedia Group Inc (NASDAQ: EXPE) and Zynga Inc (NASDAQ: ZNGA)
The Ratings
Morgan Stanley has the following ratings and price targets for large-cap tech companie.
Activision: Overweight/$75.
Take-two: Overweight/reduced from $148 to $140.
Facebook: Overweight/$200.
Amazon: Overweight/increased from $1,500 to $1,550.
eBay: Overweight/$58.
Expedia: Overweight/$150.
Booking Holdings Inc (NASDAQ: BKNG): Overweight/$2,240.
Twitter Inc (NYSE: TWTR): Equal-weight/$29.
Snap Inc (NYSE: SNAP):Underweight/increased from $11 to $12.
Take-two: Appealing Risk-Reward Despite 'Fortnite' Hit
To reflect the impact from Epic Games' hugely popular multiplayer online survival game "Fortnite," Morgan Stanley lowered its 2018 and 2019 estimates for Take-two by 7 and 3 percent, respectively.
The firm expects fourth-quarter non-GAAP revenues to trail the consensus by 4 percent, but forecast that non-GAAP earnings per share will beat the consensus by 8 percent.
Morgan Stanley sees the risk-reward for Take-two as appealing.
Above-Consensus Expectations For Activision
Incorporating the "Fortnite" impact to engagement and new release announcements from Activision, Nowak trimmed the 2018 and 2018 EPS estimates for the company by 2 percent overall. The analyst expects the company's Q1 non-GAAP revenues and earnings per share to exceed consensus by 3 percent and 15 percent, respectively.
See also: KeyBanc: Microsoft Is One Of The Market's Fastest-Growing, Best Cloud Plays
Facebook Poised For Top-, Bottom-Line Beat
Citing ad checks, Nowak said Facebook's data issues and clean-up efforts aren't likely to materially impact estimates. The decision to eliminate third parties is seen as a strategic move long-term, as it highlights the company's reach and first-party advantage, the analyst said.
The analyst estimates 34-percent constant forex ad revenue growth for FQ1 and above-consensus adjusted EBITDA. DAU growth should offset the deterioration in sentiment, Nowak said.
Raising Estimates For Amazon
Morgan Stanley raised its 2018 earnings per share estimates for Amazon by 0.6 and 1.2 percent, respectively, and consequently, the price target. For Q1, the firm expects top- and bottom-line results beats, by 2 percent and 18 percent, respectively.
High-margin revenue streams should provide a growing pool of gross profit dollars, helping Amazon raise guidance despite accelerating investment, according to Morgan Stanley.
eBay Payments Drive GMV Growth Projections
Nowak said he expects eBay payments to propel gross merchandise volume higher, adding 20 percent to company-wide EBIT. For Q1, the analyst estimates in-line adjusted EPS of 54 cents and revenues of about 2 percent above the consensus.
"We expect 7 percent ex-FX GMV growth, a revenue beat and continued evidence of the ad business driving take rate higher," the analyst said.
Multiple Initiatives Behind Expedia Growth
Morgan Stanley views Expedia as a "show me" story, but Nowak said this doesn't change the bigger picture view of multiple initiatives driving faster room night, EBITDA and FCF growth. For Q1, Morgan Stanley models gross profit and adjusted EBITDA that are 1 percent and 26 percent, respectively, above consensus. The firm estimates a 13-percent increase in room nights including HomeAway.
Morgan Cautions Likely EPS Miss At Google
Google parent Alphabet is likely to report an 8-percent EPS miss given Street expectations for the largest sequential operating expenditure decline in five years, according to Morgan Stanley. The sell-side firm is bullish on long-term monetization and Alphabet's $1-trillion sum-of-the-parts opportunity.
"We believe the company's large, important strategic investments — hardware, Google Cloud, and YouTube — are likely to weigh on near-term profitability, upward revisions and share price outperformance," Nowak said.
Outperformance Forecast For Booking
Nowak expects Q1 gross profit at Booking Holdings to be 1 percent below consensus, while EPS is estimated 5 percent above consensus. A combination of stronger top-line growth, better-than-expected marketing leverage and capital returns should drive outperformance, according to Morgan Stanley.
Twitter's Risk-Reward
Citing constructive advertiser conversations, improving user growth and positive revisions, Morgan Stanley projected a more compelling risk-reward scenario for Twitter. For Q1, the sell-side firm estimated revenues and adjusted EBITDA approximately 2 and 4 percent, respectively, above consensus.
Improving communication and educational tools for branded advertisers, reduced ad pricing enacted in 2017 and continued strong performance by video ad products make Morgan Stanley bullish on the company's ad business.
Uncertainties Keep Morgan Stanley Cautious On Snap
Nowak sees continued top-line momentum for Snap, with the analyst estimating Q1 revenues of $249 million, 2 percent above consensus, and DAU net adds of 7 million, up 17 percent year-over-year.
The analyst said he remains cautious on the uncertainties around monetization, turnaround and user growth, execution risk and competitive pressure from Facebook and Google.
Earnings Itinerary
Activision: May 3 after the close.
Take-two (Q4): May 16 after the close.
Facebook: April 25 after the close.
Amazon: April 26 after the close.
eBay: April 25 after the close.
Expedia: April 26 after the close.
Alphabet: April 23 after the close.
Booking Holdings: May 9 after the close.
Twitter: April 25 after the close.
Snap: May 1 after the close.
Related Link: DA Davidson Says Its Dropbox Estimates Could Be Conservative: 'We Believe Shares Should Outperform'
Posted-In: Brian NowakAnalyst Color Earnings News Price Target Reiteration Analyst Ratings Tech Best of Benzinga
View Comments and Join the Discussion!