Here's Where The Senate Tax Bill Goes Now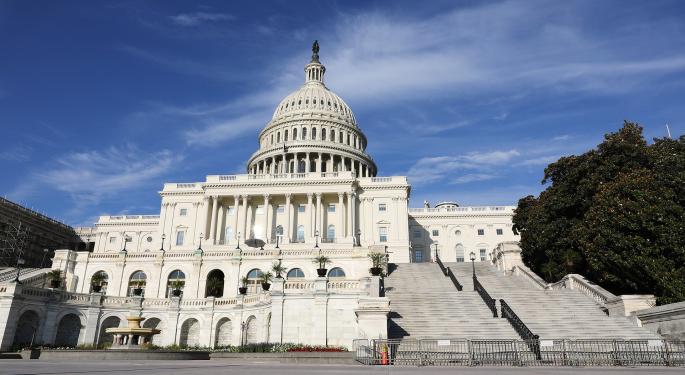 U.S. investors are cheering the Senate vote on tax reform, sending the Dow Jones Industrial Average higher by nearly 1 percent Monday. The Senate vote is a step in the right direction for investors hoping for a major tax cut earnings tailwind. On Monday, Height Securities analyst Stefanie Miller provided some answers for questions investors may be asking about what comes next.
Potential Roadblocks
First, for investors wondering what the biggest remaining stumbling blocks are for tax reform, there are no major obstacles remaining, Miller said. The only potential problem at this point is that the bill was crafted so quickly that Congress may uncover some unintended consequences from the legislation during the conference process, the analyst said.
In terms of the potential government shutdown on the horizon Friday, Miller said there's only a 10 percent chance Congress will fail to resolve the remaining budget issues prior to the deadline.
The Timeline
For investors wondering about the timing of tax reform, Miller said she's confident that the bill is in the home stretch at this point.
"As we write above, we put odds at 90 percent (near-certain) Congress is successful in approving tax reform, with 75 percent odds they complete their work on tax reform by year's end," she said.
Even if the House and Senate fail to agree on a bill by the end of the first quarter of 2018, Miller said Republicans' fate in the 2018 midterm elections is now tied so closely to tax reform that she believes they would likely still pass a more scaled-back version of the current bill next year.
Expert Reactions
A number of economists, investors and other experts have weighed in on the plan and what it means for the economy and the markets.
Height Securities analyst Ed Groshans said tax reform may have a muted impact on mortgage refinancing. The Senate bill allows homebuyers to deduct interest on mortgages to purchase a home, but does not allow deduction of interest on refinanced mortgages.
"This change would likely reduce refinancing for borrowers who would prefer to maintain the mortgage interest deduction for tax purposes," Groshans said.
Radio personality and biblical stewardship expert Dan Celia said tax reform is the most important issue of the year for investors. "Without a doubt, this move by Congress is good for the country and equally as good for the family, as parents can save for their unborn children's education," Celia said.
Consumer Bankers Association president and CEO Richard Hunt said the Senate vote was a positive step for banks. "Overall, the Senate's version represents pro-growth policies that will help American families and small businesses across the country," Hunt said.
Tax advisor and Forbes contributor Tony Nitti said the hubris on behalf of Republicans to think they can overhaul the massive tax code in a month's time is laughable.
"The GOP thinks it can enact a dramatic overhaul of the law, adding substantial new legislation governing pass-through businesses and multinational corporations, in only four weeks without leaving behind glaring loopholes and opportunities for (legal) manipulation," Nitti wrote.
Democrats are also arguing that the bill's economic impact will be muted, but its impact on the national debt certainly will not. The Tax Policy Center estimates that the Senate tax bill would boost U.S. GDP by just 0.7 percent in 2018 and would add $1.23 trillion to the national deficit over the next decade.
Still, President Donald Trump boasted about the benefits of the Senate bill on Twitter all weekend:
With the great vote on Cutting Taxes, this could be a big day for the Stock Market - and YOU!

— Donald J. Trump (@realDonaldTrump) December 4, 2017
Biggest Tax Bill and Tax Cuts in history just passed in the Senate. Now these great Republicans will be going for final passage. Thank you to House and Senate Republicans for your hard work and commitment!
— Donald J. Trump (@realDonaldTrump) December 2, 2017
We are one step closer to delivering MASSIVE tax cuts for working families across America. Special thanks to @SenateMajLdr Mitch McConnell and Chairman @SenOrrinHatch for shepherding our bill through the Senate. Look forward to signing a final bill before Christmas! pic.twitter.com/gmWTny3SfS
— Donald J. Trump (@realDonaldTrump) December 2, 2017
The Price Action
Bank stocks and domestic stocks have generally been seen as big winners from tax reform. Here's a look at what has been moving in the past five trading sessions:
Related Links:
3 Things You Need To Know About The Senate Tax Plan Debate
This Online Broker Says The Senate Tax Plan Will Harm Retail Investors
Posted-In: Height Securities Stefanie MillerAnalyst Color Politics Analyst Ratings General Best of Benzinga
View Comments and Join the Discussion!