Analyst: Oil Will Sink By 2040 When Electric Vehicles Dominate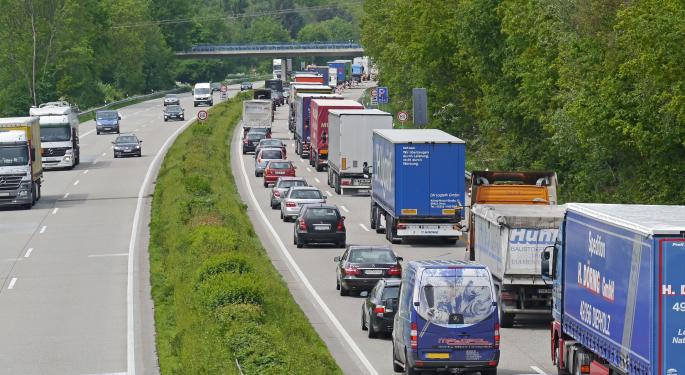 The auto industry is on the road to revolution.
Bernstein gives 30 years before electric batteries replace internal combustion engines as the on-road standard. Loup Ventures bets on 20.
The timeline is in dispute, but analysts agree on one thing: sooner or later, change will come. And when it does, the shock to the gas industry will prove explosive.
A Critical Spark
As yet, electric vehicles account for less than 1 percent of new car sales. But between increasing affordability, manufacturing trends, government incentives and movement toward autonomy, Loup Ventures expects that figure to rocket to 86 percent by 2040.
The shift will have major implications for national fuel spending.
In 2016, Americans consumed about 143.37 billion gallons of motor gasoline ━ the largest on record according to the U.S. Energy Information Administration. Based on average prices across all grades, the industry brought in $322.6 billion in related revenue.
If Loup Ventures' prediction plays out and corresponds with an 86-percent on-road penetration of electric vehicles, motor gasoline sales could fall to about 20 billion gallons, with sales of just $45 billion.
An Industry Explosion
Regardless of specific figures, a decrease in fuel-based engines undeniably correlates with a decrease in fuel consumption.
"As we migrate towards these systems driven by alternative energy, the world will consume less gasoline," Loup Managing Partner Gene Munster wrote in a Tuesday note.
This could prove widely disruptive, as transport fuel represents about 50 percent of crude oil demand, according to the Wall Street Journal.
"While leading oil companies such as Exxon Mobil Corporation (NYSE: XOM) and Chevron Corporation (NYSE: CVX) believe peak oil demand will not occur until after 2040, we believe the shift to electric puts oil companies at significant risk, given the amount of oil the auto industry consumes," Munster wrote.
The effects will be compounded by an expected shift toward ridesharing services, which will further diminish the number of cars on the road and the amount of gasoline consumed.
Downstream Droughts
In 2016, the federal government taxed consumers 18.4 cents per gallon of motor fuel, while states charged between 12.25 cents and 50.4 cents, according to the Tax Foundation. In 2014, state governments totaled $42.7 billion in fuel tax revenue.
If people stop buying gas, many communities will have to seek alternative funding for infrastructure projects now reliant on fuel taxes.
Related Links:
Your Guide To Trading Autonomous Vehicle Space
Gene Munster: Traditional Car Manufacturers Face 'Innovator's Dilemma'
View Comments and Join the Discussion!
Posted-In: Analyst Color Commodities Travel Top Stories Markets Analyst Ratings Trading Ideas General Best of Benzinga