Gene Munster: Traditional Car Manufacturers Face 'Innovator's Dilemma'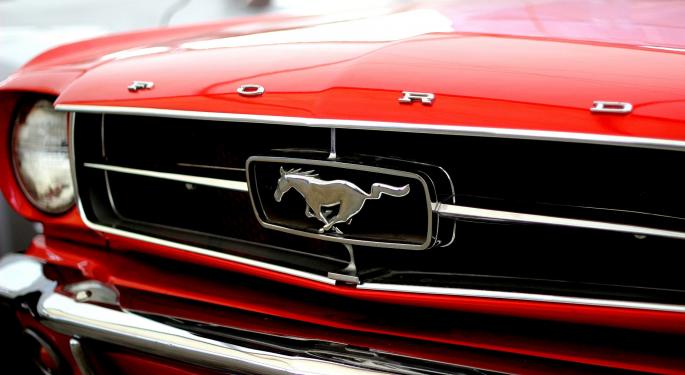 If there's any way to play the autonomous vehicle motif, it's by steering clear of traditional automotive manufacturers like Ford Motor Company (NYSE: F).
"I think Ford is in a tough spot," Gene Munster, former tech analyst and co-founder of Loup Ventures, told Benzinga. "It's a tough position to be in. I don't want to beat the point too hard, but I would not want the job of being head of an automotive company right now."
Innovator's Dilemma
Manufacturers are presently confronted with "innovator's dilemma," wherein they must choose between the long-term safety of tradition and the short-term risks associated with progress.
In this particular case, they must sacrifice profitable business elements, such as spare and replacement parts or drivetrain research, and mimic Tesla Inc (NASDAQ: TSLA) in embracing electric vehicles, Munster said.
"So that's the first hurdle that automotive needs to do is to take a step back in terms of the profitability, which they're reluctant to do," he said. "Why you are reluctant to do it is that people who work there will get paid less in the near term, but you have to do that, because you really need to make a clean break."
But the expense is beyond financial. The transition would inevitably prompt layoffs, particularly among the labor force built to support manufacturing.
"It is difficult to adjust the labor force to build these new-world-order cars," Munster said. To run cost-effective operations, companies would need to invest in automated machine manufacturing, just like Tesla uses.
"There is a cost to that, and there is an innovator's dilemma around what you do with people and displacing them," Munster said. "It is a very hard thing to do. All of those painful decisions are going on around the gravy train of profitability and people."
Becoming Obsolete
And as Ford and General Motors Company (NYSE: GM) pause to calculate their options, Tesla is hastening toward the prize. It's building gigafactories, gathering raw materials for lithium batteries and setting the bar higher. All the while, traditional automakers are falling behind and struggling with "things Tesla dealt with three years ago."
If they don't bite the bullet and take the short-term losses, they may find themselves fading in obsolescence as Tesla's autonomous vehicles take the market. Either that, or they'll eventually scrounge developed parts from Tesla as they play catch-up.
"I think one scenario where they survive and thrive would be is if they recognize that they need to make this change, take the pain in the near term, and essentially buy batteries from Tesla because that is going to be the critical piece," Munster said.
Still, to him, the path is clear: competitive players must "divorce themselves with a very profitable business and a whole supply chain built today," and accept the future of EV.
Joel Elconin contributed to this report.
Related Links:
Gene Munster And His Crazy Crystal Ball
View Comments and Join the Discussion!
Posted-In: autonomous vehicles BZTVAnalyst Color Top Stories Exclusives Tech Trading Ideas Interview Best of Benzinga