The Autonomous Future: Munster's 2020 Vision Of The Road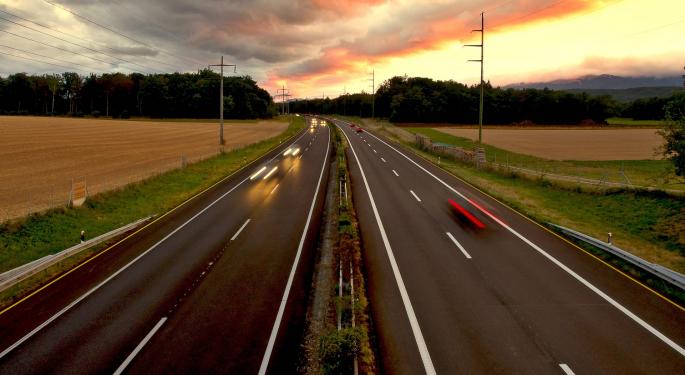 A uniform fleet of steering-wheelless vehicles roll in quiet synchrony. They cruise at a steady pace, deferential to municipal speed laws. Every so often, one stops, expelling passengers at pre-programmed exit points.
That's the world of Gene Munster's imagination.
"I think we're trying to analyze this [shift toward autonomy] from what's happened over the last hundred years in auto, but this is a new paradigm," the managing partner of Loup Ventures told Benzinga this week. "This is a clean slate, and I think that crazy things could happen."
By Choice
It begins with how people view transportation.
"If you talk to millennials, they're less interested in the brand of their car [and] they're more interested in the cost and the efficiency of the transportation," Munster said. "In other words, you could see a world where we have, like our phones, maybe four different kinds of cars on the road, as crazy as that sounds, just because the next generation just isn't as passionate about defining themselves by their car."
The theme has implications for auto manufacturers bent on differentiating their products. Could such a world accommodate the distinct entities of General Motors Company (NYSE: GM), Ford Motor Company (NYSE: F), Fiat Chrysler Automobiles NV (NYSE: FCAU), Toyota Motor Corp (ADR) (NYSE: TM) and Honda Motor Co Ltd (ADR) (NYSE: HMC)?
See Also: Gene Munster: Traditional Car Manufacturers Face 'Innovator's Dilemma'
By Law
And the cars that are available? They won't have manual capacities in Munster's world.
"If you're going to fast-forward 20 years from now, I think driving is going to be illegal," he said, considering the safety hazard of blending human error with autonomous calculations. "You'll still have a chance to drive. You'll be able to go to a track just like you could take a horse to a track, but there was a period where horses were allowed to be with cars…. [Now] you cannot take a horse on the highway."
The self-driving cars could be accompanied by an autonomous offspring of today's motorcycle, but not one recognizable by today's standards. Those currently in testing are enhanced by a set of training wheels.
"I think that the motorcycle as we know it goes away," Munster said, noting that the traditional bike will also likely become illegal.
The Timeline
If Munster proves clairvoyant, this will all play out sooner than most expect.
In his mind, "2020 is going to be an important year." That's when Tesla Inc (NASDAQ: TSLA) is expected to update the software in its existing cars to support autonomy.
Legislation may delay the rollout, but the technology will be there. Considering legal impediments, Munster predicts mainstream acceptance and widespread use of self-driving cars around 2025 ━ just eight years from now.
"It might seem like it's close and really hard to believe, but when you look at how tech is progressing, it's actually very reasonable to believe this is going to happen," he said.
View Comments and Join the Discussion!
Posted-In: Long Ideas Travel Top Stories Exclusives Tech Trading Ideas Interview General Best of Benzinga