Viridian Discusses The Spicer Effect On Marijuana Stocks: 'It Wasn't The Deathblow Some People Were Afraid Of'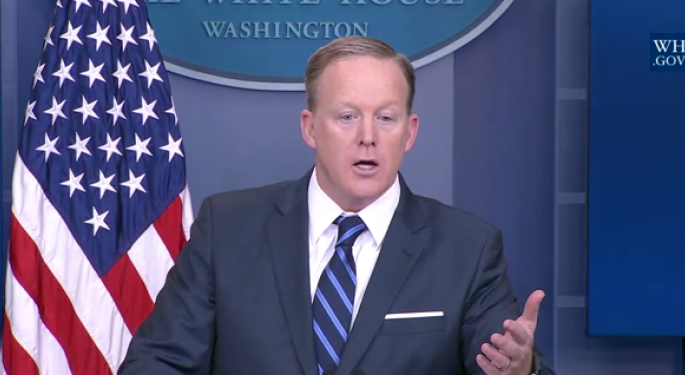 About three months have passed since White House Press Secretary Sean Spicer suggested the federal government would enforce federal law in states where recreational weed has been legalized, kind of disregarding the Cole Memo. Ever since his comments, the cannabis industry has been caught in a moderate selloff, which many have called "The Spicer Effect."
Quantifying The Tumble
On the day of Spicer's comments — Feb. 23 — 80 percent of the stocks in Viridian Capital Advisors' Cannabis Stock Index posted negative returns. On the day after, performance was even worse, with 92 percent of the stocks in the Index declining. Then, throughout the week that followed, ended March 3, most equities in the basket continued to tumble, with 68 percent of them ending the week in red — remember, green is always better.
"It should be noticed, however, that volume that week was lower than what we'd been seeing in February," Viridian Vice President Harrison Phillips told Benzinga. "Also, the decline [2.7 percent] wasn't very sharp."
The third week of The Spicer Effect, ending March 10, also witnessed a 3.4 percent slip in the index.
"If you look at the year-to-date chart, you can see that our index flattened out somewhat through March and into mid-April." Phillips added. "So, we are more on the school of thought that, while Spicer's comments definitely added some uncertainty into the overall marketplace, it wasn't the deathblow that some people were afraid of when he made his comments."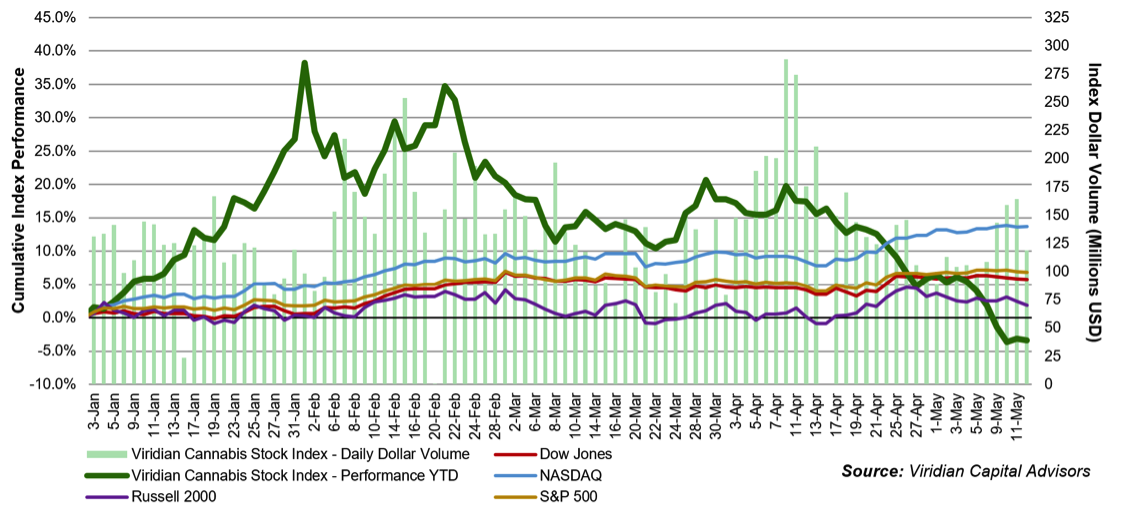 A High Tolerance For Risk
Following this argument, the analyst said Spicer's remarks did not add much new information to the situation. "We are already in a market that's federally illegal. So, it's not like we're in a legal market that suddenly became illegal; people that have been in the industry, for the most part, acknowledge the fact that this is a risky industry.
"So, when these comments came out, a lot of people were a little skittish, maybe some newer investors and operators decided to wait a little bit and see how these comments played out," he said. "But, we found that many people that are already in the industry just saw it as more of the same: we know that it's federally illegal, we know that the threat of federal enforcement is there, but we still chose to get in this industry. There's a natural risk tolerance and risk appetite in this industry."
Who's Burning Up
A few weeks ago, Benzinga shared a look at who's taking the heat from Spicer's comments within the cannabis industry.
"While Spicer's comments are more likely to affect the new entrants into the market, as well as recreational producers and retailers, they affect the biotech companies far less because they still go through the FDA process," he said. "So, the effect was targeted to different sectors and constituents in the market. But, overall, it was not the deathblow people expected. It is true that it added uncertainty, but the markets and individuals in the space really seemed to shoulder that and really keep striving because that risk has really been in the industry since the start."
How Has Viridian's Index Done Since Spicer's Comments?
"Three sectors — Miscellaneous Ancillary (up 68.8 percent), Investments/M&A (up 27.8 percent) and Biotech/Pharma (up 21.8 percent) — are holding our index up a bit," Phillips said, "but the overall index is down year-to-date. Many of the sectors in the index, particularly those most affiliated with recreational use, are down somewhat due to Spicer's comments. Furthermore, concerns over valuations as well as potential delays in the rollout of newly legalized cannabis markets in the U.S. and Canada seemed to have instigated a more broad sell-off in the cannabis public markets."
Viridian runs companies in the space through four filters, and only includes in its index companies that meet three of the following four criteria:
Market capitalization of $20 million or more.
Average daily trading volume over the past three months of at least $100,000.
A float that is equal to or larger than 25 percent of shares outstanding.
Financials filed on time in the last 6 months.
"The filters and the diversification in the index, the fact that we have 50 companies across all the different sectors, help a little bit," Phillips said. "We do not hand pick these stocks, we just run all the companies through these financial filters, and the ones that pass are included in the index. This helps us weed out some of the securities with lower market caps or trading volumes that tend to be a little more volatile."
More From Benzinga:
Meet One Woman Entrepreneur Who's Fighting For Diversity In The Cannabis Industry
Patent Wars Surprisingly Reach The Cannabis Industry: How Do You Register A Plant?
__________
Image Credit: By White House (https://www.youtube.com/watch?v=Nr8Mu0-vPsQ) [Public domain], via Wikimedia Commons
Posted-In: Analyst Color Cannabis News Emerging Markets Futures Politics Topics Events Best of Benzinga
View Comments and Join the Discussion!