Marijuana Stocks Are Having A Great 2017, Despite Sean Spicer's Comments
Top cannabis stocks took a hit Friday, after White House Press Secretary Sean Spicer suggested the federal government would enforce federal law in states where recreational weed has been legalized, even in spite of the Cole Memo.
While biotechs like GW Pharmaceuticals PLC- ADR (NASDAQ: GWPH) and Zynerba Pharmaceuticals Inc (NASDAQ: ZYNE) only lost 0.45 percent and 0.36 percent respectively, other companies experienced a large tumble. CANOPY GROWTH CORP COM NPV (OTC: TWMJF) lost 4.71 percent, AURORA CANNABIS IN COM NPV (OTC: ACBFF) slipped 2.93 percent, APHRIA INC COM NPV (OTC: APHQF) dropped 1.01 percent, and MassRoots Inc (OTC: MSRT) plummeted an astounding 9.00 percent.
However, cannabis investors did not seem particularly worried, as the industry seemed to be doing pretty well recently.
See Also: Up In Smoke? DoJ Will 'Take Action' Against Recreational Marijuana
Cannabis Stocks Are On A Run
The Viridian Cannabis Stock Index posted a 1.5 percent loss the week of February 6, the first weekly loss for the index after an eight-week positive streak. But that downtrend was shortlived, as the index posted a 5.3 percent gain last week.
"We are not back up to year-to-date highs, but we did see the Index rise 5.3 percent," Viridian Capital Advisors analyst Harrison Phillips, who is in charge of the Cannabis Stock Index weekly report, told Benzinga. "If you go though the sector returns, we are still seeing quite a bit of variability between the returns," he added.
"Some of these are due to the fact that there's only a few companies in some of these sectors," Phillips continued ,"so if one company moves rapidly, it will drag the whole sector one way of the other. If you look at the discrepancy, there's a 60 percent difference between what [the] Physical Security [segment] did and what Consumption Devices did last week."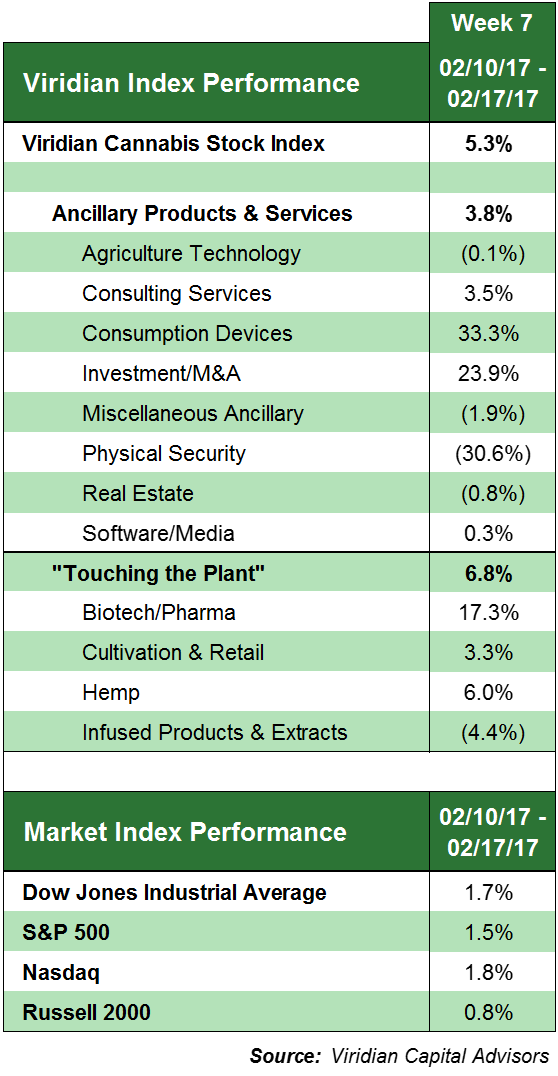 "So, evidence is showing that the diversified approach is probably the best bet, because, if you were concentrated in any one of these, it could go one way or the other pretty quickly," Phillips concluded.
The Index's Year-To-Date Data
For most of 2017 the Ancillary Products and Services segment of the index has outperformed the Touching segment, particularly since the end of January. But that divergence has narrowed, with biotech reporting a 17.3 percent return last week.
"We would expect that the Touching The Plant segment will end up being the higher returning one because of the higher risk, but with Spicer's announcement, we'll have to see where it goes, in the U.S. at least, with the recreational market," Phillips said.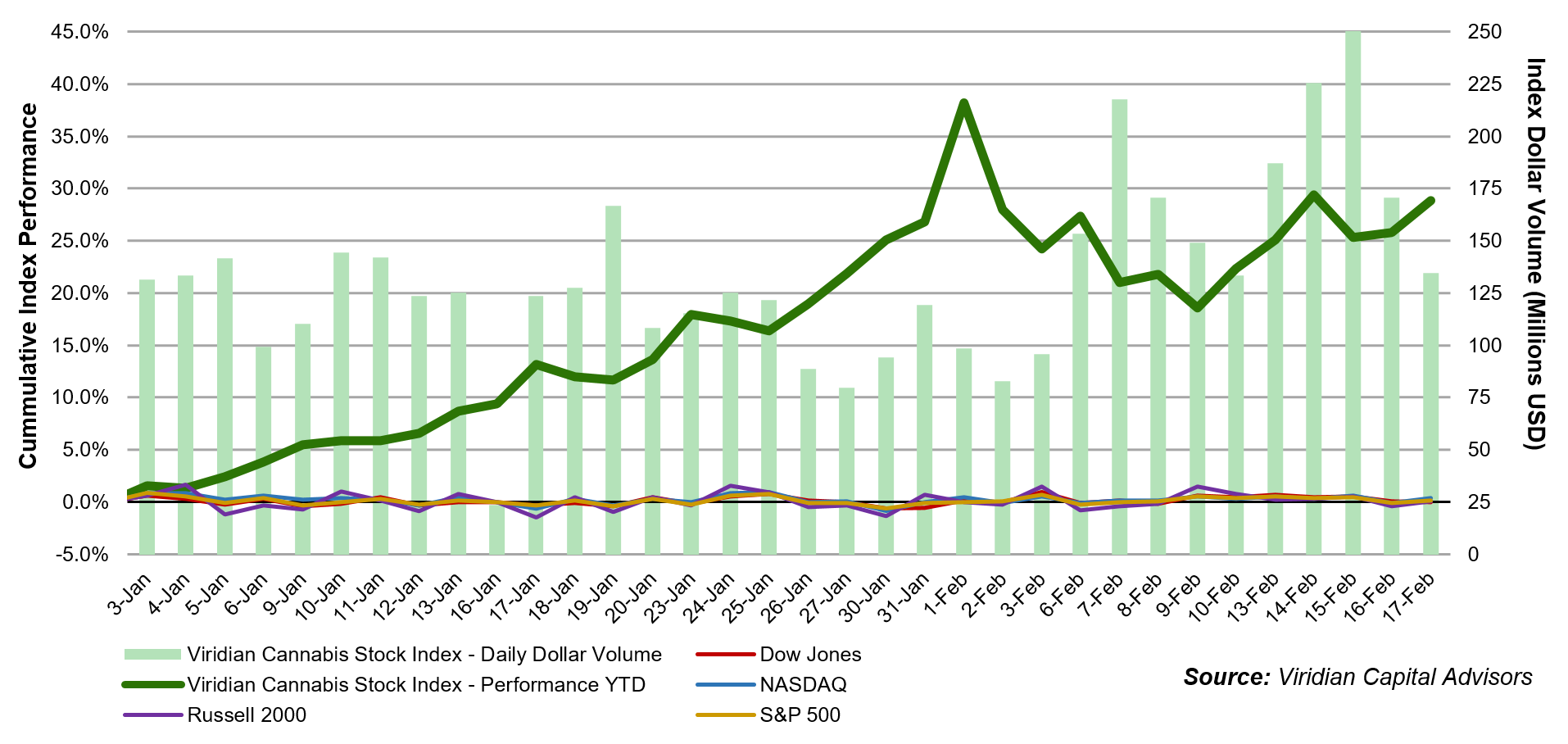 Phillips pointed out that last week the index saw its highest amount of money flow year-to-date.
"Week six marked a record, and week seven was even better. Seeing the index rise on increased volume is typically a good sign," Phillips said. "We saw that over $971 million was traded between those five days in the 50 companies in our index. That was 18 percent more dollar volume, week-over-week."
View Comments and Join the Discussion!
Posted-In: Biotech Cannabis News Emerging Markets Politics Markets Movers Trading Ideas Best of Benzinga