Tech Sector Earnings: Starting The Year Strong?
Judging by the continued rally in the tech sector since the start of the year, there seems to be a lot of optimism heading into earnings. The bottom-line at tech companies in the S&P 500 (SPX) is expected to grow at 13.1% year-over-year in Q1 2017, the third highest growth across all eleven sectors, according to FactSet Research. All seven industries in the sector are projected to report a rise in earnings, with the highest growth coming from: Semiconductor & Semiconductor Equipment (48% estimated growth), Internet Software & Services (12% estimated growth), and Electronic Equipment Instruments, & Components (11% estimated growth).
At the company level, the next major report comes from Netflix, Inc. (NASDAQ: NFLX)on April 17 with consensus third-party analyst estimates of $0.38 earnings-per-share, or EPS, on revenue of $2.64 billion. Last quarter, NFLX stock surged after the company posted its biggest-ever quarterly subscriber growth. International Business Machines Corp. (NYSE: IBM) reports on April 18 with consensus analyst estimates of $2.34 EPS on revenue of $18.49 billion. Like many legacy tech companies, analysts have been eyeing how Big Blue continues positioning itself for future growth as cloud-based software and services continue to grow in popularity with customers.
Next up, tech heavyweights Alphabet Inc (NASDAQ: GOOG) (NASDAQ: GOOGL), Amazon.com, Inc. (NASDAQ: AMZN) and Microsoft Corporation (NASDAQ: MSFT) report on April 27. According to consensus analyst estimates, GOOGL is expected to report $9.47 EPS on revenue of $19.65 billion, AMZN is expected to report $1.05 EPS on revenue of $35.40 billion, and MSFT is expected to report $0.69 EPS on revenue of $23.44 billion. A majority of AMZN's revenues come from product sales on Amazon.com, but the company's cloud computing division—Amazon Web Services—has been growing rapidly and competes with products from Microsoft, Google, and Oracle Corporation (NYSE: ORCL).
May earnings start off with two major companies. Apple Inc. (NASDAQ: AAPL) reports on May 2 and social media giant Facebook Inc (NASDAQ: FB) reports on May 3. Consensus analyst estimates for AAPL are $2.00 EPS on revenue of $52.61 billion, while FB is expected to report $1.11 EPS on revenue of $7.85 billion. AAPL beat estimates last quarter and the stock rallied over 17% since it last reported on January 31.
Year of the Semiconductor
One area that's been getting more attention lately is the semiconductor industry. These small components are important technological building blocks used in everything from smartphones and computers to industrial equipment and automobiles. In Q1 2017, this industry is expected to deliver 48% earnings growth, according to FactSet. One thing to keep in mind is this can be a volatile, cyclical industry that changes at a rapid pace based on demand across many sectors. Depending on what type of semiconductors are in high demand, the expected earnings growth could be distributed unevenly throughout the industry.
If you're interested in semiconductor companies, one way to look for stocks to trade is using a heat map. TD Ameritrade Holding Corp. (NASDAQ: AMTD) clients can get a visual view across sectors and industries via a heat map in the thinkorswim® platform (See figure 1 below). The size of the square indicates the market cap of that company and the color indicates its price movement.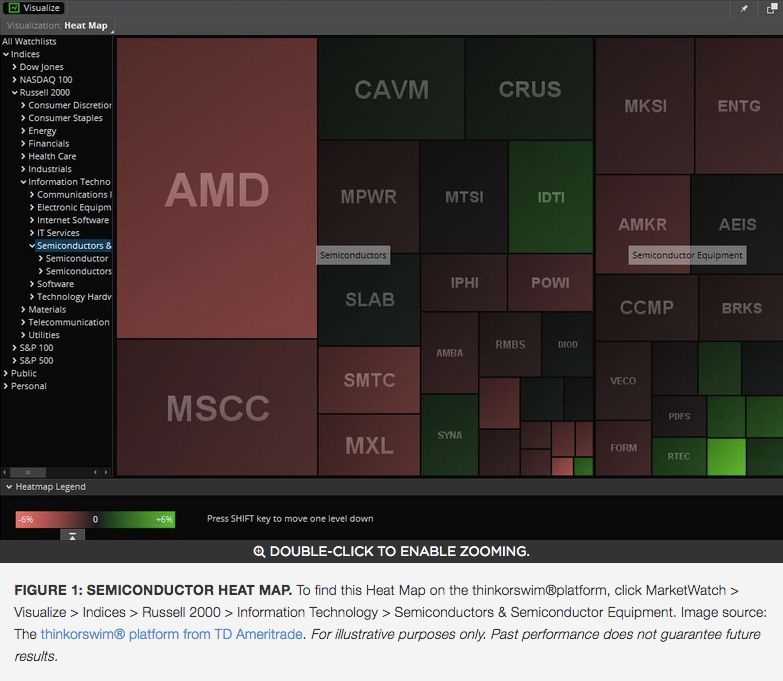 Banking on Tax Reform?
Like the healthcare sector, some analysts think the tech sector would benefit from potential tax reform; especially if it includes the Trump administration's proposed tax holiday that would allow companies to repatriate overseas profits to the United States at lower tax rates.
The five companies with the largest overseas cash holdings are AAPL, MSFT, GOOGL, Cisco Systems, Inc. (NASDAQ: CSCO), and ORCL, according to a Moody's Investors Services report in November 2016. Apple alone had $246.1 billion in cash plus marketable securities on its balance sheet last quarter, with $230.2 billion outside the United States, according to CFO Luca Maestri.
This isn't the first time the government has considered such a tax break. In 2004, the Bush administration introduced a tax holiday allowing companies to repatriate foreign profits to the United States at a 5.25% tax rate. The IRS estimated 843 companies brought back roughly $312 billion under that holiday, and the top five companies that repatriated the most cash were either in the tech or healthcare sector.
Looking Ahead in the Tech Sector
Most of the important names in the sector will report earnings in the next several weeks and some of these company's stocks experienced huge price moves around earnings in the past. Of course, past performance does not guarantee future performance. A lot of investors buy these stocks for growth and they can quickly run for the exit when the company doesn't deliver. On the other hand, investors can rush to buy when growth beats expectations, quickly driving up stock prices.
Posted-In: JJ Kinahan The Ticker TapeAnalyst Color Earnings Previews Markets Tech
View Comments and Join the Discussion!