National Beverage Could Be A Major Beneficiary Of The Sugar Tax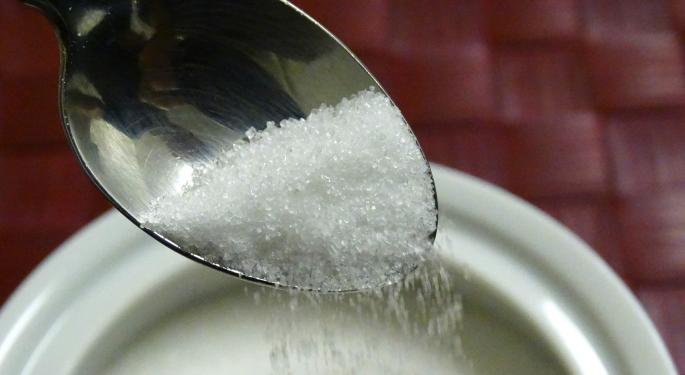 Soda companies have been violently shaken by recently put into effect sugar taxes, and the mounting pressure is priming an industry-wide explosion.
At the beginning of March, PepsiCo, Inc. (NYSE: PEP) announced the dismissal of at least 80 employees from its Philadelphia sites, where the city's new levy guzzled previously reliable revenue. The Coca-Cola Co (NYSE: KO), although not forced into layoffs, then responded with understanding.
"There is no question this tax is hurting Philadelphia's consumers, restaurants and store owners as well," Fran McGorry, president of Coca-Cola's Tri State Metro operating unit, told Benzinga at the time. "Everything we've said would happen by enacting this tax is proving to be true."
But not every soft drink manufacturer is fizzling.
The Vanguard Of Soda Alternatives
Led by its LaCroix brand, whose sales doubled throughout 2015 and 2016, National Beverage Corp. (NASDAQ: FIZZ) shares have popped 54 percent since the beginning of the year to a new all-time high of $78.67. And there's still room for expansion.
"People forget that as rapidly as LaCroix has grown, the growth trajectory is still potentially enormous," New Castle Equity Research wrote in a Tuesday ValueWalk post. "Our view is that LaCroix will become the 'Monster' of healthy, sparkling beverages. In other words, this is just the beginning."
Citing third-quarter sales up 20 percent and EPS up 117 percent, the firm noted that "FIZZ is the hottest growth story in the beverage industry." Accordingly, it estimated a 2017 EPS around $2.25 and continued growth in the following years, with a 2018 value of $3.60 and a 2019 rate of $4.80. These figures — and a two-year price-target boost from $100 to $135 — primarily reflect an anticipated increase in distribution.
New Castle isn't the only optimistic firm. In early March, Credit Suisse published a note suggesting great upside in National Beverage shares if the company were to partner with a distributor to widen the scope of LaCroix.
National Beverage's strategic response is yet unknown, but corporate is actively growing its market share through other means. In 2016, the company expanded its portfolio and pioneered the soft-drink alternative industry with the all-natural, calorie-free Shasta Sparkling.
A Model To Emulate
The success of National Beverage has inspired imitators.
Major soda companies have since implemented similar marketing strategies and product offerings with a particular emphasis on flavored water. Coca-Cola has introduced its own, LaCroix-like brand, Smartwater, and acquired Zico coconut water. Meanwhile, PepsiCo has pushed its non-soda lines of LIFEWTR, Propel Water, Naked Juice and Pure Leaf iced tea.
Related Links:
Posted-In: Long Ideas News Commodities Politics Topics Legal Markets Trading Ideas Best of Benzinga
View Comments and Join the Discussion!