What Do Pepsi's Super Bowl Ads For Sugar-Free Products Mean For The Soda Market?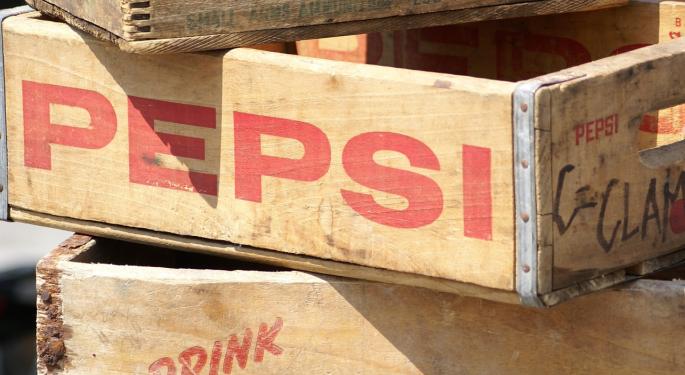 We're looking at a whole new culture. For the first time in Super Bowl history, PepsiCo, Inc. (NYSE: PEP) will forgo ads for its hallmark can of Pepsi and instead push its sugar-free beverage line.
"It's got to start with consumer demand," chief marketing officer Seth Kaufman told TheStreet.
This year, the prerequisite merits a commercial lineup of Pepsi Zero Sugar and LIFEWTR, the company's new water brand.
"For us, it's about keeping our finger on the pulse of where consumers are going," Kaufman said. "It's important for us to literally know what consumer demand is and then lean into that to create the Super Bowl moment."
Pepsi's marketing tactic seems to signal a drastic change in American appetite — which is all the more substantiated by rising water consumption, falling soda sales and the spreading taxation of sugary beverages.
Casualties Of The War On Sugar
In recent years, health activists have targeted the soda industry to advance their hard-fought campaign against obesity.
Their weapon of choice is fiscal legislation.
Five of the country's most populous areas voted in November to tax sugary beverages. Boulder, Colorado; San Francisco, Oakland and Albany, California; and Cook County, Illinois, joined Berkeley, California, and Philadelphia in instating a soda (or "pop" for Chicagoans) tax.
Consumers pay one cent per ounce in Cook County and the California cities, 1.5 cents per ounce in Philadelphia and two cents per ounce in Boulder.
Thus far, the extra charge has successfully curbed soda consumption.
According to a 2016 study from the University of California-Berkeley, the instituted tax in Berkeley coincided with a 21-percent drop in sugary beverage consumption and a 61-percent increase in water consumption.
The effects of the more recent taxes are yet to be known.
When Is The Sugar Crash?
Despite the taxes and geographically limited shift in consumerism, the soda industry hasn't completely crashed.
This may be reflective of corporate adaptability. Throughout 2016, Pepsi and other industry players adjusted product offerings to reflect changing consumer appetites.
The Coca-Cola Co (NYSE: KO), for example, introduced a carbonated water brand called Smartwater in 2015. This approach may have helped propel the company to its most profitable period of public trading.
Since 2009, Coca-Cola shares steadily rose to their all-time peak of $47.13 in April before fading to their present value of $42.17.
Pepsi shares have also increased in value since 2009, when they traded around $47. The stock peaked at $110.94 in July 2016 and has since fallen to about $104.93.
Dr Pepper Snapple Group Inc. (NYSE: DPS) saw marginal value increases between 2009 and 2014 before shares rocketed from $48 to an all-time high of $98.80 in July 2016. After a $5, post-election plunge and continued depreciation, shares now rest at $91.45.
National Beverage Corp. (NASDAQ: FIZZ), whose product realm includes LaCroix and Faygo, saw steady value increases between its IPO in 1991 and the summer of 2015. Over the next year, values spiked from $21.48 to an all-time high of $64.73 in July 2016. The cost then tapered off and now rests around $49.90.
View Comments and Join the Discussion!
Posted-In: News Topics Sports Events Tech Media Trading Ideas General Best of Benzinga