Should Coke And Pepsi Move Into The Hard Soda Biz?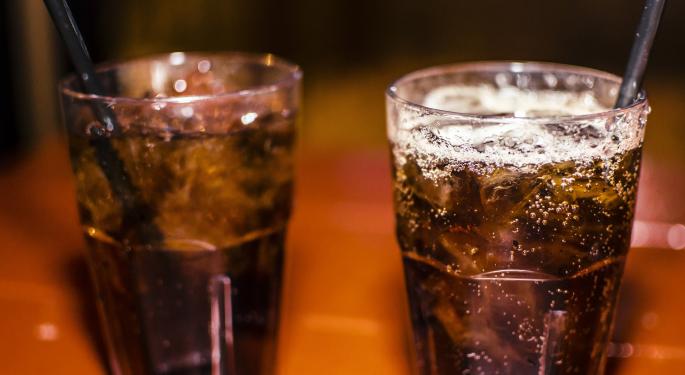 The Coca-Cola Co (NYSE: KO) and PepsiCo, Inc. (NYSE: PEP) may have to reinvent themselves soon if they are to survive and flourish, as the tide turns against soft drinks and toward hard soda.
What Is Hard Soda?
Hard soda is quite simply a carbonated drink containing alcohol. It is manufactured just like a soft drink, with soda, alcohol and cane sugar as ingredients. The hard soda revolution started in June 2015, with the launch of "Not Your Father's Root Beer" by Small Town Brewery. As the name implies, the brewer had a humble beginning. The company is based out of Illinois but gained prominence with the nationwide acceptance of its hard soda brand, which began national distribution by Pabst Brewing.
Hard Soda — The 'In' Thing; Soft Drinks Out of F(l)avor
Data released by Statista show hard soda has carved a niche for itself and has been growing by leaps and bounds in a short timeframe.
Source Statista
Citing multiple sources, Statista noted that sales of hard soda rose to $146.9 million in 2016 from a mere $2 million in 2015, a staggering 7,245-percent growth. If the category maintains this scorching pace of growth in 2017, there could be no turning back.
Not Your Father's Root Beer tops the chart, with sales of $6.1 million in 2016. This was followed by Henry's Hard Soda Orange, which collected sales of $5.2 million. Anheuser Busch Inbev NV (ADR) (NYSE: BUD)'s Best Damn Root Beer and Best Damn Cherry Cola rang in sales of $3.2 million and $2.1 million, respectively.
A Chicago Tribune article, citing Dan Wandel, principal of beverage alcohol client insights at IRI, said the strong offtake of hard soda was due to it tapping into consumer nostalgia and a new feeling of indulgence.
Carbonated Soft Drinks — Fizzling Out
Fizzy carbonated soft drinks (CSDs) have suffered, both in volume and value, as health-conscious consumers shun them on the grounds that they have high sugar content and artificial ingredients and sweeteners. These ingredients have been identified as the main causes of many health issues, from obesity to diabetes.
More "nutritional" cola like Diet Coke, which emerged later and gained initial acceptance as a healthier alternative to full-sugar sodas, flopped subsequently amid worries over the harmful effects of artificial sweeteners used to make these low- or zero-calorie beverages.
Pepsi's 10-K annual filing for 2016 revealed that the company's revenues rose 3 percent, propped up by a 7-percent increase in non-carbonated beverage volume offset by a 1-percent drop in CSD volume. Overall water portfolio of the company, a part of its non-CSD portfolio, saw double-digit increase in volume.
Overall, Pepsi's Q4 revenues were light, although earnings beat estimates. The company also offered a lackluster earnings per share forecast for 2017.
Meanwhile, rival Coca-Cola fared relatively better in 2016, with organic revenues rising 3 percent, although net revenues were down 5 percent. Unit case volume was up 1 percent.
The company claimed that it gained global value share in total nonalcoholic ready-to-drink beverages and sparkling beverages.
Bottled Water — A Potent Rival
A report released by Beverage Marketing last week showed that bottled water has outsmarted CSD in terms of per capital consumption. As opposed to the 39 gallons per capita consumption for bottled water, CSD's was 38.5 gallons. The firm expects per capita consumption of bottled water to reach 50 gallons per capita around the turn of the century.
The growth of this segment is also commendable. Volume of bottled water consumed rose to 12.8 billion gallons in 2016, up 9 percent. This, according to the firm, marked the third straight year of accelerating growth. The interest in bottled water stems from the need to have access to safe, unpolluted and uncontaminated water.
Going by the trend — the viral nature of the pick up in hard soda sale and renewed thrust on bottled water — Pepsi and Coca-Cola might have to beef up their non-CSD arsenal, either by making a plunge into the hard soda market or by digging deep into their successful bottled water businesses.
Related Links:
Buffett's Soda Empire: If Kraft Heinz Acquired Pepsi, What Share Of The Soda Market Would 'The Oracle' Own?
Investors Growing Impatient With Coca-Cola's Inability To Overcome Macro Challenges
View Comments and Join the Discussion!
Posted-In: Best Damn Cherry Cola Best Damn Root Beer Beverage MarketingEducation Topics Top Stories Trading Ideas General Best of Benzinga