How Apple Could Have Bought Netflix, Tesla And Twitter (And Still Spent More On Stock Buybacks Than Anyone Else)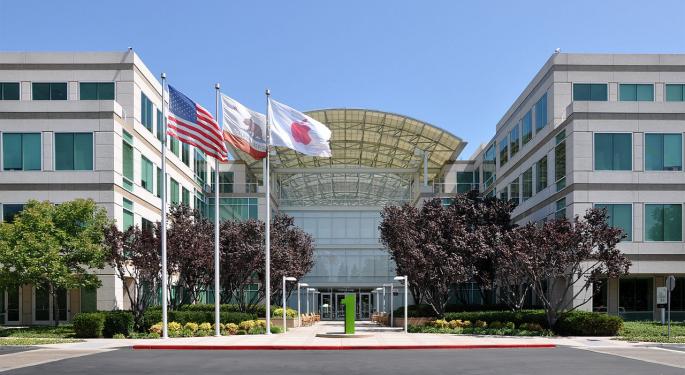 The graphs below were produced by Capital Market Labs.
Apple Inc. (NASDAQ: AAPL) has engaged in an enormous stock buyback program, which has now been approved for up to $90 billion, per a company press release on April 23, 2014.
A snippet of that press release is included below: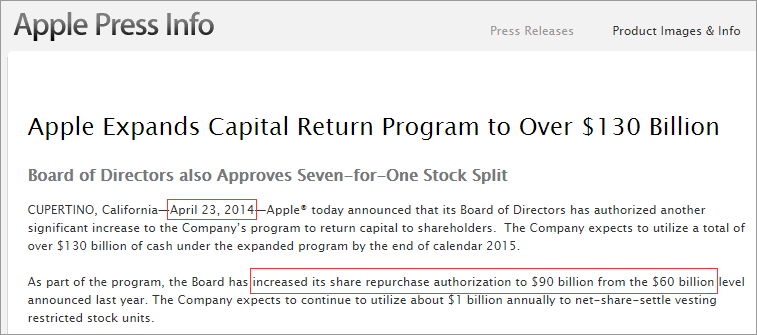 The scale of the buybacks is unheard of.
But then again, the size of Apple is also unheard of, nearing $700 billion in market cap.
If one takes the $90 billion in stock repurchases and re-arranges it, Apple could have purchased Tesla Motors Inc (NASDAQ: TSLA), Netflix, Inc. (NASDAQ: NFLX) and Twitter Inc (NYSE: TWTR) starting in 2013 -- and still have bought back more stock than any other company in North America over the last two years.
Want more details?
Let's first look at a chart that plots revenue on the x-axis and stock repurchases on the y-axis for the trailing twelve months.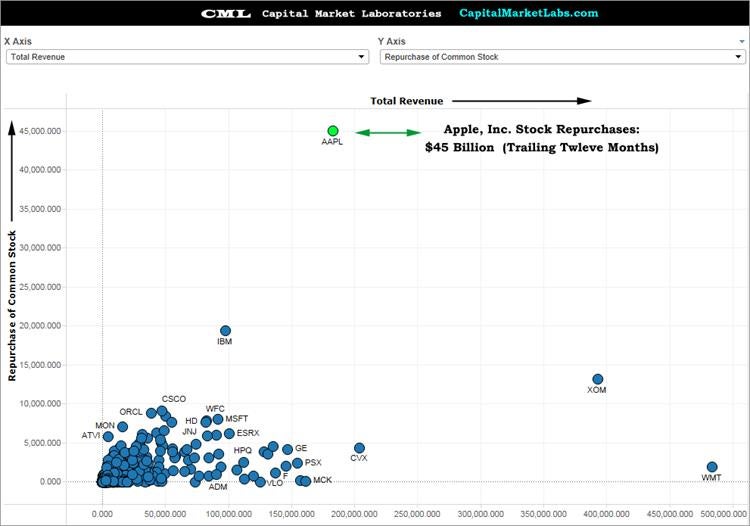 Apple spent $45 billion on stock repurchases in the trailing twelve months, more than twice as large as the second largest buyback (IBM), and more than three times as large as the third largest buyback (Exxon).
Next, let's look at a time series of Apple's stock buybacks over the last eight years.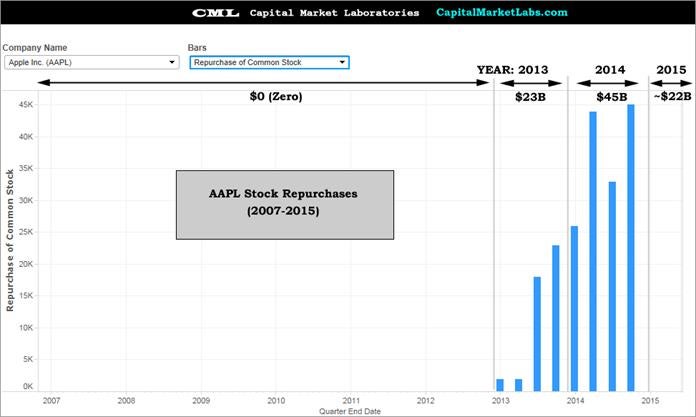 From 2007 through 2013, Apple spent $0 -- zero -- on buybacks.
Then in 2013, the firm spent about $23 billion. In 2014, it spent another ~$45 billion on stock repurchases.
For the company to complete its $90 billion target, it will have to spend another $20 billion or so in 2015. Needless to say, as the firm grew from an IT giant to the largest company in the world, it started running out of places to put its cash flow.
Apple now pays a hefty dividend yielding nearly 2.0 percent per annum, but that still leaves enough cash on hand to buy all of Citigroup Inc (NYSE: C) in cash, for example.
So, the firm turned on the switch for the buyback program.
But there's a third place Apple could have spent the money: R&D.
Here are the largest spenders on R&D in the trailing twelve months (y-axis) with market cap on the x-axis.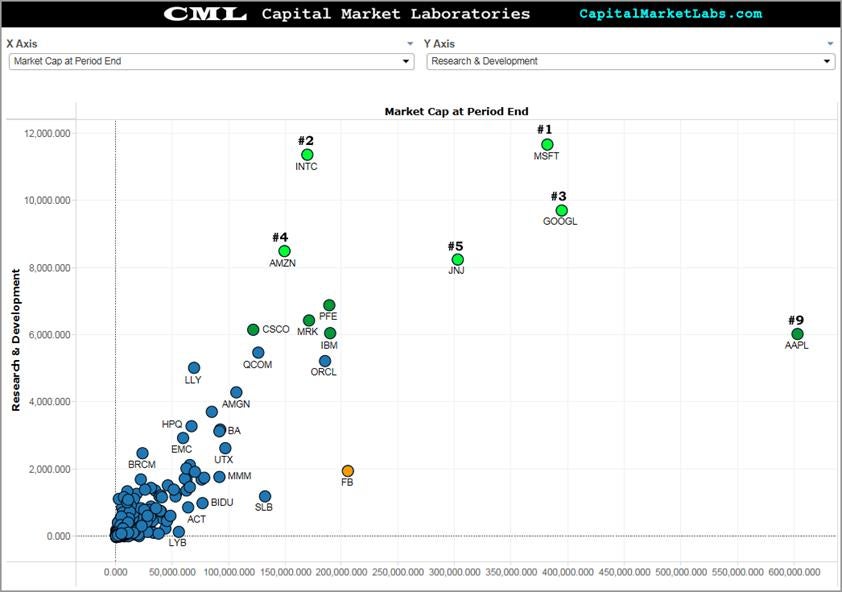 While Apple has the largest market cap, it spent less than Microsoft Corporation (NASDAQ: MSFT), Google Inc (NASDAQ: GOOG) (NASDAQ: GOOGL), Amazon.com, Inc. (NASDAQ: AMZN), Intel Corporation (NASDAQ: INTC) and four other companies last year in research & development.
In a prior article, this author questioned if Apple is risking under-investing in its future. One thing is for sure: It isn't under-spending on its stock repurchases.
As stated previously, the $90 billion in repurchases re-arranged could have resulted in Apple acquiring Tesla, Netflix and Twitter starting in 2013. And...it still could have bought back more stock than any other company over the last two years.
Now, a few things are absurd about that statement.
1. It's just an absurd statement. That's a HUGE amount of money.
2. A purchase of any of those three firms would likely not have been at market value, but at some substantial premium.
3. Finally, a purchase of all three firms is total non-sense. It would have resulted in the largest restructuring/pivot the capital markets have ever seen.
Still, this is an interesting way to measure the scale of the buybacks.
One does wonder though: Is there really nothing better to do with cash than to outspend every other company in North America for stock buybacks, especially if it is under-spending Microsoft, Google and Amazon in R&D?
Worth noting: Apple has fewer products than the other firms, so it's not totally off-the-wall crazy that the firm has lower R&D expenses.
In 2015, Apple is expected to produce and sell the Apple Watch and complete two upgrades to the iPhone 6, along with a new line of MacBooks. There will also likely be upgrades to the MacBook Air, MacBook Pro and iMac lines.
But here's the thing: All of those products combined aren't even close to the impact of the iPhone, assuming the Apple Watch is an unknown.
So, should Apple buy back even more stock? Only time will tell, but it's an interesting story to follow.
Ophir Gottlieb can be found on Twitter @OphirGottlieb.
Image credit: Joe Ravi, Wikimedia
Posted-In: Apple buybacks Apple Netflix Apple Tesla Apple TwitterLong Ideas Tech Trading Ideas Best of Benzinga
View Comments and Join the Discussion!