Benzinga's Bulls And Bears For The Past Week: Semiconductors And Warren Buffett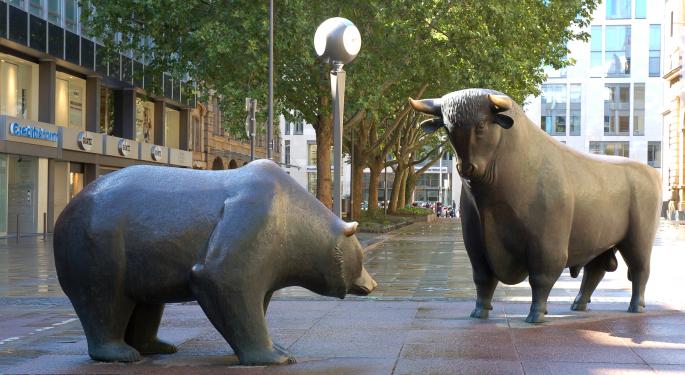 Benzinga has featured a look at many investor favorite stocks over the past week.
That includes the outlook for three prominent semiconductor stocks.
Also, Warren Buffett's name was seen a number of times in the week's coverage.
The major indexes lingered near all-time highs this past week despite the wrangling over the budget and health care reform in Washington and a disappointing jobs report. Many investors were unimpressed by the latest earnings report from Apple Inc. (NASDAQ: AAPL), but overall corporate results have been healthy.
Among the investor favorite stocks featured by Benzinga during the past week, the semiconductor industry was well represented. And the Oracle of Omaha, Warren Buffett, popped up a number of times in the week's coverage as well.
Buffett
"Is Buffett Shopping Around For A 12-Digit Acquisition?" by Jayson Derrick takes a look at the ongoing speculation about what the Oracle of Omaha and Berkshire Hathaway Inc. (NYSE: BRK-A) (NYSE: BRK-B) might be interested in doing with its cash hoard, which soon could hit $100 billion. Could Costco Wholesale Corporation (NASDAQ: COST) be in their sights?
In "Warren Buffett Explains Why He Dumped A Third Of His IBM Stock," Derrick examines why the legendary investor says he pared down his Big Blue stake, and whether this amounts to an admission that Buffett was wrong about the old-school tech company. See how much International Business Machines Corp. (NYSE: IBM) stock he still has.
Derrick's "What Will Berkshire Look Like Post-Buffett?" discusses what the future holds for Berkshire Hathaway. "We've been talking about succession for a whole hell of a lot of years now," says a Berkshire board member, "and I think we'll be talking about succession for a whole hell of a lot more years." But is there any chance of a dividend in company's future?
Semiconductors
Ongoing tensions between consumer electronics monolith Apple and digital communication technology specialist QUALCOMM, Inc. (NASDAQ: QCOM) have created an uncertain outlook for the latter, according to "Qualcomm's Future With Apple Remains Unclear" by Derrick. But can any alternative supplier meet the iPhone demand?
In Shanthi Rexaline's "Analyst On Advanced Micro Devices: 'Margins Not Ryzen,'" see what it was that caused shares of Advanced Micro Devices, Inc. (NASDAQ: AMD) to slump after its recently posted first-quarter report. Was Goldman Sachs right to downgrade the stock in early April?
"Analyst Says Nvidia Is A Strong Play For The 'Post-Smartphone Era'" by Wayne Duggan focuses on why NVIDIA Corporation (NASDAQ: NVDA) is expected to be a direct beneficiary of the growing graphics processing unit requirements associated with machine learning technology. But is everyone on Wall Street bullish?
Related Links:
Market May Have Overreacted To U.S. Steel's Guidance Cut, Says Morgan Stanley
One Year Later: A Look At The 2016 Ira Sohn Conference Picks
_________
Image Credit: By Eva K. - Eva K., CC BY-SA 2.5, via Wikimedia Commons
Posted-In: Advanced Micro Devices AMD Apple Berkshire Hathaway Costco IBM NVIDIATrading Ideas Best of Benzinga
View Comments and Join the Discussion!