What Will Berkshire Look Like Post-Buffett?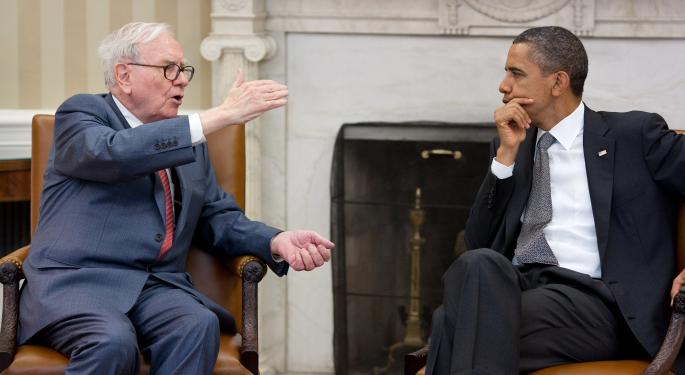 It's no secret Warren Buffett, considered by many as the world's best investor, isn't getting any younger. At the tender age of 86, Buffett eventually has to step down from his title as chairman and CEO of Berkshire Hathaway Inc. (NYSE: BRK-A) (NYSE: BRK-B).
Meanwhile, Buffett's right-hand man Charlie Munger continues to serve as vice chairman of Berkshire at the age of 93 who remains "physically amazing" and "hasn't missed a beat up there," according to Ronald Olson, a 75-year old attorney and member of Berkshire's board.
Buffett himself is doing just fine, but Olson acknowledged succession planning will be discussed at upcoming board meetings.
"We've been talking about succession for a whole hell of a lot of years now, and I think we'll be talking about succession for a whole hell of a lot more years," Olson said.
What Will The Future Look Like
Buffett and Munger have to step down at some point in the future. Regardless of when this will happen, Berkshire will be viewed as a completely different company.
According to Gadfly's Tara Lachapelle, Buffett's most notable trait is "nobody really questions him" given his multi-decade long tenure at Berkshire which delivered to investors a return of nearly 2 million percent. As such, the "opaque culture" that he created is a "luxury that won't be afforded to his successor" — regardless who it will be.
The two most notable names up for consideration include Greg Abel, head of Berkshire's energy business, and Ajit Jain, head of Berkshire's reinsurance business.
Also important to note, Berkshire's current investors are fine with the absence of earnings conference calls under Buffett's leadership, but that could change in the future.
Finally, the future of Berkshire could see radical changes in capital allocation policies. Buffett is firmly against paying shareholders dividends but any future leader may look to returning cash to appease worried investors.
Bottom line, the future of Berkshire Hathaway could look very different, but that doesn't mean it is a bad thing.
Related Links:
Warren Buffett Explains Why He Dumped A Third Of His IBM Stock
Is Buffett Shopping Around For A 12-Digit Acquisition?
________
Image Credit: By The White House from Washington, DC (P071811PS-0254) [Public domain], via Wikimedia Commons
Posted-In: Ajit Jain Berkshire Hathaway Charlie Munger Gadfly Greg Abel Ronald Olson Tara LachapelleMedia Best of Benzinga
View Comments and Join the Discussion!