Warren Buffett Says There's No Bubble In FANG Stocks, But He's Still Not Buying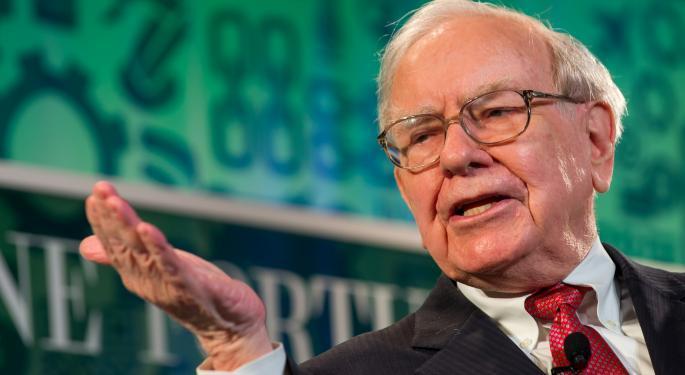 Berkshire Hathaway Inc. (NYSE: BRK-A) (NYSE: BRK-B) CEO Warren Buffett is one of the most successful and well-respected investors of all time, but that doesn't mean he hasn't made his fair share of investing mistakes.
In fact, throughout most of his investing career, Buffett has shied away from tech stocks, completely missing the massive rallies in the so-called FANG stocks: Facebook, Inc. (NASDAQ: FB), Amazon.com, Inc. (NASDAQ: AMZN), Netflix, Inc. (NASDAQ: NFLX) and Alphabet, Inc. (NASDAQ: GOOG) (NASDAQ: GOOGL).
Buffett was asked his thoughts on the FANG stocks in a recent interview with Yahoo Finance ahead of Berkshire's annual shareholder meeting on Saturday. The FANG group has experienced meteoric gains over the past decade, but Buffett said he doesn't believe they're experiencing a bubble similar to the dot-com bubble.
"No, just the opposite. I mean, you're seeing in this kind of a market, those companies don't need capital. Well, Netflix needs capital. But basically, the big companies in market value don't need capital," Buffett said.
Buffett said the top 10 largest companies 30 years ago, such as General Motors Company (NYSE: GM) and AT&T Inc. (NYSE: T), all needed money.
Missing The FANG Train
When asked why he never invested in Google or Amazon, Buffett said he simply dropped the ball on Google.
"Well, that's a pretty damn good question. But I don't have a good answer. I definitely should've owned Google."
Despite his regret over not pulling the trigger in the past, Buffett said he's not buying the FANG stocks these days either.
"No, but I don't buy much. Those are the kind of businesses I think about a lot. Charlie [Munger, Berkshire vice chairman] thinks about them a lot. You can't help but do it. I mean, those are incredible business stories."
Benzinga's Take
Buffett is an excellent example of the fact that investors can make plenty of mistakes and miss plenty of opportunities and still end up wildly successful. Rather than chasing hit stocks, Buffett has always focused on identifying undervalued stocks and patiently riding out short-term market noise.
Do you agree with this take? Email feedback@benzinga.com with your thoughts.
Related Links:
Q4 13F Roundup: How Buffett, Einhorn, Ackman And Others Adjusted Their Portfolios
What Is The Buffett Indicator?
Photo credit: Fortune Live Media, Flickr
View Comments and Join the Discussion!
Posted-In: Warren BuffettTop Stories Tech General Best of Benzinga