Benzinga's Bulls And Bears For The Past Week: Ford, Kroger, Netflix And More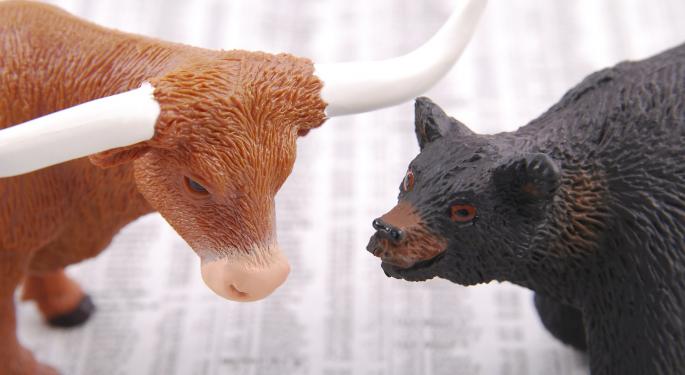 Benzinga has featured a look at many investor favorite stocks over the past week.
The markets are still eking out gains ahead of the unofficial start of summer.
Here is a glance back at recent commentary on stocks that are related to travel, food and more.
The major indices eked out small gains this past week, ahead of the Memorial Day holiday in the United States and the unofficial beginning of the summer season. The first-quarter earnings reporting season is all but over, and the president was abroad for his first international trip as sitting head of state. Still, Benzinga has featured a look at many investor favorite stocks in recent days. Here is a look at just a few of them, as Americans travel, gather and remember those who made the ultimate sacrifice.
Somewhere To Go
"Analysts Cautiously Optimistic On Ford CEO Shakeup" by Shanthi Rexaline takes a look at the surprising management changes at Ford Motor Company (NYSE: F) announced last week. Is it a step in the right direction, and how effective will the new chief executive be? Are there spin-offs in the offing?
In "Tesla's Safety Record Called Into Question, And The Market Couldn't Care Less," Shanthi Rexaline examines the effect that a recent report about safety issues at its flagship plant in California has had on Tesla Inc (NASDAQ: TSLA) shares. The stock has pulled back from an all-time high earlier this month.
Something To Eat
Ezra Schwarzbaum's "Wal-Mart Puts Pressure On Grocers, But Kroger Could Resist" discusses why even though recent gains at Wal-Mart Stores Inc (NYSE: WMT) may mean there is less for its supermarket competitors, Kroger Co (NYSE: KR) may be better positioned than other peers to suffer.
Also check out "Nobody Told Costco About The Retail Slump."
Years of interaction with Shake Shack Inc (NYSE: SHAK) have convinced one key analyst that it is a company that is "standing for something good," according to "Analyst Says Long-Term Investors In Shake Shack Should Continue Buying Shares" by Merrick Weingarten. Will profits really increase "at a double-digit pace"?
Something To Watch
In Elizabeth Balboa's "Which Media Firms Are Benefiting Most From President Trump?" see who the winners and losers are in the often combative relationship between the media and the current administration: from CBS Corporation (NYSE: CBS) to New York Times Co (NYSE: NYT) and from Fox News to Saturday Night Live.
"Notable Netflix Analyst Says Stock Could See Another 67% Gain" by Jayson Derrick examines the question of whether Netflix, Inc. (NASDAQ: NFLX) stock has peeked after a 75 percent gain in the past year. See why one analyst believes that the shares still have plenty of room to run.
Posted-In: CBS Ford Kroger Netflix New York TimesTop Stories Trading Ideas General Best of Benzinga
View Comments and Join the Discussion!