Startup Angels Debuts Marketplace Platform: 'We're Trying To Make It Easier For Potential Investors'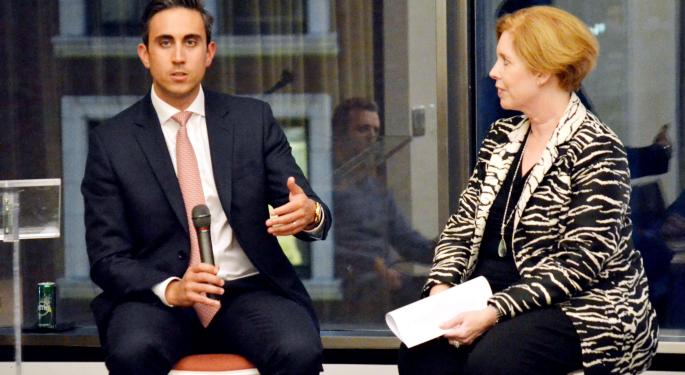 An $11 trillion opportunity for venture capital funding exists in plain sight, according to Startup Angels CEO Leslie Jump — and she has a new fintech platform designed to make the connection.
The venture capital space in 2016 totaled about $100 billion, Jump told Benzinga. Her Washington D.C.-based company is designed to empower angel investors.
But $11 trillion being managed by financial advisers is held in alternative assets — which could include startup investing if there was a clear path to do so, Jump said.
"If we just put 1 percent from that $11 trillion and put it into that $100 billion, it would double [venture capital funding]."
Enter Startup Angels Marketplace, which launched Sept. 20.
'It's Classic Value Investing'
Jump and Mack Kolarich, Startup Angels' vice president of product, demoed the platform for Benzinga.
The Marketplace platform reflects the fact that startup investing comes from both sides of the brain, Jump said.
"It's part rational and part emotional, and we've tried to balance that in the way we've designed this experience."
The platform connects accredited investors and wealth managers with venture capital funds for which Startup Angels has performed due diligence.
A high-level snapshot of each venture capital fund can be viewed on Marketplace, including the fund's minimum investment amount; the number of startups the fund invests in; its geographic target area; investment themes; capital commitment; close date; and capital calls.
Prospective investors can request more documents from a given fund or click "invest" to move forward.
Less than a month after launch, about 50 funds are in the pipeline to be listed on Marketplace, representing a little less than $600 million in capital, Kolarich said. The platform is intended to bring attention to "micro" venture capital funds under $100 million that might otherwise escape attention.
"We're trying to make it easier for potential investors to find these funds."
The platform comes in addition to Startup Angel's free, publicly accessible profiles of more than 40 startup markets internationally, which summarize a region's startup community, market indicators, timeline and key players.
It's all intended to highlight the advantages of investing in, say, a mobility fund in Detroit or a healthcare fund in Nashville, Jump said.
The Marketplace zeroes in on regions like Detroit, Chicago and Dallas that have "arbitrage" opportunities, Jump said: Big industries with built-in customers and partners that sit alongside startups, as well as lower labor and development costs.
"It's value investing. It's classic value investing," she said.
Why Wealth Managers?
Startup Angels, which holds investor workshops across the globe, began to see representatives from firms such as Goldman Sachs Group Inc (NYSE: GS) sign up for its events, Jump said.
"Why on earth would they care about what our little company is doing with startups?"
The American wealth management industry has about 1 million people managing $62 trillion in investable assets, Jump said — with the top 1 percent of those managers working for major banks. The rest are small businesses, she said.
"They're looking for ways to excite and retain their clients," Jump said. "They're pushing hard into alternative assets because those are a value add. You can't just easily go pick them up off of Vanguard."
For wealth managers to diversify into alternative assets like startups and follow FINRA rules is "pretty time-consuming and expensive," Jump said — which has led her company to focus on making startups more accessible to this broader class of investment.
Jump: More Startup Investors, Capital Needed
"There's certain to be a huge increase in startups forming in Michigan," Techstars Mobility Managing Director Ted Serbinski said Wednesday. "But there's still a gap in funding."
Techstars Mobility, a Detroit-based firm that invests in mobility-based startups and receives backing from Ford Motor Company (NYSE: F), partnered with Startup Angels for this week's Motor City event.
Jump outlined the startup landscape — sectors ripe for disruption, methods of investing, risk factors, exit strategies and more — for prospective angel investors at the workshop, which opened with a reception at Varnum LLP.
"You're already a startup investor," she said, pointing to the inclusion of companies such as Uber in traditional JPMorgan Chase & Co (NYSE: JPM) and Fidelity funds.
Only a small percentage of the investors who could diversify with startup holdings are doing so, Jump said.
"We are trying to expand the number of startup investors and the amount of capital available in startup communities around the world."
Related Links:
The State Of Startup Funding On Each Of The 7 Continents
As Financial Processes Go Digital, Detroit Looks To Siphon Talent From New York, Chicago
Jeramey Lynch, an executive director at JPMorgan Chase, and Leslie Jump, CEO of Startup Angels, speak during an investor workshop held at Varnum LLP in downtown Detroit Oct. 4. Photo by Dustin Blitchok.
View Comments and Join the Discussion!
Posted-In: Ford Goldman SachsFinancial Advisors Fintech Startups Exclusives Personal Finance Interview Best of Benzinga