Hey Jeff Bezos, Here's Why Amazon Should Bring HQ2 To Detroit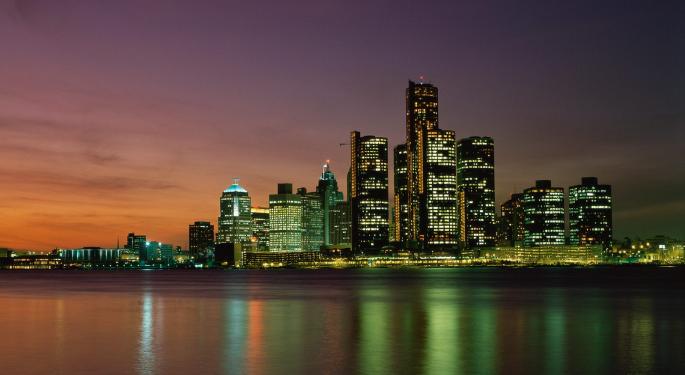 Amazon.com, Inc. (NASDAQ: AMZN) has asked representatives from all cities and economic organizations in North America to submit a proposal on why the company should bring its "HQ2" to that city.
Amazon expects this second headquarters to include as many as 50,000 high-paying jobs. Amazon wants "to find a city that is excited to work with us and where our customers, employees, and the community can all benefit."
With that in mind, we thought we'd highlight why Detroit would be a terrific place for Jeff Bezos and company to set up shop.
Dear Jeff,
You've already heard it from Madonna: We're one of the coolest cities in America.
Amazon is searching for the home of its $5 billion second headquarters, or HQ2. Here's why it should be Detroit. (Besides the fact that your employees might run into Bob Seger or Aretha Franklin at the grocery store.)
The Technology
The Motor City is an emerging tech hub. Well past emerging, really.
There's a Microsoft Corporation (NASDAQ: MSFT) Technology Center moving into One Campus Martius, the building that's home to Benzinga's newsroom.
Alibaba Group Holding Ltd (NYSE: BABA) held the first U.S. conference of its kind here in June to connect small businesses with the Chinese market.
Facebook Inc (NASDAQ: FB) has partnered with Grand Circus to provide front-end developer training here.
Dan Gilbert's Quicken Loans and its family of companies employ 17,000 people in Detroit and include tech startups such as Amber Engine and Waymark.
You're already here! Amazon has office space in downtown Detroit and is completing two fulfillment centers in suburban Romulus and Livonia that are expected to create thousands of jobs.
The Land
The Palace of Auburn Hills, located on a 61.1-acre site, is located in a suburban city that's already home to a cluster of major corporations such as Fiat Chrysler Automobiles NV (NYSE: FCAU) and BorgWarner Inc (NYSE: BWA). The stadium is closing as Platinum Equity founder Tom Gores moves the Detroit Pistons to Little Caesars Arena downtown.
In Detroit proper, there's City Airport, an underutilized 264-acre property ripe for redevelopment, as well as the sprawling former auto industry properties such as Fisher Body, the Packard Plant and the former AMC headquarters on the city's west side.
And let's not forget the 127-acre Pontiac Silverdome site at I-75 and M-59.
The Cost
A KPMG study of the cost of doing business in the northeastern U.S. and central Canada found that Detroit ranks ahead of eastern seaboard cities such as Pittsburgh, Philadelphia and New York.
Incentives offered by the state and local governments "will be significant factors in the decision-making process" for HQ2, according to Amazon.
Amazon received a $5 million grant from the Michigan Strategic Fund this year for its Romulus facility after being awarded a $7.5-million incentive in 2016 for its Livonia development, according to The Detroit News.
Gov. Rick Snyder said in a statement that a wealth of talent and a "vastly improved" business climate await Amazon in Michigan.
"Not only is Michigan a top 10 state for doing business and attracting 25-34 year olds, our workforce is growing at a higher rate than the national average and we lead the region in inbound migration for those with bachelor's degrees or higher," Snyder said.
The People
We have the talent and we need the work. Michigan is home to eight research universities, including Wayne State University in Detroit and the University of Michigan in Ann Arbor.
"While there are many encouraging business reasons for Amazon to set up shop in Michigan, I firmly believe that our most impressive asset is the incredible, hard-working Michiganders who make our state the best in the nation."
As cool as Detroit is, the city remains one of — if not the most — impoverished in the U.S.
After emerging from the largest municipal bankruptcy in history in 2014, Detroit is drawing major private investment. A recent CBRE Group Inc(NYSE: CBG) study projects the city's downtown will enjoy $5.4 billion in capital investment between now and 2020.
That level of attention from the business community isn't happening by accident, and an investment from Amazon could be the catalyst that transforms Detroit into the Silicon Valley of the Midwest.
View Comments and Join the Discussion!
Posted-In: Amazon Detroit HQ2 Jeff Bezos michiganOpinion Tech Real Estate Best of Benzinga