Berkshire Hathaway's 2017: Tax Reform Windfall, Insurance Losses From Hurricanes, Younger Executives Promoted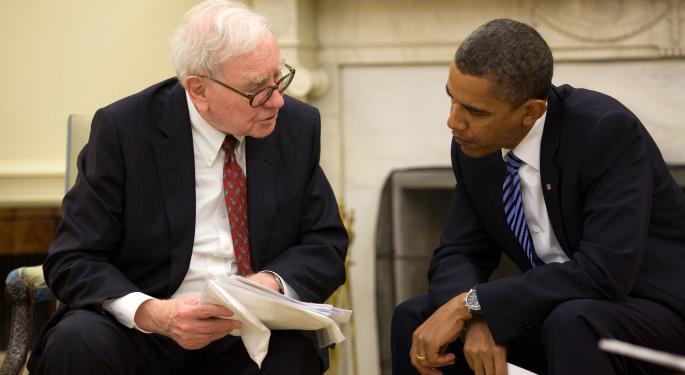 Berkshire Hathaway Inc (NYSE: BRK-A) (NYSE: BRK-B) gained $65.3 billion in value in 2017 and outperformed the S&P 500, posting a 21.9-percent rise in market value versus the index's 21.8-percent addition, CEO Warren Buffett said in his annual shareholder letter Saturday.
Only $36 billion of the gain came from Berkshire operations, Buffett said.
"The remaining $29 billion was delivered to us in December when Congress rewrote the U.S. tax code."
The Succession Question
Despite the apparent success of a steady diet of Cherry Coke, Buffett's age — 87 — and that of his 94-year-old partner and Berkshire Vice Chairman Charlie Munger, is undoubtedly on shareholders' minds.
In Saturday's letter, Buffett said he would "participate on an advisory basis only" during a table tennis game held during the weekend of Berkshire's May 5 annual meeting and said he and Munger would sleep in on the morning of the sixth annual Berkshire 5K race.
In another possible acknowledgement of his age, Buffett ended his annual letter by noting that Berkshire elected Ajit Jain and Greg Abel as directors and Berkshire vice chairmen early in 2018.
Jain is now responsible for the conglomerate's insurance business, while Abel overseees the rest — leaving Buffett and Munger to concentrate on investments and capital allocation.
"You and I are lucky to have Ajit and Greg working for us," Buffett said. "Each has been with Berkshire for decades, and Berkshire's blood flows through their veins. The character of each man matches his talents. And that says it all."
In another instance of Buffett pulling back on his obligations, Kraft Heinz Co (NASDAQ: KHC) said Friday that Buffett will retire from the food company's board at the end of his term as he reduces his travel commitments, with the board intending to nominate Anheiser Busch Inbev NV (ADR) (NYSE: BUD) Director Alexandre Van Damme as his replacement.
Berkshire holds $25.3 billion in Kraft Heinz shares, according to Saturday's letter.
Hurricanes Behind Rare Insurance Loss
Berkshire reinsured $20 billion of American International Group Inc (NYSE: AIG) long-tail losses incurred in 2017, with a record $10.2-billion premium, Buffett said.
"Premium volume will therefore fall somewhat in 2018."
The CEO estimates the insured losses from hurricanes Harvey, Irma and Maria at $100 billion, and said Berkshire's hurricane losses are estimated at $3 billion, or $2 billion after tax. The loss breaks a 14-year streak of underwriting profits for Berkshire.
"It's worth noting that the $2 billion net cost from the three hurricanes reduced Berkshire's GAAP net worth by less than 1 percent," Buffett said, adding that other names in the reinsurance sector lost between 7 and 15 percent of net worth.
The Best Of The Rest
Berkshire's three largest holdings by market value outside of Kraft Heinz in 2017 were Wells Fargo & Co (NYSE: WFC) at $29.3 billion; Apple Inc (NASDAQ: AAPL), at $28.2 billion; and Bank of America Corp (NYSE: BAC), at $20.6 billion.
Non-insurance operations delivered $20 billion in pretax income in 2017, a $950-million increase over the prior year.
Berkshire's goal is to significantly lift earnings in its non-insurance holdings, Buffett said.
"For that to happen, we will need to make one or more huge acquisitions. We certainly have the resources to do so," he said.
At the end of 2017, Berkshire held $116 billion in cash and U.S. Treasury Bills, a $29.6-billion jump from 2016.
True to form, Buffett said he and his business partner would prefer the cash was invested in equities.
"This extraordinary liquidity earns only a pittance and is far beyond the level Charlie and I wish Berkshire to have," he said. "Our smiles will broaden when we have redeployed Berkshire's excess funds into more productive assets."
Company valuations were a deal-breaker for M&A transactions that Berkshire considered in 2017, with the exception of the conglomerate's purchase of 38.6 percent of Pilot Flying J travel centers, Buffett said.
" ... Prices for decent, but far from spectacular, businesses hit an all-time high," he said. "Indeed, price seemed almost irrelevant to an army of optimistic purchasers."
When Berkshire reports its 2018 results, Buffett warned investors they will be skewed by a new GAAP rule that requires companies to include the net change in unrealized investment gains and losses in net income figures.
Berkshire owns $170 billion in marketable stocks whose value can shift by $10 billion or more in a quarter, he said.
"That requirement will produce some truly wild and capricious swings in our GAAP bottom line."
Due to the focus on GAAP net income figures when companies report, Buffett said Berkshire will continue to release financial reports after the market close on Fridays or on Saturday mornings in order to minimize trading volatility and allow for informed decision-making before markets reopen.
Investment Bet Nets $2.2M For Omaha Charity
A decade ago, on Dec. 19, 2007, Buffett made a 10-year bet with Protege Partners on investment methodology, with the intention of paying the proceeds to the Omaha nonprofit Girls Inc. Buffett invested $318,250 in a "virtually cost-free" unmanaged S&P 500 index fund, while Protege invested in five funds-of-funds with stakes in over 200 hedge funds -- and annual fees averaging 2.5 percent.
The final average gain for Buffett's index fund investment was 125.8 percent, while the five funds-of-funds averaged 10-year returns between 2.8 percent and 87.7 percent.
"Performance comes, performance goes. Fees never falter," Buffett said in Saturday's letter.
Buffett and Protege had planned to hold $500,000 in zero-coupon U.S. Treasury bonds for 10 years and distribute $1 million to the winning charity when they matured. But when the bonds dropped below their face value, Buffett and Protege sold them in 2012 and reinvested in 11,200 Class B Berkshire shares.
Last month, Girls Inc. received $2,222,279, Buffett said.
Related Links:
Outside Of Apple, Here Are 6 Other Stocks Warren Buffett Bought In Q4
Amazon, Berkshire And JPMorgan Are Creating A Health Care Company: Here's What You Need To Know
Photo: Berkshire Hathaway CEO Warren Buffett with former President Barack Obama in 2010. Photo by Pete Souza via Wikimedia.
View Comments and Join the Discussion!
Posted-In: Ajit Jain Charlie Munger Greg Abel Hurricane HarveyEarnings News Management Top Stories Best of Benzinga