Best Buy Has Survived And Thrived In The E-Commerce Revolution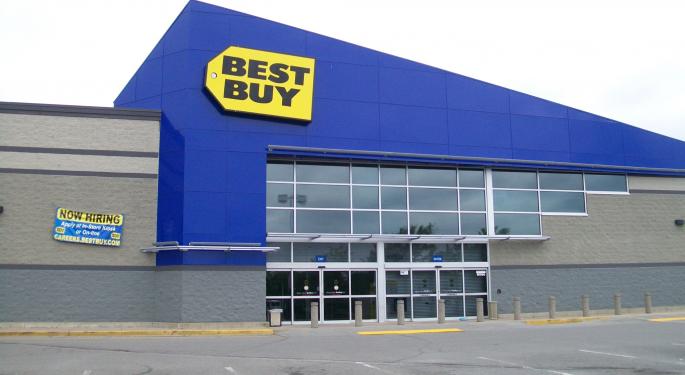 Best Buy Co Inc (NYSE: BBY) shares slumped 12 percent Tuesday after the company reported second-quarter earnings that handily topped consensus estimates.
Traders appear to be taking profits on Best Buy, one of the largest positive surprises in the entire retail sector in 2017.
Despite the post-earnings dip, Best Buy shares are up nearly 30 percent in a year when the SPDR S&P Retail (ETF) (NYSE: XRT) is down 11 percent overall.
Not only has Best Buy found a way to fend off the e-commerce revolution, Best Buy was poised to be one of its earliest victims roughly a decade ago. Like RadioShack and Circuit City, Best Buy was one of the giant U.S. electronics retailers that came under fire from e-commerce behemoth Amazon.com, Inc. (NASDAQ: AMZN). A decade ago, Best Buy was known for its massive collections of DVDs and CDs, two media that have all but disappeared from the retail landscape.
Competition Falls By The Wayside
RadioShack declared bankruptcy in March, its second in just over two years. By 2017, RadioShack was just a shell of its former self. Circuit City didn't even survive the financial crisis, declaring bankruptcy in November 2008.
But somehow, in the face of exploding online competition that is crushing the retail sector, Best Buy's revenue is actually up 3.7 percent in the past 10 years. Its share price is also up 27 percent in that stretch.
For investors of Macy's Inc (NYSE: M), J C Penney Company Inc (NYSE: JCP) and Sears Holdings Corp (NASDAQ: SHLD) looking to Best Buy for the antidote to Amazon, the simplest answer is also one of the least satisfying.
Related Link: Amazon Can't Put All Grocery Stores Out Of Business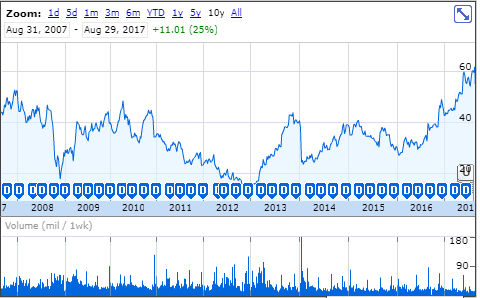 Fearless Flexibility
Best Buy has thrived in the e-commerce era by being aggressively adaptive and flexible with its business. Best Buy slashed prices, cut costs and invested heavily in its own online offerings. These are all familiar strategies, but the difference between Best Buy and beleaguered Sears is that Best Buy didn't wait until the critical point to be aggressive. When dealing with cutting edge competition, letting rivals get a multi-year head start gives them an insurmountable lead.
In addition to investing in its online sales, Best Buy also maintains fluid product offerings. The CDs and DVDs are gone, and in their place are the latest trendy gadgets from Apple Inc. (NASDAQ: AAPL), Samsung Electronic (OTC: SSNLF) and Microsoft Corporation (NASDAQ: MSFT). Best Buy saw an opportunity to service these popular devices in-store, creating its popular Geek Squad service center.
Ride The Wave
When a company is struggling, it's human nature for management to want to cling to a recipe that has worked for decades rather than throw everything out the window and start from scratch. But when something isn't working, it's better to rip off that band-aid right away rather than die a slow death from 1,000 cuts.
Long-term Best Buy investors can attest that type of strategy can be painful and scary, as the stock's 2012 dip below $10 per share demonstrates. But when facing a threat as big as the digital retail revolution, companies like Best Buy have to think outside the box and make the type of aggressive changes needed to keep their businesses buoyant enough to ride the wave of change rather than be drowned by it.
Joel Elconin contributed to this story.
________
Image Credit: By v343790, CC BY 3.0, via Wikimedia Commons
View Comments and Join the Discussion!
Posted-In: Circuit CityEarnings News Technicals Top Stories Movers Tech Trading Ideas Best of Benzinga