Amazon Can't Put All Grocery Stores Out Of Business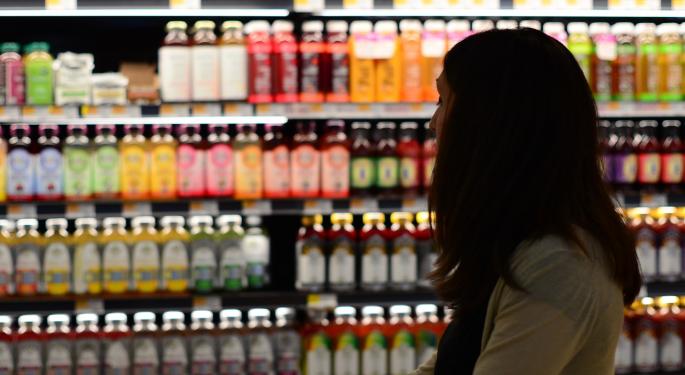 Amazon.com, Inc. (NASDAQ: AMZN) has gotten a lot of credit for disrupting the U.S. retail space. That disruptive potential is the main reason shares of grocery store stocks plunged after Amazon announced a buyout of Whole Foods Market, Inc. (NASDAQ: WFM) earlier this summer.
Yet despite all Amazon's clout, there are limits to the damage even Amazon can do.
Grocery stocks initially plummeted following the Whole Foods announcement. Costco Wholesale Corporation (NASDAQ: COST) fell from $180 to $150. Wal-Mart Stores Inc (NYSE: WMT) dropped from $79 to $73. Target Corporation (NYSE: TGT) sold off from $55 to $48. Kroger Co (NYSE: KR) declined from above $30 to below $21 during a two-day stretch that included a disappointing earnings report.
Survival Of The Fittest
Retail investors have seen this type of widespread destruction before. Macy's Inc (NYSE: M) shares are down 34 percent in the past five years. Sears Holdings Corp (NASDAQ: SHLD) and J C Penney Company Inc (NYSE: JCP) shares are each down more than 75 percent in that time. Just this year, Rue21, Payless and Bebe joined the growing list of retailers that have succumbed to bankruptcy in the digital age.
Despite the carnage, there are survival stories as well. Best Buy Co Inc (NYSE: BBY) shares dipped to nearly $10 back in 2012 as investors assumed the worst about the fate of the electronics retailer in the Amazon era. Best Buy shares were seen trading at $59 Tuesday.
Despite a major sell-off in recent months, makeup retailer Ulta Beauty Inc (NASDAQ: ULTA) has also tripled its market cap over the past five years.
Picking Winners
There's no question Amazon's entrance into a crowded grocery space is likely bad news for every other competitor. However, some companies will be hit harder than others. Investors who want exposure to grocery stocks but are concerned about the risk Amazon poses could consider pair trading. If Amazon continues to drag down the entire industry, some stocks will naturally get hurt worse than others.
Related Link: Wall Street Weighs In On Amazon's Earnings Miss
In fact, some grocery stocks have already proven to be resilient in the wake of the initial Amazon sell-off, while others have continued to flounder. Walmart and Target are now trading back above pre-announcement levels. Costco, on the other hand, remains below $159.
Next Catalyst
Earnings season could be a good early guide for traders attempting to find the next Best Buy and avoid the next Sears. Costco already reported second-quarter earnings. Wal-Mart and Target are expected to report on Aug. 17 and 18, respectively. Kroger doesn't report until Sept. 8.
Joel Elconin contributed to this story.
View Comments and Join the Discussion!
Posted-In: Earnings News Previews Top Stories Movers Trading Ideas General Best of Benzinga